The final round of the U.S. Open looms as a day when there will be even more at stake than a major golf title.
A victory for Jordan Spieth means a new superstar could be christened, just in time to make the game quit worrying about what happens when Tiger Woods is gone.
American golf could witness the dawn of an enthralling modern rivalry if Dustin Johnson takes on Spieth and finally wins his first major.
Or we could see Jason Day spend a solid five hours tugging on the heartstrings of golf fans as he battles vertigo and tries to navigate his way to a first major championship.
The outcome certainly isn't limited to those three scenarios, but they will dominate the talk as the final round begins at Chambers Bay in University Place, Washington, a brown and unforgiving course that even by U.S. Open standards is amazingly annoying.
Spieth, Johnson and Day are logjammed along with South Africa's Branden Grace atop the leaderboard, at four under. If Grace, ranked 40th in the world, hangs around, it will be impressive. But it's the other three co-leaders who have a chance to make themselves household names on Sunday.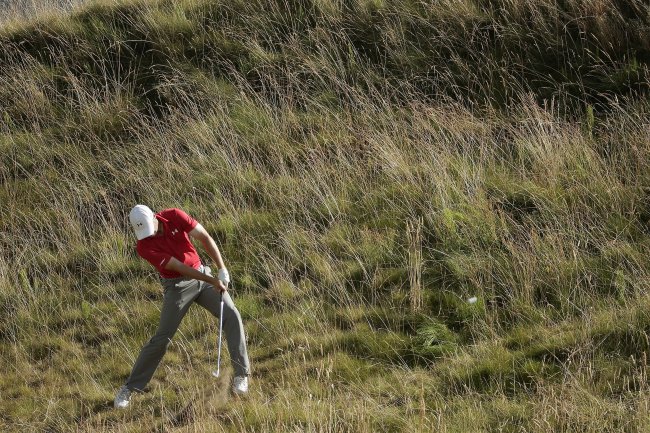 Charlie Riedel/Associated Press
If Spieth prevails, he figures to be engulfed in comparisons to Woods. The 21-year-old Texan would be the first player to complete the Masters-U.S. Open double in the same year since Tiger in 2002.
He also would be only the fifth player to complete the double in a single year, joining some very elite company in addition to Woods: Jack Nicklaus (1972), Arnold Palmer (1960), Ben Hogan (1951 and 1953) and Craig Wood (1941).
Nicklaus was 32 when he put his double together. Palmer was 30. Hogan was 38 the first time and 40 the second. Wood was 39 and Tiger was 26.
And Spieth doesn't turn 22 until next month.
Spieth already has made the most spectacular leap into the professional ranks since Tiger wowed the world when he won the Masters at 21.
But in some ways, he's the anti-Tiger. He was chatty throughout Saturday's third round, constantly talking to caddie Michael Greller, giving Fox viewers insight into his personality.
Maybe winning will change him, but for the moment, he doesn't seem to have that wall that Tiger put up between himself and the world so much of the time. He may not dominate the way Tiger did, but he figures to be a more embraceable champion.
Matt York/Associated Press/Associated Press
But if Spieth doesn't win, perhaps he should be pulling for Johnson. Nothing proves greatness more than a compelling rivalry, and it appears Johnson can deliver that half of the bargain after getting his life together.
Winning the U.S. Open one year after stepping away from the game to fight "personal challenges" would complete a storyline of personal redemption.
But Johnson fits the marquee in other ways.
Aside from Bubba Watson, he doesn't have many rivals when it comes to hitting long. His power looks effortless and his drives look endless. But he still needs a first victory in a major to truly elevate to golf's top echelon.
With past finishes of at least sixth or better in every major, Johnson has been knocking on that door often. The closest he has come is a tie for second at the 2011 British Open. And there also was his agonizing fifth-place finish in the 2010 PGA Championship, where he unknowingly grounded a club and took a two-shot penalty on the final hole, knocking him out of a playoff.
This looks like his best chance to move past that heartbreak, now that he has put some personal demons to rest. And who knows, maybe he and fiancee Paulina Gretzky are poised to become golf's next power couple.
But the partnership golf really needs is Johnson and Spieth going toe-to-toe on a regular basis. The slugger against the precisionist would lift a sport that needs to quit fretting about life without Tiger and get on with enjoying a new wave of winners.
And what better time for that to happen than at the U.S. Open, where Woods missed the cut after an opening-round 80 and truly looked like toast?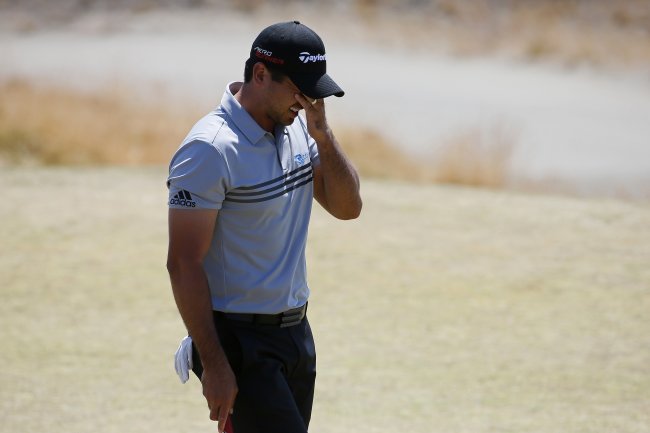 Matt York/Associated Press
Still, it's almost impossible not to hope Day can defeat his bout with vertigo while also out-dueling the world's best golfers on Sunday.
The popular Australian also is on the prowl for his first major, and no doubt captured the sympathies of fans everywhere with his show of resolve on Saturday. At times Day looked overcome with nausea as he tried to deal with the ups and downs of the U.S. Open course, which has the most radical elevation changes in memory.
As the Fox broadcast noted, looking up or down was such a challenge for Day that he struggled just to tee up his ball or to find a comfortable angle to update his scorecard.
"I didn't feel that great coming out early and then felt like -- I felt pretty groggy on the front nine just from the drugs that I had in my system, then kind of flushed that out on the back nine," Day told ESPN's Bob Harig. "But then it kind of came back. The vertigo came back a little bit on the 13th tee box, and then felt nauseous all day. I started shaking on 16 tee box and then just tried to get it in, really. Just wanted to get it in."
Day might not equal what Woods went through while winning the 2008 U.S. Open with only one good knee, but if he survives on Sunday, it could be a close second. Unfortunately for Day, he knows a lot about close seconds. He tied for second at the 2011 Masters and has also been a runner-up at the U.S. Open twice, in 2011 and 2013.
Golf is loaded with technical and geographical challenges, but seldom do we see players truly challenged physically. Day will carry that burden on Sunday, and fans everywhere will agonize over the possibility of him swooning to the ground again, as he did in the second round.
So yes, if you can't find someone to root for in Sunday's final round of the U.S. Open, then golf simply isn't your sport.
Tom Weir covered several golf majors as a columnist for USA Today.