Seeing Tiger Woods fail has become commonplace for golf fans the last few years. But now we also may see him suffer.
The U.S. Open long has been described as golf's toughest test, with slender fairways and rough tall enough to hide a jockey. But this year's tournament at Chambers Bay presents new challenges that have players moaning even before the first official shot.
So it definitely won't provide a soft landing spot for Woods' battered game.
His third-round score of 85 this month at the Memorial Tournament was a career-worst and epitomizes Tiger's steady tumble into obscurity. He began 2015 ranked 32nd in the world, dropped to 101st after the Masters and now has tumbled all the way to 195th.
Playing solo and in last place for the Memorial's final round was a perfect metaphor for the one-time king of golf, given that he now looks all alone at the bottom.
During this year's free fall, he's had only one top-25 finish in five outings, and he has had a score in the 60s only twice, which is also how many times he's shot in the 80s.
And now he must tackle a wind-ravaged course with undulating greens and sloped tee boxes. Yes, sloped tees, a USGA innovation that is certain to draw howls of protest this week.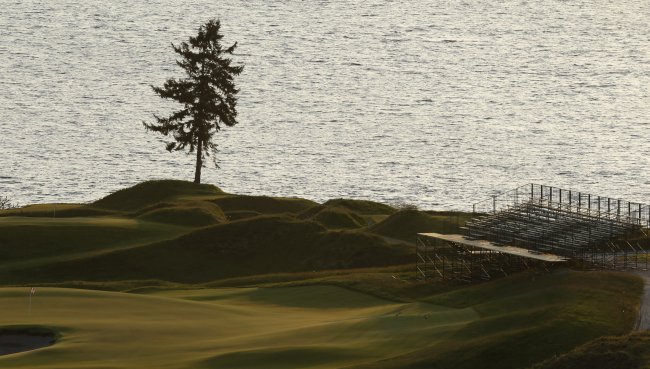 Ted S. Warren/Associated Press/Associated Press
The course is eight years old (only one year older than Tiger's losing streak in majors) and was built on a former rock quarry—land that was considered an eyesore. There is only one tree on the course, but it stands next to the 16th tee and isn't in play.
There also are no water hazards, but there's still plenty of trouble.
The elevation changes so much that Woods joked to USA Today's Steve DiMeglio that "every hole seems like it is uphill." After playing nine of those up-and-down holes Sunday, he added that it "feels like we played 18 today."
Woods was being lighthearted, but it's legitimate to wonder if he has the stamina to go the distance in a pressure-filled major. He didn't play competitive golf in March and has entered only one tournament a month since.
Chambers Bay is the first course in Washington state to host the U.S. Open, but it's expected to feel more like a trip to Scotland for a British Open on a links course. It has been called "America's St. Andrews," with winds swirling in every direction in the Puget Sound area near Tacoma.
Will Tiger have the confidence to make the right adjustments amid ever-changing conditions? He seems to be on the lookout for answers that aren't there. His swing has been a constant work in progress, and he's on his fourth coach, Chris Como.
"It's a tricked-up links course," world No. 5 Henrik Stenson told the Guardian's Ewan Murray. "It's got some high elevations, some five, six holes that we don't normally see on a regular links course, and then we've got some more severeness, I'd say. It's going to be different and it's quite tricky in places."
The course design also has led to some lively back-and-forth between players and Mike Davis, the executive director of the USGA. The USGA oversaw much of the course design, and Davis threw down the gauntlet in April when he said players had better do extra homework for this tournament (via Golf Digest):
I would contend that there is no way, no way, a player would have success here at Chambers Bay unless he really studies the golf course and learns it. The idea of coming in and playing two practice rounds and having your caddie just walk it and using your yardage book, that person's done. Will not win the U.S. Open.
Davis also issued a warning about the sloped tee boxes, saying there might "be some where we give the players a little downhill slope, a little uphill slope, a side slope. So that's interesting."
Tee shots sailing way left and equally wide right have already mired Woods' game. And now the USGA is going to make sure the playing field isn't level when he steps onto the tee box? If that makes his problems with the driver even worse, it's doubtful he'll describe Chambers Bay's tee boxes as "interesting."
Ryan Palmer termed the sloped tee boxes "ridiculous" and said (via the New York Post's Mark Cannizzaro): "That's not golf. I don't care what anybody says. It will get a lot of bad press from the players. It is a joke. I don't understand it. I just don't know why they would do it."
Palmer also assailed the sprawling greens, which allow for wide-ranging and often confounding pin placements.
"As far as the greens are concerned, it's not a championship golf course—not with the way some of the greens are and the pin placements they can put out there," Palmer said.
How will Tiger Woods fare at the U.S. Open?
Ian Poulter also chimed in, saying the players he has talked to who have made a preparatory trek to Washington have come back with only bad news.
"The reports back are it's a complete farce," Poulter said, also per Cannizzaro.
The quirks don't stop there. Nearly every green has potential runoffs in multiple directions, and the coastal winds can fluctuate greatly from day to day. Also, there are enormous mounds that compensate for the lack of vertical hazards, and the intentional bounciness of the course renders yardage books useless.
None of that is good news for Woods, whose 302 total score at the Memorial was a career-worst and whose erratic play has left even Jack Nicklaus struggling to understand it.
"I don't have an answer for it, an explanation," Nicklaus told the Associated Press' Doug Ferguson at the Memorial (via the Washington Post). "I'm sure that he probably doesn't, either. I think he'll get it back, though. I still do. I think he's just too focused. He's too hard a worker and he's got such a great work ethic."
And he'd better bring all of that with him to Chambers Bay.
Tom Weir covered several golf majors as a columnist for USA Today.