Thank you, American Pharoah. Your Triple Crown-clinching victory in the Belmont Stakes on Saturday means it's time for all of us to walk like an Egyptian again. Or at least break out that old Saturday Night Live clip of Steve Martin giving his take on King Tut.
Yes, with the 37-year wait for a Triple Crown winner finally over, we all should prepare to be overloaded with Sphinx analogies and pyramid references. Heck, maybe even the Cleopatra hairdo will make a comeback.
The horse with a typographical error in his name indisputably raced his way onto one of the sport world's most exclusive lists with his victory. Only 11 other horses in history have survived the Triple Crown gauntlet.
And he never flinched in the face of all the challenges that undid the other 13 horses who were a race away from equine immortality in the last 37 years.
Three races in five weeks, run in three different states. The 1 ½-mile final jewel of the Triple Crown, a distance so daunting that most thoroughbreds don't race it. And the him-against-the-world factor, facing fresh opponents who skipped other Triple Crown races.
American Pharoah won't supplant Secretariat as the animal who's generally considered the greatest thoroughbred of all time. But by winning the Triple Crown in 2015, he stakes out new territory—as this century's first superhorse.
American Pharoah stands apart from the others in that he wasn't really bred for this Herculean task the way the other Triple Crown winners were.
The other Triple Crown winners competed in eras when horses were trained to run far more often. It's kind of like what has happened with pitchers in baseball. Four-man rotations, complete games and 300-inning seasons once were commonplace, but now hardly any starter ever throws on fewer than four days rest.
Today's horses are like that. Coddled? Maybe. Protected? Certainly. The high prices for today's yearlings demand it.
Yet American Pharoah was able to muster an old-school performance for the ages with new-school legs. And the sports world shouldn't be shocked if it has to wait another 37 years to see it happen again.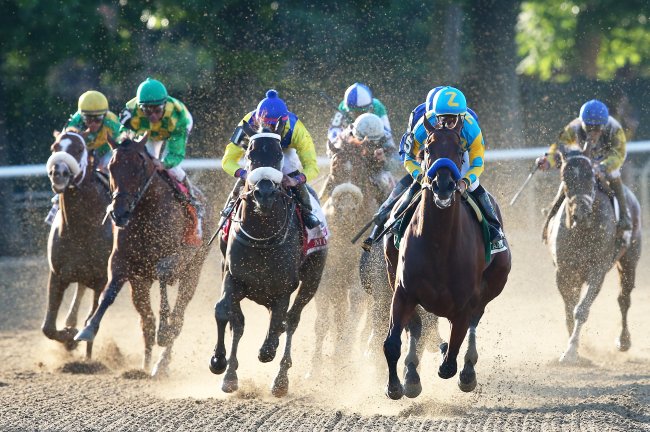 Elsa/Getty Images
Make no mistake, American Pharoah is not an Iron Horse, the nickname they gave Lou Gehrig when he played in 2,130 consecutive baseball games. That's a lifetime achievement.
Pharoah's value as a potential breeder of future champions means he'll be retired before he can tackle any records for longevity.
In that regard, he's more like an Olympian who gets only one crack at greatness. Horse racing's Triple Crown can only be won as a three-year-old. There is no next year, and it was a do-or-die situation for him over the last five weeks.
An unmistakable wave of joy washed across Belmont Park on Saturday, combined with a great sense of relief. It probably was a lot like the one baseball will have if it ever gets its first .400 hitter since Ted Williams in 1941.
Pharoah's accomplishment might not match the night that Wilt Chamberlain amassed 100 points, but his triple victory was certainly as stirring as any triple-double the NBA has ever witnessed.
He came from behind at Churchill Downs to win the first Triple Crown race, overcoming not only a thundering herd of competitors, but also staying composed amid the Kentucky Derby's famous Wall of Sound.
In the rain at Pimlico, he obliterated the field at the Preakness Stakes, pulling away as if he were skating on ice while the others were mired in mud.
And at the Belmont, he won in the style of the great champion he is, charging to the front and setting a pace no other horse could match.
That's the lasting visual of American Pharoah. Anxious to take the lead, and punishingly dominant once he gets there. In his final furlong of the Belmont he looked like he was on cruise control, with an extra gear in reserve.
As Hall of Fame jockey Gary Stevens said (via Yahoo.com) after finishing a well-beaten seventh aboard Tale of Verve, "The race was over in the third jump from the gate. It was over."
American Pharoah's consistency is worthy of comparisons to Joe DiMaggio's 56-game hitting streak. He was loaded into the starting gate only five times this year, but his five races spanned from March 14 to Saturday. For all their size and strength, horses are still fragile and quirky beasts, and there was a slew of illnesses and injuries that could have derailed Pharoah.
It's also a reminder that no golfer has completed the modern Grand Slam of winning the Masters, the U.S. Open, the British Open and the PGA Championship in a single year. And also that tennis hasn't seen a man sweep all four of its majors since Rod Laver in 1969.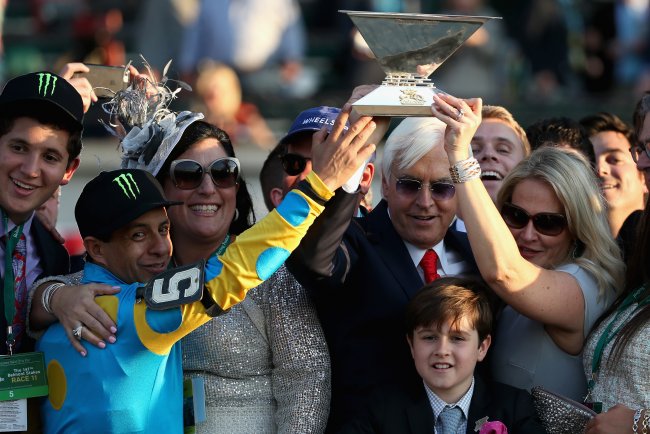 Streeter Lecka/Getty Images
That's the kind of realm American Pharoah galloped into on Saturday as he pulled away from the pretenders on the home stretch. For those who follow four-legged sports, the added bonus was that he took two deserving members of the horse-racing fraternity along for the ride.
Trainer Bob Baffert had made the trip to Belmont three other times with horses that had this same chance, only to see them come up agonizingly short, or unable to run. He had the respect of all his peers and his horses had won millions upon millions of dollars, but there was one glaring hole in his trophy case.

Likewise for Victor Espinoza, the jockey who had seen a pair of Triple Crown opportunities slip away.
But not on Saturday. Baffert, Espinoza and the hopes of Triple Crown-starved fans around the world were on American Pharoah's shoulders.
And he responded with an historic effort.
Tom Weir covered numerous Triple Crown races as a columnist for USA Today.