American Pharoah goes for the Triple Crown on Saturday at the Belmont Stakes, and as every fan of four-footed athletes knows, it has been an amazingly long time since any horse has completed the sweep.
While we wait for the horses to load into the starting gate, here's a look inside the numbers of the 147th running of the Belmont.
1 ½: Distance, in miles, of the Belmont Stakes. It is the longest of the three Triple Crown races, and none of the entrants has raced that distance, nor are they likely to ever again compete in a race that long. And if you believe in the "average winning distance" formula for rating a horse's chances in longer races, then maybe your money should be on Keen Ice.
440: How many yards longer the Belmont is than the 1 ¼-mile Kentucky Derby. The other Triple Crown race, the Preakness Stakes, is 1 3/16 miles.
37: Years since the last Triple Crown winner, Affirmed, in 1978.
11: Triple Crown winners. The first was Sir Barton in 1919. There was a stampede of seven from 1930-48. But then there was a quarter-century drought until three rose to the task in the '70s: Secretariat in 1973, Seattle Slew in 1977 and Affirmed in 1978.
13: Horses since Affirmed who won the Derby and Preakness but couldn't complete the Triple Crown. Twelve of those horses failed on the track. One, I'll Have Another, was scratched before the race with an injury in 2012.
Triple Crown Bids Lost at the Belmont (since 1978)

| | | | | |
| --- | --- | --- | --- | --- |
| Year | Horse | Trainer | Finish | Belmont Winner |
| 1979 | Spectacular Bid | Bud Delp | 3rd | Coastal |
| 1981 | Pleasant Colony | John P. Campo | 3rd | Summing |
| 1987 | Alysheba | Jack van Burg | 4th | Bet Twice |
| 1989 | Sunday Silence | Charlie Wittingham | 2nd | Easy Goer |
| 1997 | Silver Charm | Bob Baffert | 2nd | Touch Gold |
| 1998 | Real Quiet | Bob Baffert | 2nd | Victory Gallup |
| 1999 | Charismatic | D. Wayne Lukas | 3rd | Lemon Drop Kid |
| 2002 | War Emblem | Bob Baffert | 8th | Sarava |
| 2003 | Funny Cide | Barclay Tagg | 3rd | Empire Maker |
| 2004 | Smarty Jones | John Servis | 2nd | Birdstone |
| 2008 | Big Brown | Rick Dutrow | DNF | Da'Tara |
| 2012 | I'll Have Another | Douglas F. O'Neill | SCRATCH | Union Rags |
| 2014 | California Chrome | Art Sherman | 4th | Tonalist |
| 2015 | American Pharoah | Bob Baffert | ? | ? |
USAToday.com
11: Victories in Triple Crown races for American Pharoah's trainer, Bob Baffert.
4: Times Baffert has had a Triple Crown opportunity at the Belmont. His three misses were with Silver Charm in 1997, Real Quiet in 1998 and War Emblem in 2002.
1: Victory for Baffert at the Belmont, with Point Given in 2001.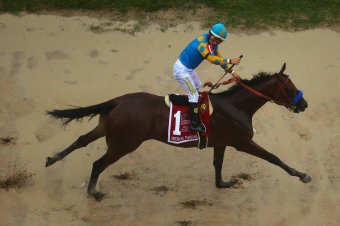 Maddie Meyer/Getty Images
6-0: American Pharoah's record with jockey Victor Espinoza in the saddle. American Pharoah is 6-1 overall, with his only defeat coming in his maiden race as a two-year-old.
3: Espinoza's career chances for a Triple Crown win. He also had Derby-Preakness winners with War Emblem in 2002 and California Chrome last year.
6: Espinoza's total victories in Triple Crown races.
0: Espinoza's total victories in the Belmont.
8: Horses in the race this year, after Carpe Diem and Truth or Else dropped out this week. It's the smallest field since 2007, when seven ran.
12: Average number of starters in the previous five Belmonts. 2013 had the biggest field in that span, with 14.
1: Number of Belmont winners in the last 10 years who competed in all three Triple Crown races. Only Afleet Alex, the 2005 Belmont winner, ran in all three. Afleet Alex also won the Preakness but finished third in the Derby. Five Belmont winners during that span didn't run in the Derby or the Preakness, including last year's winner, Tonalist.
5: American Pharoah's opponents Saturday who also ran in the Kentucky Derby but not the Preakness: Frosted (finished fourth), Materiality (sixth), Keen Ice (seventh), Mubtaahij (eighth) and Frammento (11th).
1: American Pharoah's opponents Saturday who also ran in the Preakness but not the Kentucky Derby: runner-up Tale of Verve.
0: American Pharoah's opponents Saturday who ran in the Derby and the Preakness.
2: Dramatic upsets in the Belmont by horses trained by Nick Zito. Birdstone, with 36-1 odds, wrecked Smarty Jones' Triple Crown bid in 2004. Da' Tara, at 38-1, won in 2008 when Triple Crown hopeful Big Brown was eased late in the race. On Saturday, Zito's entrant is 33-1 longshot Frammento, who will be starting right next to American Pharoah, in the fourth post position.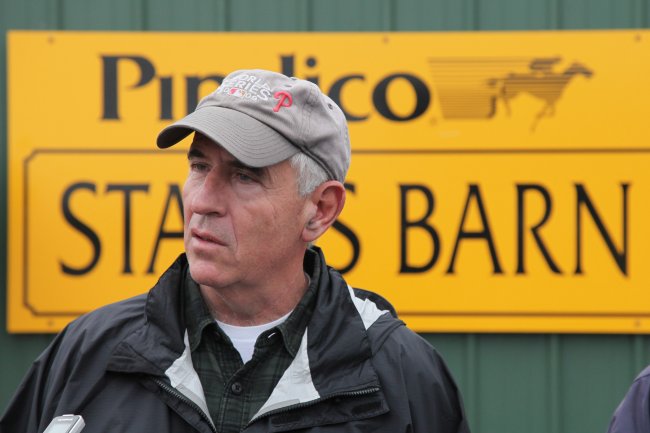 Rob Carr/Getty Images
65,417: Belmont's attendance when Affirmed won in 1978.
120,139: Belmont's attendance record, set in 2004, when Smarty Jones was bidding for the Triple Crown.
90,000: Maximum attendance Belmont will allow Saturday, because of all the complaints from last year about congestion and insufficient supply of food and beverages.
How will American Pharoah fare at the Belmont?
$800,000: Winner's purse. Second place gets $280,000; third gets $150,000. Total payouts are $1.5 million, with the smallest one being $30,000 for eighth place.
$3,730,300: American Pharoah's career earnings so far.
$300,000: What American Pharoah owner Ahmed Zayat paid to buy him back after putting him up for auction in 2013. American Pharoah is now generally valued at $15-$20 million, based on expectations of what he'll earn when he stands at stud.
2:24: Secretariat's winning time in 1973, which still stands as the Belmont Stakes record.
31: Secretariat's winning margin, in lengths.
Tom Weir covered numerous Triple Crown races as a columnist for USA Today.