Imagine you've just driven 500 miles at breakneck speeds with relentless tailgaters clinging to your rear bumper. Having finally reached your destination, of course you're just dying to throw down a tall glass of...
Milk?
Absolutely, if the person behind the wheel is the winning driver in Sunday's Indianapolis 500.
For winners, guzzling good old cow's milk is every bit as entrenched a tradition at Indy as donning the green jacket at the Masters or skating victory laps while hoisting the Stanley Cup.
It's not quite as odd as hockey's penchant for throwing octopi onto the ice at playoff time, and it's certainly less messy than spraying champagne or having a blizzard of confetti fall after a championship is clinched.
It's not as quirky as boxing legend "Sugar" Ray Robinson drinking beef blood as part of his training regimen, but it's still a little odd. And it never would have taken root if three-time winner Louis Meyer hadn't been such a big fan of buttermilk. Yes, buttermilk, not regular milk.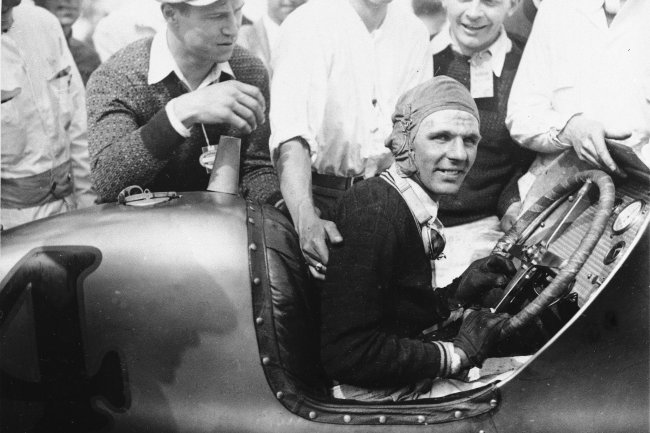 Associated Press
That's what Meyer asked for the second time he won at Indy, in 1933, and it was handed to him in a glass. But the tradition wasn't born until Meyer won again in 1936 and ordered up another round of buttermilk for his celebration in Victory Lane. That time, it arrived in a milk bottle.
Legend has it that newspapers ran a picture of Meyer drinking the milk and holding up three fingers for his three wins, and an executive in Indiana's dairy industry was among those who saw the photo.
No photographic evidence exists to verify this story, according to Indianapolis Motor Speedway historian Donald Davidson (h/t WFYI Indianapolis' Christopher Ayers). But Indy lore says the dairy exec knew a great marketing opportunity was at hand, even though he wasn't aware Meyer was drinking buttermilk, and he resolved to get milk in the winner's hands again the following year.
The tradition was off to a good start, but there was a gap from 1947 to 1955 when it disappeared without explanation. But once it returned in 1956, it was back to stay, with one glaring exception.
That occurred in 1993. And while it's hard to think any story about drinking milk could have a bad guy, there is indeed a dairy villain.
That's the role Emerson Fittipaldi cast himself in when the Brazilian racing legend won at Indy for the second time.
Fittipaldi had invested in orange groves in his native country, and he usurped the Victory Lane celebration to promote them. When he was handed the traditional bottle of milk, he pushed it away and instead latched onto a carafe of orange juice.
It was a silly move. Fittipaldi could have drunk some milk and then moved on to his orange juice. After all, his racing suit was plastered with the logos of numerous sponsors, and motorsports has pretty much led the way in showcasing the names of multiple financial backers.
You can see Fittipaldi's rudeness in this video, starting at about the six-minute mark. Fittipaldi says he's going with OJ because he's in the citrus farming business, and then he really rubs it in at the 8:09 mark when the milk bottle is extended to him again and he pushes it away. He did finally take a sip, but by then, the television cameras were no longer rolling.
The fallout was immediate.
Fittipaldi was booed heartily when the Indy circuit's next race took place in Milwaukee, the heart of Wisconsin's dairy country.
Fans in Indiana also showed they had long memories. When Fittipaldi was invited back in 2008 to drive the pace car, there were many who remembered the snub and booed as he performed the opening-lap duties.
Clearly, the Indy 500 takes its milk seriously.
That will be evident on Sunday when the milk for this year's winner is protected by its own security detail.
As reported by Dairyherd.com, two representatives from Indiana's dairy industry will be in charge of the milk in the early morning and throughout the race, and they will have a police escort. They are dairy farmer Alan Wright from the All Wright Farms in Muncie and Janet Dague from the Dague Dairy Farm in Kewanna.
According to MotorSportsTalk.com's Chris Estrada, they will be armed with a list of each driver's favorite kind of milk—two percent, whole or fat-free. (Two percent tends to be preferred.) And if the winner is a good sport and goes along with the ceremony, he or she will receive $10,000 from the American Dairy Association.
And three-time winner Dario Franchitti disputes the notion that milk doesn't hit the spot after a long day in the cockpit. Asked about how it tastes after his first victory, in 2007, Franchitti told USA Today:
"Good. Really good. They chill it and it's very cold. I went for full fat inside and then I went outside in Victory Circle after the rain stopped and I had another bottle and I think that was two percent. That was good as well. I was liking the milk."
It's also OK to have a little fun with the chugging ceremony, like when Helio Castroneves won in 2001 and, after a few sips, dumped the rest on his head.
Per George Phillips of Oil Pressure, Gil de Ferran endeared himself to dairy farmers in 2003 when he sipped a little and said, "I love milk."
In 2006, Sam Hornish repeated Castroneves' head-soaking act, but he saved enough to spray the crowd.
In 2013, Tony Kanaan also went the self-dousing route.
But the late Dan Wheldon might have had the best idea.
Wheldon carved out a milk-loving image for himself when he finished off half the bottle in three gulps in 2005. But Wheldon, who died in a 2011 crash, also made sure to share the moment with a famed driver who never got to experience the tradition.
Wheldon handed the bottle off to Michael Andretti, his car owner, who had gone 0-of-14 behind the wheel at Indy.
According to MotorSportRetro.com's Andy Halberry, Andretti said, "It's the sweetest milk I've ever tasted."
Sunday's winner will surely feel the same.
Tom Weir covered numerous motorsports events as a columnist for USA Today.