"I still don't know what I want to be when I grow up."
George Atallah is the assistant executive director of external affairs for the NFL Players Association and has quickly become the man everyone looks to when it comes to NFL players and their business. In many ways, his voice—well, at least on Twitter—is as much the voice of the NFLPA as Executive Director DeMaurice Smith's or President Eric Winston's.
For Atallah, it's been the most unlikely of roads, and he never could have imagined being here.
.@ericwinston + @GeorgeAtallah talking biz of football, player transition after the game + more at #BWB6 pic.twitter.com/d3rLYslCTR

— NFLPA (@NFLPA) April 29, 2015
Back in 2009, Atallah and his wife Holly were preparing to move back to New York City. Working in Washington, D.C., had been a big break in his career, but the lifelong New York Giants fan from Queens was ready to go back home and start a new chapter of his life and expand his small family.
Then, he got dragged back in.
During his time in D.C., Atallah had worked at Qorvis Communications as a communications and crisis specialist, primarily with U.S.-Middle East relations. This, not long after a brilliant academic career in which he earned two bachelor's degrees (philosophy and English) at Boston College and an MBA from George Washington University.
He had also worked for a number of other firms throughout his young career, including Goldman Sachs and Seeds of Peace. That work at Goldman Sachs is almost always included in treatments of Atallah's biography and typically paints him in the public as some sort of erstwhile investment banker, which can often carry a negative connotation in our post-Wall Street bailout world.
In reality, Atallah's professional life has been less like Wolf of Wall Street and more like what the fictional Olivia Pope does on ABC's hit television show Scandal. Atallah has made a career out of strategically maneuvering organizations away from crises and helping them manage messages afterward.
It was at Qorvis that he first met DeMaurice Smith, and it was that connection that led Smith to make Atallah his first hire when he was elected executive director of the NFLPA. Tapped to build out a much bigger external affairs team than the previous NFLPA team, Atallah describes his ending up anywhere near the business of sports as an "accident."
"Given the landscape in 2009," Atallah said, "and with the players electing someone like De, I think that everyone knew there was a crisis to come, and I'm proud to say Smith felt he could count on me."
Had that connection with Smith not been made at Qorvis, or had Smith decided to go a different direction for the position, Atallah has no doubt he'd be living back in New York—potentially with his own crisis management firm. Instead, he's become one of the leading voices for athletes' rights.
Generally speaking, Atallah's job on a day-to-day basis aligns with the NFLPA's overall goal: "[I'm] always working on player rights; always working on ways to support the players."
Still, to know Atallah and to understand the unlikely path he's taken to this point is to understand how uncomfortable his position as the public face of the union often makes him. He can certainly handle the pressure and the spotlight, but it's the credit and the kudos that often give him pause.
He quickly points out that he doesn't work alone.
Atallah works side by side with dozens of talented men and women who don't often share the recognition he gets. His communications team includes Director Carl Francis, Creative Director Veronica Jenkins, Senior Manager Mike Donnelly, Manager Jilane Rodgers and Digital Content Manager Matthew Golden.
Since we are on the subject of hugs...here's the GOAT: #holdme cc: @SaturdayJeff pic.twitter.com/0fjseyG6M4

— George Atallah (@GeorgeAtallah) May 19, 2015
While Atallah is the man the media turns to and the attribution for all of the quotes, the work would not be the same without everyone on that team.
Remember, too, that the NFLPA may have elected Smith who then hired Atallah, but the players are still ultimately in charge, and Atallah calls working with player presidents like Kevin Mawae, Domonique Foxworth and Winston—as well as all of the executive board and player reps—one of the greatest joys of his job with the union.
Atallah pointed out, as he often does, that the NFLPA can lobby and hire the most expensive lawyers available (and it often does), but it wouldn't be where it is today without fantastic player leadership.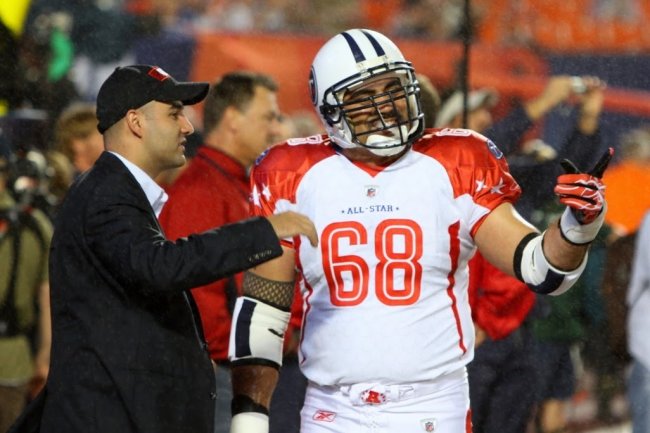 Kevin Koski (NFLPA), Used with Permission
Working with so many people means it can often be a lengthy process, though.
Much of what comes out of Atallah's office are 140-character tweets and short press releases, but the brevity of those messages should not be interpreted as carelessness.
"We typically start with a draft from my email that gets completely...can I say mutilated?" Atallah said. "And we wind up at the end with a carefully edited version of my original. Sometimes it can take a few hours and sometimes it can take a few minutes."
Atallah also pointed out that there is a lot of collaboration and even disagreement in the process, but it all comes down to "getting the right people in the room and talking about it."
"That's what makes our leadership team very unique," Atallah said. "We're not afraid to oppose or float crazy solutions. We all need to be able to challenge each other and find the fine line between success and failure when it comes to some of these complicated matters; holding each other accountable and making sure everyone executes."
For Atallah and his team, wins are not often found in personal accomplishment but in the union ending the day stronger than it began.
"A lot of my job is dedicated toward protecting the union and its players. To me: The first thing that comes to mind is whether or not our union is represented factually and accurately in the public realm. If I can build a new relationship that can make this place stronger, that's a win for me."
Atallah then distilled much of this work into a tongue-in-cheek phrase: "It's my job to manage the crazy."
Of course, I had to ask him if the opinionated and verbose Smith was ever part of that crazy, and Atallah laughed and admitted it's true at times. Yet, even through recent tensions as Smith was up for election, the "crazy" in Atallah's world often comes from the other side of the fence, as the NFL league office and the union are often set in opposition to each other in drawn-out labor wars.
Atallah wouldn't go so far as to call the relationship with his counterparts at the league "cold as ice," but he says he truly wishes things weren't as contentious and that the work could be more collaborative and less acrimonious.
When the two sides have come together, rather than working apart and reacting to one another, good work has been done in support of the game and its players.
"I believe the reason we're not [more collaborative] is because we have to react to things that they do," Atallah said. "The adversary positions that the public sees us take are a result of things they've done that we've had to react to."
But Atallah also realizes that he hasn't always been at his best when the two sides have collided.
"I've been a little too flip on social media," Atallah said. "I always want to project this organization in the most professional way possible. It's a function of the Twitter universe with people often being unprofessional. Like anything else, you learn and you adjust."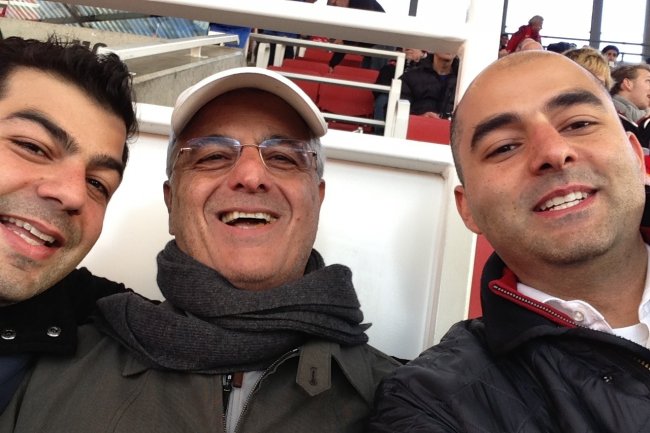 Atallah Family Photos, Used with Permission
Another adjustment in Atallah's personal life is one of the biggest consequences of his job at the NFLPA. He no longer describes himself as much of a football fan, at least not in the way many of us would define the term, and certainly not in the way he used to be when he was rooting for the Giants.
Instead, he often finds himself rooting for the players he knows best to do well and for everyone to finish the game healthy. In fact, the irony of when he took his position at the union is that it closely coincided with his Giants winning the Super Bowl, yet he found himself rooting just as hard for the players he knew on the opposing New England Patriots.
Of course, he still enjoys going to games or watching NFL RedZone on the weekends, but he's forced to experience the game in a much different way—similar to agents with players on competing teams or a former player who has played for both teams in a matchup.
Instead of American football, Atallah has directed his fandom toward what he calls a "rather, almost unhealthy, fan experience as it relates to Arsenal Football Club."
Did I take a vacation day today to get ready for Thanksgiving and watch Arsenal later with my dad? Why yes, yes I did.

— George Atallah (@GeorgeAtallah) November 26, 2013
While his tweets on union matters are often carefully crafted and excruciatingly balanced and nuanced, Atallah's tweets on Arsenal are almost identical to the tweets of fans everywhere—desperation, eternal optimism, consistent retweeting of news, notes and opinion.
He's a soccer nut, because he gets to be.
Atallah Family Photos, Used with Permission
Atallah's passion for his favorite football club can probably only be outweighed by his love for his family. He met his wife, Holly, at a friend's dinner party and they married in 2007. Holly works as a consultant, and the two have two daughters (five and three) with another child on the way this summer.
Atallah also plays a lot of basketball in his free time, though he hesitates to call himself good at it. Frankly, his wife wishes he would stop, because the 37-year-old is starting to spend more time patching himself up than he does dominating opponents on the court.
He and the same group of guys have been playing a couple of times a week for the past 10 years.
I asked Atallah to give me a "pro-player comparison" for his game—this being NBA draft season and all—and he compared himself to an aging Ray Allen. Now, let's be clear, he's not anywhere close to that good, but he hates contact and prefers to stand outside chucking up three-pointers.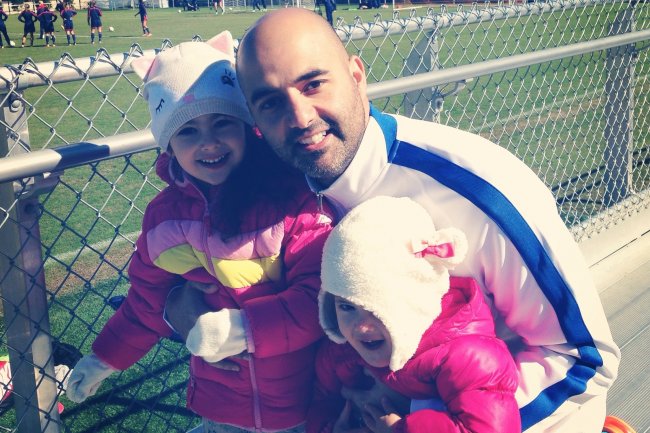 Atallah Family Photos, Used with Permission
"I'm committed to my work," Atallah said, "my family and—when I can—playing a little basketball and watching a little Arsenal. Honestly, that's all I have time for."
Atallah believes the most important key to his job is professional integrity.
"Over the last six years," he says, "the only way we've been able to manage some of these crises is by ignoring the unwarranted, unfounded, often-biased criticism and staying true to our professional integrity. Without that one thing, everything else falls apart."
Atallah lists his heritage among his greatest influences and considers it a defining piece of the puzzle. He was born in Lebanon and grew up with Arabic as the first language in his home.
"Middle East affairs, as an issue, is really my main interest," Atallah said, "and my literary influences are Edward Said and Kahlil Gibran. Said's memoir Out of Place was one book that sticks out as really resonating with me about this challenge of identifying with different cultures and places, with conflict at the center of it."
This is a reminder that Atallah, while more than capable at his job, is still an odd fit as the guy speaking for NFL players. He's a rainmaker. He's a policy wonk. He's more fluent in boardrooms than locker rooms. He was a wartime consigliere during one of the most contentious labor battles the NFLPA has faced, and he's young enough that his life's work may still be ahead of him.
"Great six years here and I love it," Atallah said, "but I don't know what the future holds for me. As long as I feel I'm growing in this job and still have challenges, it's a great place to be, but I'm still at a certain place in my career when anything is possible."
Michael Schottey is an award-winning NFL national lead writer for Bleacher Report and a writer for Football Insiders. Follow him on Twitter. Unless otherwise cited, all quotes were obtained firsthand by the author.