Daniel "DC" Cormier just received the second chance of a lifetime as he fights for the UFC Light Heavyweight Championship for a second time in a row, this time against Anthony "Rumble" Johnson on Saturday at UFC 187.
While Cormier is known for his superior wrestling abilities, he has other tools to complement his wrestling that could help him take the title this time around.
After Cormier's victory over Patrick Cummins in February 2014, Joe Rogan stated, "It is his hands and striking...that separates him from other wrestlers."
It is no secret that Cormier has some heavy hands. When Cummins came in with an overhand right toward the end of the fight, DC just slipped it and countered with his own right. That shot ultimately was the beginning of the end for Cummins.
One of his earliest demonstrations of his punching power came against Antonio "Bigfoot" Silva in September 2011, as he brought down Silva with a right hand inside the opening minute of the fight.
The overhand right that floored Bigfoot showcased DC's amazing hand speed as well.
His quick hands also are demonstrated by his use of the jab. He was able to hook off the jab, which backed Silva up. Additionally, Cormier was able to quickly double up the jab to get inside of Bigfoot's reach to ultimately set up a knockdown with his powerful uppercut.
Cormier also displays excellent clinching and dirty boxing skills. Every time Cummins came in for a takedown, DC was able to successfully defend, tie him up and sneak in an uppercut that rocked him. Inside the clinch and tie-ups, Cormier also pounded in a couple of shots to Cummins' body.
In his fight against Frank Mir in April 2013, DC was able to use the clinch to control Mir. While inside the clinch, Cormier threw shots at Mir and worked the body. He also used the clinch to bully Mir so he had his back against the cage, which limited his movement. This also prevented Mir from creating space inside the clinch to knee Cormier.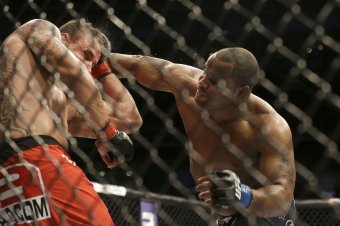 Jeff Chiu/Associated Press
While Mir was unable to create the spacing inside the clinch to throw knees, DC was able to use his inside position to push his forearm into Mir's shoulder to create space and power for his knees. He also raised Mir's left arm to expose his body for those knee strikes.
Because opponents are too concerned with DC's hands and takedown abilities, it creates openings for him to land leg kicks. While not a major tool in Cormier's arsenal, it does keep a taller opponent honest when he doesn't create that spacing. You can see examples of this against Mir, Roy Nelson in October 2013 and even in his loss against Jon Jones in January.
Cormier isn't a one-trick pony wrestler. He has several tools that he can use to set up his outstanding wrestling abilities. However, his opponent, "Rumble" Johnson, also is known for his heavy hands and has a bit of a wrestling background himself. This is a perfect style matchup for DC and Rumble.