If there ever was an event designed to build sky-high hopes, only to snuff them out, it's horse racing's Triple Crown.
Keep that in mind the next three weeks as we wait for the June 6 Belmont Stakes in New York. There, horse racing will either finally enthrone its first superhorse in decades, or instead endure another round of snuffed-out dreams and broken hearts.
That's the weight that's riding on the shoulders of everyone surrounding American Pharoah after his Saturday victory in the Preakness Stakes.
American Pharoah is now just a 1½-mile run from being the first horse since Affirmed in 1978 to complete the sweep of Triple Crown races. But history dictates that the distance might feel more like a million miles.
Pharoah is the 14th horse since Affirmed to claim the Kentucky Derby and the Preakness, and the other 13 all have been decidedly unlucky at the Belmont.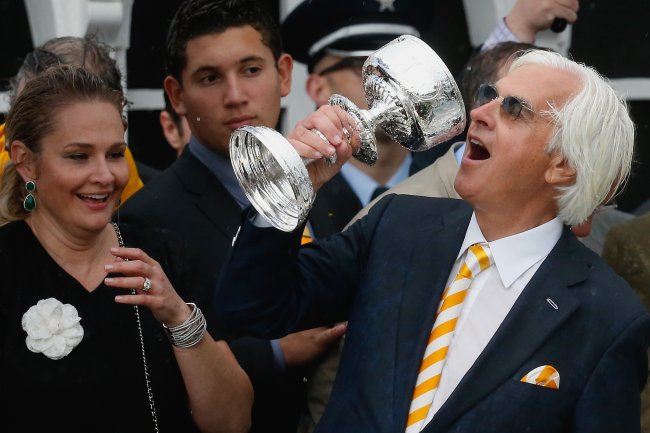 Rob Carr/Getty Images
Three factors are primarily responsible for the string of disappointments.
The first is endurance. The Belmont's 1½-mile distance is rarely run, and none of the horses competing this year will have ever tackled a race that long. Every beast in the field will be galloping into unknown territory.
The second is the schedule. Running all three Triple Crown events—at three different tracks in three different states—means racing three times in 36 days.
Back in the '70s and earlier, when horses raced much more frequently, that wasn't an unusual burden. But it's an arduous task that's rarely assigned to today's thoroughbreds, who usually race only once every four weeks, or even every six weeks.
How will American Pharoah finish at the Belmont?
The one exception is when they chase the Triple Crown in the spring of their three-year-old season. But they still aren't fully mature at that age, and usually only a handful enter all three races.
The third major obstacle to winning the Triple Crown is the one that points out what some might consider a glaring ambiguity of horse racing: Letting fresh horses that haven't competed in other legs of the Triple Crown enter the Belmont.
On the one hand, virtually everyone in horse racing agrees that nothing would help the fading sport more than having a Triple Crown winner.
Fans would flock to tracks to catch sight of him at future races. There would be great interest in seeing how long he could keep his winning streak going. And people who normally have no awareness of horse racing would be drawn by the special appeal that a four-legged superstar brings to the sports world.
But letting fresh horses into the race puts a Triple Crown contender like American Pharoah at a disadvantage before the field even leaves the starting gate.
Just imagine the international howl that would go up if an Olympic competitor in track or swimming was ushered into a gold-medal final without having to race in the preliminary rounds.
In horse racing parlance, those fresh horses are referred to as "new shooters." Two of them, Tonalist and Commissioner, finished first and second, respectively, at last year's Belmont. That ended the Triple Crown quest of California Chrome, who finished fourth. The third place horse, Medal Count, had run in the Derby but skipped the Preakness.
California Chrome owner Steve Coburn bitterly assailed a system that allows horses to sit on the sidelines and then take aim like snipers at the Belmont favorite. He contended that horses that weren't Derby-eligible shouldn't be allowed to run in the other Triple Crown races.
Mike Ehrmann/Getty Images
"That's the coward's way out," Coburn told the Associated Press (H/T Frederick News-Post). "It's not fair to these horses that have been in the game since day one. If you don't make enough points to get into the Kentucky Derby, you can't run in the other two races. It's all or nothing."
But such strategy is as old as horse racing, and there has been no significant movement to change the rules for entering the Belmont.
Christophe Clement, the trainer of Tonalist, spoke for many racing traditionalists when he told Newsday's John Jeansonne, "The Triple Crown itself, obviously it's tough. If it would be easier to do it, then it would mean nothing."
Smarty Jones had an even more agonizing end to his Triple Crown hopes in 2004. He finished second at the Belmont to Birdstone, who ran at the Derby but sat out the Preakness. Similarly, Funny Cide could do no better than third at the 2003 Belmont after winning the Derby and Preakness. He was beaten by Empire Maker and Ten Most Wanted, both of whom skipped the Preakness.
Two other recent horses missed out on the Triple Crown for other reasons. Big Brown was eased up in the 2008 Belmont homestretch when jockey Kent Desormeaux decided something was wrong with his horse. In 2012, I'll Have Another was scratched before the race because of a leg injury.
All those near misses figure to make it just that much sweeter if American Pharoah prevails at this year's Belmont.
Especially so, since Pharoah's trainer, Bob Baffert, has taken three other horses to the threshold of the Triple Crown, only to fall short. And jockey Victor Espinoza is nearly as experienced at enduring such gloom. He's had two Triple Crown bids fall apart at the Belmont, including last year atop California Chrome.
But no matter how impressive American Pharoah looked while flying through the mud at the Preakness, don't doubt for a second that he still has a long way to go.
Tom Weir covered 20 Triple Crown races as a columnist for USA Today.