Floyd Mayweather's no-thrills and no-frills dismissal of Manny Pacquiao didn't come close to earning a place among the greatest fights of all time. Instead, it will be remembered mainly for making dollars rain down on anyone who had a piece of the action.
But its real spot in boxing history may be as the last mega-event for this waning sport.
So let's appreciate that side of Mayweather vs. Pacquiao while the memory is still fresh because there's no guarantee when boxing will have the star power to put on another spectacle like this.
Regardless of the outcome in the ring, there is nothing quite like watching the rich and famous make a pilgrimage to Las Vegas for a big fight night. It's the one time when having a red carpet at a boxing match doesn't involve someone's bloody nose.
The main ingredient for a big fight night is that it has to be the hottest ticket anywhere—not just the biggest sports event on our side of the Atlantic but on the face of the planet. So big that Kentucky basketball coach John Calipari tweets from there:
As I was walking in the back door, I found these. Can't wait for a great fight. pic.twitter.com/bUkM4AwJta

— John Calipari (@UKCoachCalipari) May 3, 2015
Mayweather vs. Pacquiao clearly qualified as that, attracting stars from every variety of A-list. Where else do you see the crowd camera bounce from Clint Eastwood to Beyonce?
Leading men such as Bradley Cooper, Ben Affleck and Denzel Washington were in attendance, but no, big fight nights obviously can't rival the Oscars when it comes to who has the most Hollywood faces. That said, the Oscars don't give you Tom Brady, Charles Barkley and Sugar Ray Leonard, and they also don't have the contenders for best actor square off inside the ropes.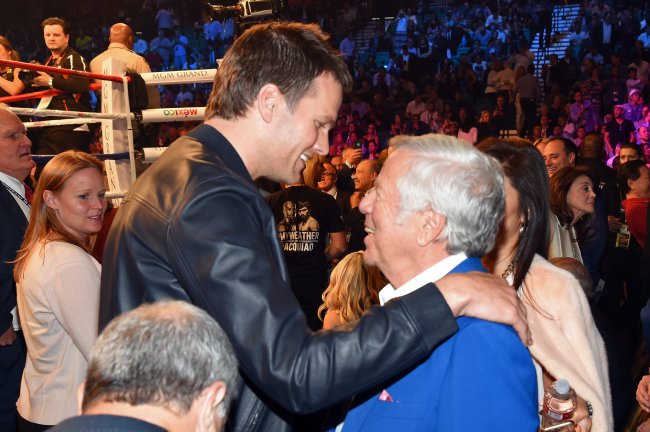 Ethan Miller/Getty Images
That mix made this the one night where Sports Illustrated photographers have to battle for elbow room with counterparts from People and Jimmy Kimmel Live! For one night, celebrities are packed like sardines into the Las Vegas Strip.
It's a see-and-be-seen kind of night for the stars, when the high rollers among them are rewarded for their loyalty to Vegas with ringside seats. But no matter where any spectator sits, he or she forever will be looking for the opportunity to remind others that, "Yeah, I was there. I was in the house."
Moguls such as Patriots owner Robert Kraft, CBS czar Leslie Moonves and Donald Trump dotted the ringside crowd. From the music world, you had Diddy and 50 Cent.
Celebrity spotting is the sport within the sport at big fight nights, creating moments that make fans ask, "Hey, did I really just see…?" Or, "Who the heck is that guy, and how come he gets to sit so close to Nicki Minaj?"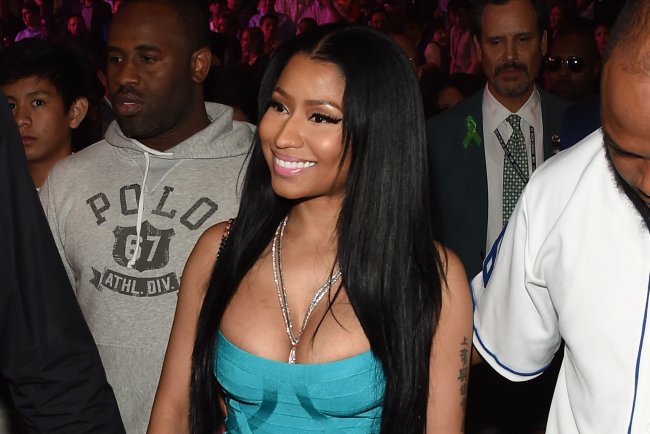 Ethan Miller/Getty Images
We get a taste of that at the Super Bowl, but only a taste in stadiums that seat 70,000 and up. The per-capita density of stardom saturates ringside at big fights.
Who among Saturday night's pay-per-view audience didn't notice Las Vegas native Andre Agassi and wife Steffi Graf sitting in the second row? Who didn't marvel at Paris Hilton's never-ending ability to get on camera? And who didn't take a look at Robert De Niro walking in and hope it would be a Raging Bull kind of night?
The only other place in sports that has delivered such a star-studded atmosphere is courtside at Los Angeles Lakers games. The best of that was in the "Showtime" prime of Magic Johnson, who, by the way, was at the fight Saturday.
Fans who pay four figures for a fight ticket want to see the action equal the price, but a love of boxing isn't the only reason they show up. They also want to be there on the night that Fan Man floats into the ring or when Mike Tyson bites off a hunk of ear, because the odds almost always favor something marvelously unpredictable happening on a big fight night.
Like Oscar-winner Jamie Foxx stretching notes while singing the last of the three national anthems that were performed (Mexican, Philippine and U.S.).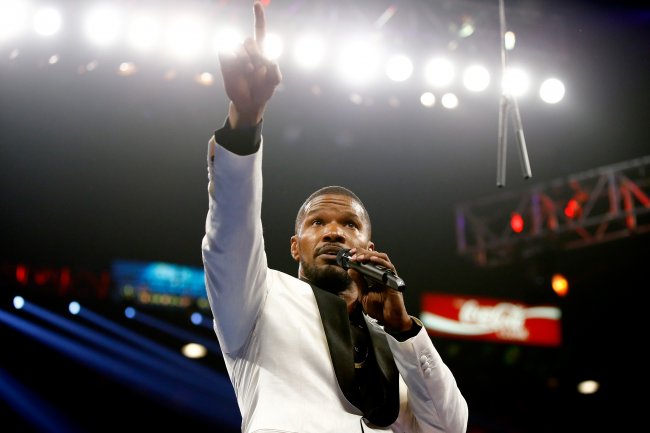 Al Bello/Getty Images
Or seeing Justin Bieber bringing up the rear of good-friend Mayweather's entourage during the ring walk. And yes, The Biebs was standing next to a guy dressed as the Burger King.
Yes, not all of it was classic theater. Pacquiao and trainer Freddie Roach jumped into the ring wearing bad headbands, looking like two guys seeking refuge from a terrible garage band. Manny's headband said Motolite, and Freddie's was from Geico. You half expected to see a delivery guy show up with a pizza from Domino's.
But you still had to watch. On a big fight night, there's always the sense that something is about to happen, even when punches aren't being thrown.
Mayweather-Pacquiao had that feeling, even if the fight was a gentlemanly affair that delivered no significant cuts or bruises, and certainly no knockdowns.
There was a time when these nights were almost common, back when boxing's marquee was steadily crammed with big names.
Saturday's so-so brawl was probably the first time since Mayweather vs. Oscar De La Hoya in 2007 that a fight card had headliners who could amp up Sin City this much.
But a look at the rest of the card spoke volumes about where boxing is currently. The next-best fight saw lightly regarded Leo Santa Cruz run his record against mostly unknown opponents to 30-0-1 while winning all 10 rounds against a part-time boxer, Jose Cayetano.
With Mayweather, 38, and Pacquiao, 36, on the cusp of retirement, there soon will be painfully little charisma left in the fight game. So be sure to watch when the replay of Saturday's superfight airs, because it may be a long time before boxing is worthy of another night like this.
Tom Weir covered numerous championship fights as a columnist for USA Today.