Stop me if you've heard this one before, but American Pharoah looks like the horse that could finally end the Triple Crown drought that has dragged on since 1978.
That potential will come under heavy scrutiny now that American Pharoah has lived up to his sterling reputation with a commanding victory in Saturday's Kentucky Derby.
But American Pharoah, unbeaten aside from his very first race, has the credentials to stare down his critics in the same way he has dominated his rivals.
Saturday's trip around Churchill Downs wasn't as one-sided as the previous four victories he stacked up by a combined 22 ¼ lengths, but it was inspiring. He wasn't bothered at all by the ground jockey Victor Espinoza gave away with a way-wide turn into the home stretch, and he appeared to hit the finish line with plenty left in the tank.
There's no reason to think he can't repeat in two weeks at the Preakness Stakes, regardless of whether he faces fresh competitors or rematches with Saturday's contenders.
And yes, we've seen plenty of horses put together the Derby-Preakness quinella in recent years, only to fail when they reached for the third jewel of the Triple Crown at the Belmont Stakes.
Just last year, California Chrome teased hopeful fans in that manner, the 13th horse to do so since Affirmed won the last Triple Crown in 1978.
Is American Pharoah any better than Chrome, Big Brown, Real Quiet or any of those other horses that didn't quite gallop into history?
Well yeah, he just might be, and here are some of the reasons why: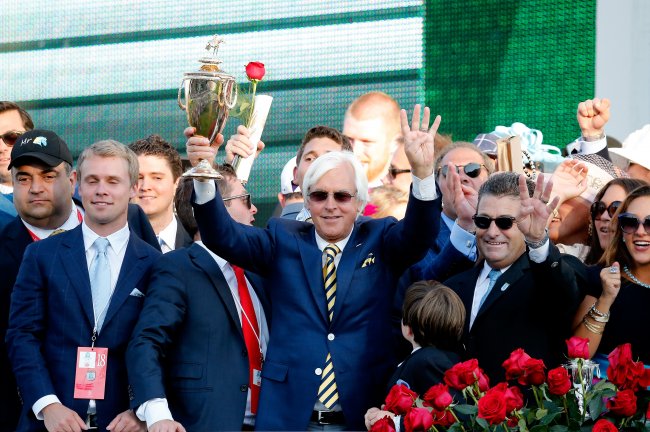 Rob Carr/Getty Images
Bob Baffert has as much horse sense as any trainer out there: This was the fourth Derby victory for Pharoah's trainer, and his 10th win in a Triple Crown race.
Baffert has seen it all, and his difficult but wise decision to pull American Pharoah from last year's Breeders' Cup might be one of the reasons the horse has been so fit this season.
The right guy is in the saddle: With his victory in the irons on Saturday, Victor Espinoza became only the second jockey to win back-to-back Derbys in the last 30 years, joining Calvin Borel.
Besides his near-miss with California Chrome in 2014, Espinoza also won the first two legs of the Triple Crown with War Emblem in 2002. Like Baffert, he's been there, and this third time could be his charm.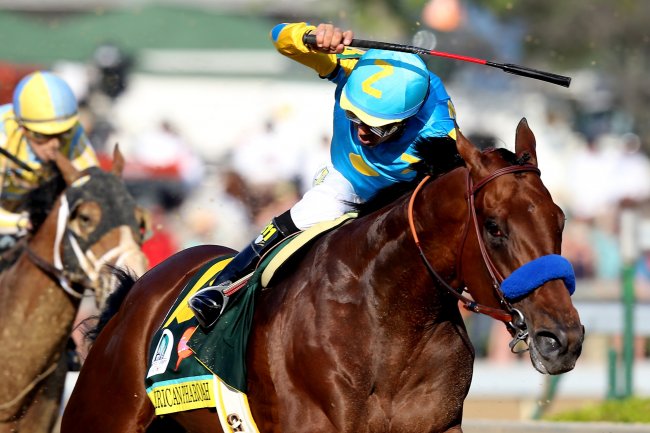 Andy Lyons/Getty Images
He outruns his pedigree: For those who tire of horse racing's obsession with lineage, it was nice to see Pharoah win for a couple of reasons.
First, he ended the Derby jinx for horses that have Storm Cat anywhere in the family tree. Going into Saturday, horses related to Storm Cat in any way were 0-for-44 in the Derby, but American Pharoah ended that run of bad luck for his damsire.
Second, he won despite not having a pedigree that includes Turn-To, a horse that was in the lineage of 17 of the previous 20 Derby winners.
The "untested" monkey is off his back: This was a classic Derby field. At least six horses had shown they should be considered genuine contenders. Pace-setter Dortmund was undefeated until finishing third Saturday, and runner-up Firing Line looks like a horse we'll hear from again.
Will American Pharoah end the Triple Crown drought
But American Pharoah prevailed with a clutch stretch drive that ran down Dortmund and Firing line.
So it's time for the naysayers to quit doubting American Pharoah because he hasn't faced up to a challenge.
Baffert knew American Pharoah was up against an uncommonly tough field, and not just because he also trained Dortmund.
Leading up to the race, Baffert told AL.com's Mark Inabinett that this is "the toughest field I've been involved in since Silver Charm," a reference to 1997 and the year his Silver Charm missed out on the Triple Crown when he lost by a half-length at the Belmont.
He's simply a spectacular beast: Gary Stevens, the jockey aboard Derby runner-up Firing Line, said it best when he saw American Pharoah last year.
"I've watched this horse and it's like a 4 year old against 2 year olds," Stevens, 52, told Mark Whicker of the Los Angeles Daily News. "Or maybe it's like a pro basketball player against high school kids. He has beautiful action, but also the intelligence to go with that athleticism."
Still, following up a Derby win with victories at the Preakness and Belmont is a monumentally difficult task. There's a reason we've waited decades for a horse to follow in Affirmed's footsteps. So, why won't American Pharoah win the Triple Crown?
The main obstacle remains the grueling task of three long races spread over five weeks, and concluding with the 1½-mile Belmont, a distance most thoroughbreds never run.
But the critique you're most likely to hear about American Pharoah between now and the Preakness is that he won the Derby with a slow time.
And it's true. His 2:03.02 was a bit dawdling. Only three Derby winners have run slower this century, and all of the last three Triple Crown winners ran substantially faster: Affirmed, 2:01.2 in 1978; Seattle Slew, 2:02.2 in 1977, and Secretariat, a still-standing record 1:59.4 in 1973.
But part of the reason the winning time was slow Saturday was that the expected pace-setter, Materiality, got stuck in the starting gate. The horses with early speed simply didn't get to the front in this year's logjam.
So I'm not holding the slow time against him any more than I'm downgrading him for the incorrect spelling of "Pharoah."
It actually adds to his charm, and if he triumphs in his next two races, maybe we should call him the winner of the Tripel Crown.
Tom Weir covered 12 Kentucky Derbys as a columnist for USA Today.