Perhaps the only thing in golf more dangerous than awarding a green jacket on Friday is comparing a young player to Tiger Woods.
And yet Jordan Spieth's play in the first two rounds of the Masters begs for both.
Spieth's 66 on Friday left him a whopping 14 shots under par and erased Raymond Floyd's name from the record books for the lowest first two rounds at the Masters.
Floyd was 33 in 1976 when he got off to a 13-under start en route to winning.
Spieth is 21, which makes the comparisons to Woods inevitable.
Jordan Spieth opens 64-66 to tie the lowest 36-hole total in 156 years of major championship history.

— Jason Sobel (@JasonSobelESPN) April 10, 2015
That's how old Woods was when he stormed to his first Masters championship in 1997, winning by 12 strokes. That type of runaway victory may be taking shape again this year, given that Spieth has flubbed only one bogey so far while finding the sweet spot on greens with unerring precision.
Spieth showed another similarity to Woods last month, when he boldly sank a 30-foot putt on the third playoff hole to claim the Valspar Championship.
Coupled with his 2013 victory at the John Deere Classic, that made Spieth only the fourth golfer since 1940 to win multiple PGA Tour events before turning 22.
The other three? Sergio Garcia, Robert Gamez and Woods.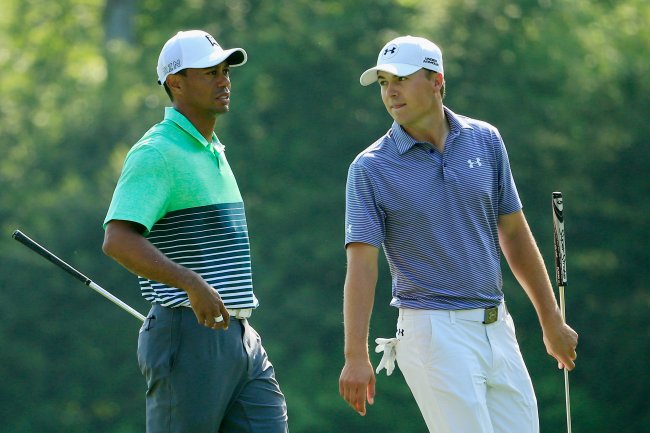 Jamie Squire/Getty Images
Spieth followed up on his title at the Valspar with a playoff loss at the Shell Houston Open and another second-place finish at the Valero Texas Open. Those two near-misses in his home state vaulted him to fourth in the world rankings.
Woods walked away from the 1997 Masters with a No. 3 world ranking and two months later ascended to No. 1.
Winning at Augusta could put Spieth on a similar track to becoming the world No. 1. Spieth, who turns 22 on July 27, can't break Tiger's record as the Masters' youngest winner (21 years, three months and 14 days). But he would be the second-youngest, well ahead of current No. 2 Seve Ballesteros (23 years, four days, in 1980) and No. 3 Jack Nicklaus (23 years, two months, 17 days in 1963).
21-year-old Jordan Spieth is making history at #TheMasters just like 21-year-old Tiger Woods did in 1997 pic.twitter.com/ZqyYhMbLNO

— Bleacher Report (@BleacherReport) April 10, 2015
Tiger and Spieth both played in Ryder Cups at the age of 21, and Spieth's 2.5 points out of a possible four last September in Scotland were better than Tiger's showing at Valderrama in 1997.
Before becoming a pro, Spieth never made it to the championship round of the U.S. Amateur, where Woods won three times from 1994 to 1996.
But Spieth's victories in the U.S. Junior Amateur Championship in 2009 and 2011 made him that event's only multiple winner besides Woods, who swept it from 1991 to '93.
After winning in 2011, a 17-year-old Spieth made a comment he might be able to recycle on Sunday, saying, per The Associated Press: "That's really cool. Anytime you can be compared to any of Tiger's golf accomplishments is very special."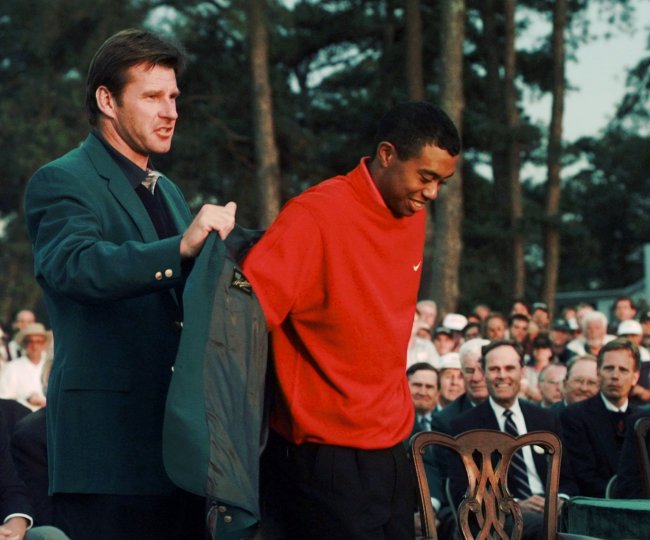 AMY SANCETTA/Associated Press/Associated Press
Their college careers also are similar. Woods was a two-time All-American at Stanford and won the NCAA Individual Championship in 1996. Spieth earned All-American status once at Texas, and as a freshman helped spur the Longhorns to an NCAA title in 2012.
While Spieth is on course for a runaway victory like Woods' in 1997, the two got off to very different starts.
History has caused us to forget, but Woods looked like no more than a footnote at the 1997 Masters when he shot 40 on the opening nine holes. But then he caught fire and played the back nine in 30.
This year, Spieth had the second-best odds to win, according to Odds Shark, behind Rory McIlroy. He served immediate notice he'd be in contention, with birdies on four of the first nine holes Thursday.
Anyone who remembers the McIlroy collapse at the 2011 Masters knows there's no such thing as a sure thing at Augusta National. But one area where Spieth stands above Woods at this stage of their careers is pro experience.
Spieth has played in nearly 70 pro events, but Woods was competing in only his 15th when he won the 1997 Masters, according to Kyle Porter of CBS Sports.
Included in Spieth's pro resume is last year's runner-up finish to Bubba Watson, so he has experienced the Sunday pressure cooker at Augusta before.
A runaway victory also would be nothing new for Spieth. He won last November's Australian Open by six shots and a week later claimed the Hero World Challenge by 10 shots.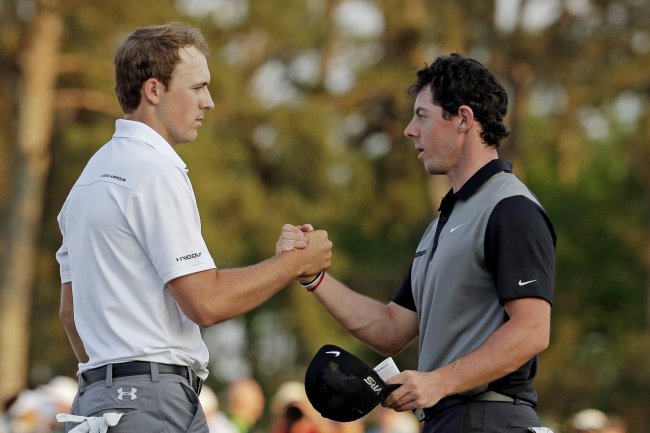 Charlie Riedel/Associated Press
That performance at the Tiger-hosted Hero World Challenge might have been an omen for Spieth moving into Woods' territory. His 26-under total broke Woods' tournament record, and Spieth also was the tourney's first wire-to-wire winner.
But maybe what says the most about Spieth being like Woods is that he isn't obsessed with chasing a Tiger who clearly is in the twilight of his career. No, the guy on Spieth's mind is the current world No. 1.
"Right now, currently, what I'm really focused on is Rory McIlroy," Spieth told reporters after winning the Valspar playoff in mid-March. "(He's) No. 1 in the world, and that's who everyone is trying to chase. That's the ultimate goal, to eventually be the best in the world."
Spoken like a young Tiger.
Tom Weir covered several majors as a columnist for USA Today.