All things considered, Tiger Woods had a very good first round at the Masters on Thursday. It wasn't the kind of round that thrust him into the conversation about who will win the year's first major, but it was at least the kind of effort that should halt any discussion of whether his days of contending are over.
Most importantly, the short game that just two months ago was on life support, made a dramatic U-turn and was nearly flawless during Woods' one-over round of 73 as he competed for the first time in more than two months.
There also was no sudden hitch in Tiger's giddyup—no dramatic flash of pain in the back that has given him so much trouble.
And aside from some mumbled curses, there was no sign of the lost Tiger whom we've become accustomed to in recent times—the angry Tiger who looked like someone stole his golfing compass.
What's your reaction to Tiger Woods' round of 73 on Day 1 of the Masters?
But it was still just a round of 73 on a day when fertile scoring conditions had others torching Augusta National.
Jordan Spieth looked a whole lot like the Tiger of 1997, when a 21-year-old Woods won his first Masters with a 12-stroke cushion. Spieth, also 21, tore up the course with an eight-under 64, one shot off the record for lowest round in a major.
Jason Day, perhaps ready to claim his first major at age 27, drilled five consecutive birdie putts at one point en route to a 67.
At the other end of the age spectrum, 45-year-old Ernie Els fired a 67 that included an eagle on the 15th. And 65-year-old Tom Watson was two strokes better than Tiger with a 71 that made him the oldest player to ever break par at the Masters.
That left 39-year-old Tiger decidedly trailing behind.
He showed that he's back to being able to play one of the world's most humbling courses without embarrassing himself beyond having a wild drive on No. 9 land next door in No. 1's fairway and then hitting a pine tree with his next swing.
But for the moment, Woods' ability to shoot near-par while avoiding his total disasters of late just means that he's worthy of being in the pack, not that he needs to have his measurements updated for the tailoring of a fifth green jacket.
Still, Woods' world is so much better than it was just a couple of weeks ago, when no one thought he'd dare put his train wreck of a game on center stage at the world's most prestigious golf tournament.
Tiger just HULKED UP. http://t.co/9H6UXJjGgy https://t.co/5LT5oMGQzV

— SB Nation (@SBNation) April 9, 2015
For Tiger fans, the first huge sigh of relief came on the seventh hole, after Woods' tee shot placed him squarely behind a tree, 166 yards from the pin. But, with a show of hand speed that any pickpocket would admire, Woods unleashed a lightning-quick and accurate strike with a 9-iron that served notice that he still has as much power as anyone in his profession—Bubba Watson included.
But just as important was that he had torqued his oft-troubled spine to the maximum and not come away wincing.
Continued evidence that Woods has rescued his short game came with a notable chip to within six feet on No. 8. Then he inflicted just the right amount of backspin to get within eight feet on the 11th.
The only significant breakdown in his middle-distance shots came on the 12th, when his 153-yard tee shot went kerplunk into Rae's Creek, leading to a bogey in Amen Corner.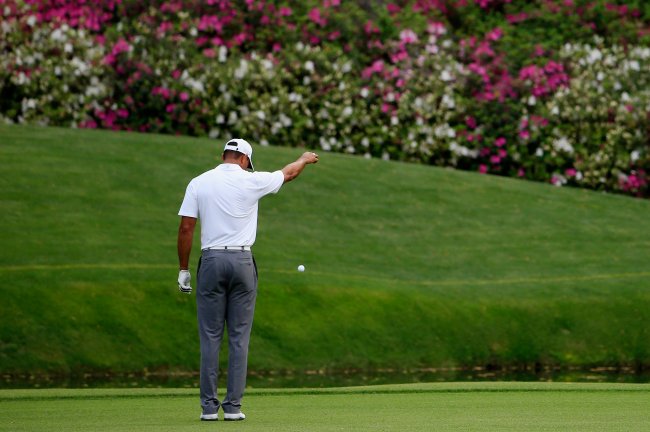 Jamie Squire/Getty Images
But even on that hole, after taking his drop, Tiger chipped to within three feet.
That led three-time Masters champion Nick Faldo to tell his ESPN audience that Tiger "must have just been messing with us back in Phoenix."
That, of course, was a reference to the career-worst 82 that Woods shot in late January at the Waste Management Phoenix Open, when it suddenly looked as if Tiger had no clue of how to use a wedge.
Faldo, who has never held back his criticisms during Woods' tumble from the top, was genuinely impressed with the retooled Tiger.
"I think this was a good day for him," Faldo said on ESPN. "This is probably the most consistent he's been for putting scores on scorecards in moons."
Tiger Woods opens with a 1-over 73. Only one stroke higher than his career Thursday scoring average in 18 previous Masters starts.

— Jason Sobel (@JasonSobelESPN) April 9, 2015
Woods did audibly call himself a "dumb-ass" when he hit into pine straw on No. 15, but he seemed pretty content with himself when he was interviewed on ESPN immediately after finishing his round.
Tiger acted as if there was absolutely no reason for anyone to be surprised by his resurrected short game.
"That's the strength of my game," he said with total assurance. "That's the way it should be. That's why I worked my butt off all those months and all those thousands upon thousands of shots—to make sure it's the strength again."
Strong enough to likely get him through Friday's cut and into the weekend. Strong enough to stop the panic among the golf fans who live and die with every Tiger appearance. But not strong enough to say that the old Tiger is entirely back.
Tom Weir covered several golf majors as a columnist for USA Today.