Who is John Boyett?
In the simplest terms, John Boyett is a football player. In fact, he's a really good one.
During the 2011 college football season, Boyett starred for the Oregon Ducks as a junior safety. He helped lead Oregon to a Rose Bowl win over Wisconsin and a No. 4 ranking in the final AP Top 25 poll. He made Sports Illustrated's 2012 Preseason All-America Team months later, but prior to earning that accolade, some speculated he'd forgo his senior season and declare for the NFL draft.
It could have been the start of a very promising career, but it is not that moment in time that has defined Boyett for most. He returned to school, and his star took a turn for the worse.
One game into the 2012 season, Boyett would elect to have surgeries on both patellar tendons, ending his career at Oregon and eventually dropping him to the sixth round of the 2013 NFL draft, where the Indianapolis Colts chose him as a long-term project. He went from being known for his outstanding physicality, toughness and stellar play to being damaged goods.
This would still not be rock bottom for Boyett.
In September 2013, Boyett was arrested in Indianapolis and charged with disorderly conduct, public intoxication and resisting law enforcement. During the altercation, Boyett was belligerent and defiant, making fun of the arresting officer, threatening him and claiming he was above the law because he played for the Colts.
In a statement following his release from the team, Boyett apologized and said the incident "didn't and doesn't represent who I am."
Then he did the exact same thing just over a year later.
In October 2014, Boyett was arrested and subsequently released from the Denver Broncos practice squad after punching a cab driver and demanding that authorities call team president John Elway. He was charged with third-degree assault, theft and harassment.
This is who John Boyett has been in the public consciousness: drunk, disorderly—a waste of NFL talent.
A Slow, Steady Fall from Grace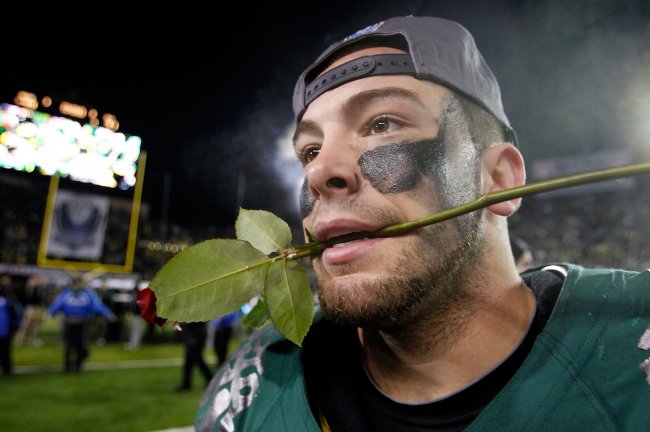 Jonathan Ferrey/Getty Images
While many of us experienced Boyett's indiscretions as two news reports, Boyett's bad acts were a long time coming—bubbling under the surface of an otherwise "good kid."
"John is...man, he's just a wonderful kid. I have two daughters in high school now, but when they were young girls, he would babysit them for me. I wouldn't put my daughters in anybody's hands. There's a trust I have in John and his character."
Those are the words of Troy Mott, head coach of the Napa High School Indians.
Coach Mott has known Boyett for over a decade now, and his high estimation of the young man doesn't come just from coaching Boyett into one of the top prospects ever from the Napa area. It's a love and a trust created by years of mentoring and being consistently impressed by more than just a football player.
"I've made some mistakes," Boyett admits, "but I consider myself a good person with a big heart."
Boyett has been the pride of Napa for about as long as anyone around him can remember. More than just one of the few prospects to ever come out of that area of Northern California, Boyett has always had a habit of giving back to the community that supported him.
"John is just a good person," said longtime friend and former NFL lineman Mike Gibson. "He's a person who cares more about other people than he cares about himself. He's a better person than he is an athlete. He goes above and beyond, does camps, does things for other people."
Gibson is a few years older than Boyett and was a sixth-round pick of the Philadelphia Eagles out of California the same year Boyett was recruited to Oregon. Though Gibson was a star high school player himself and a future NFL road-grader in the making, he said that "people in this town [Napa] don't even know who I am because of John Boyett."
"I can't say enough about him as a person."
Even more than an athlete, Boyett is a family man.
Among his greatest role models, he lists his father and hopes to live up to his example by being a good brother and son, as well as one day matching him as a father and a husband himself. Among his best friends, he lists his brother, Charles, a senior at UC Davis.
Yet even with two Boyett boys who went on to be college safeties, Gibson said the best athlete in the family was the Boyett he went to school with: John's older sister Danielle.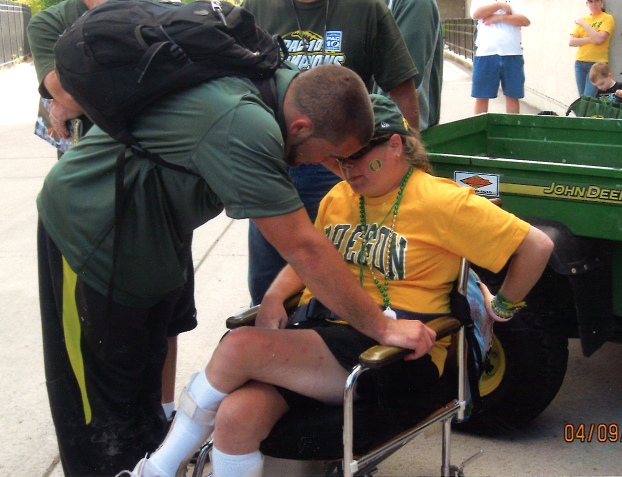 Boyett Family Photos, Used with Permission
When Danielle was 12 and already a budding star in both softball and track, she was diagnosed with an astrocytoma brain tumor. The survival rate in young children with these tumors is not usually measured in percentages of success but more by the years of coping. Against all odds, Danielle beat the tumor. She beat cancer in a victory that would overshadow her brothers' football exploits by far.
"She went through a lot of different treatments," Boyett said. "A lot of doctors said she wasn't going to make it, but my parents kept fighting, and with different treatments and medications, she got past it."
The treatments took a toll, though.
Danielle was in a wheelchair, blind and with diminished speech capacity. Yet there she was, at every game of both John and Charles, telling them they did well—except for when they didn't. She was still their big sister, after all.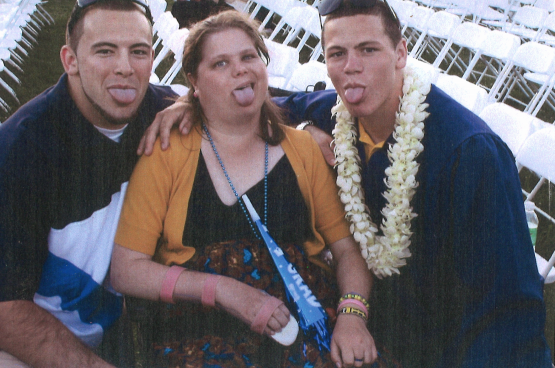 Boyett Family Photos, Used with Permission
"She was so happy," John remembers of Danielle late in life. "She was the centerpiece of our family for so many years. During high school and into college, she was my No. 1 fan."
On February 22, 2011, John was going into his junior year at Oregon and standing on the practice field when a coach informed him that his sister had come down with sepsis, and her weakened immune system would not recover.
John, along with his whole family, was shaken to the core.
Then, less than a year later, John's uncle, Doug Boyett, also died, from a heart attack.
Doug, his father's younger brother, was the head coach at Foothill College, and John describes him as a "second dad to me." Doug brought John up to football camps and put him up against his charges. It's a big part of how John learned the game. The death was "unexpected," John said.
Amid all this, somehow, John Boyett had the best year of his football career.
It's a wonderful paradox of athletics and highlights a similar juxtaposition in Boyett's own life. As stormy as things got off the field, football was always the bedrock in Boyett's life, and he excelled on the field regardless of the pressures or pain he felt.
Then football, too, was taken away.
While Boyett's star was rising to its highest during his junior year, he continued to deal with what started as knee soreness and sharpened into stabbing knee pain. Trainers at Oregon treated him for tendinitis, and coaches rested him when they could.
"My junior year," Boyett said, "I had some knee pain. I played through it my whole junior year. I didn't realize how significant it was. I'm the kinda guy who will just play through that stuff to help my team."
Through the pain, Boyett collected 108 tackles and continued a fantastic tradition of Oregon defensive backs that includes some of the people he respects most—Patrick Chung, Walter Thurmond III, Jairus Byrd and T.J. Ward.
It was the pinnacle of a football career that quickly went downhill.
Boyett returned for his senior season, he said, because he "wanted to come back and win a national championship." He also said he wondered what he could do on a healthy knee. Believing he only had tendinitis, he listened to team staffers who, according to Gibson, promised him more time off and the rest they thought he needed.
"The knee just didn't get better," Boyett said. "I got MRIs and then got MRIs from outside people and got a couple different opinions. When I realized it was a lot more than I thought it was, I realized I needed to get it fixed, and that's what I needed to do to get healthy."
Meanwhile, this decision was not made in a vacuum. There was significant pressure from Oregon, and Gibson even used the phrase "strong-arm" to describe attempts made by some at the school to convince Boyett to play through the pain one more time in his final year.
Gibson described Boyett as "scared s--tless" about the decision he had to make.
Both the Oregon coaching and training staffs declined comment on the matter after numerous attempts to reach out. Boyett also didn't discuss the issue further, saying he respected the position of his Oregon football family and had tremendous respect for the coaches as well.
Still, in the end, he simply had to do what he felt was best.
His good friend, former teammate and Minnesota Vikings linebacker Casey Matthews, put it this way: "Obviously he had his future in mind. He could've played, but not as well as he had been used to. That's the choice he made."
Boyett had used football to fight through his personal pain, and now it too was gone.
Rebuilding the Person and Not Just the Football Player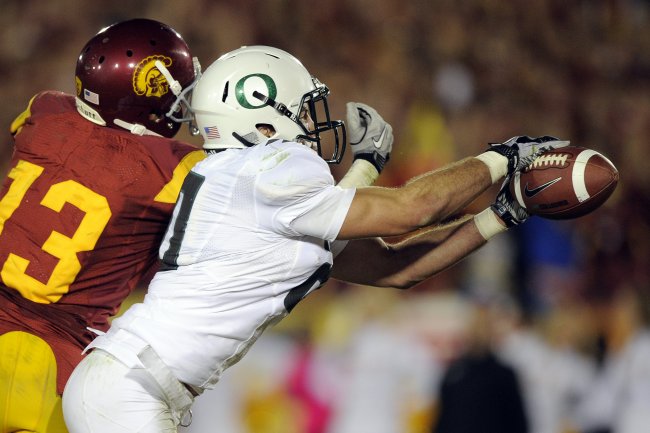 Mark J. Terrill/Associated Press
Today, Boyett is approaching seven months of sobriety.
He was reticent to open up at first, saying our conversations were the first he had ever had about his issues outside of his family, close friends and support group.
That support group was something Boyett decided to do on his own. His last drink was the night he was arrested in Denver, and Boyett has every intention of it remaining so for the rest of his life. He describes his drinking during college as something social and normal and doesn't really pinpoint when it started spiraling out of control.
He does say, however, that he "allowed things to pile up and compound. Rather than deal with them, I ignored them."
"Everybody wants to know," Boyett said, "what's an alcohol problem? To me, if you've ever faced some type of consequence because you've made a poor judgment because of a drink. That's an issue. I made the decision I no longer needed that in my life. I looked back. What's the common denominator? I choose not to drink anymore. It's only caused me negatives. It's not helpful to where I want to get."
Leading up to the 2013 NFL draft, Boyett didn't yet understand that he had a problem, and he didn't take the time to even ask the question. Instead, Boyett did what he always did: He worked at getting better at football.
"He was so driven to do whatever it took," Gibson said, "that he would call and we'd go work out at 4 a.m. I'd get a call at 10 p.m., and he'd say that he'd worked out earlier but didn't think it was good enough."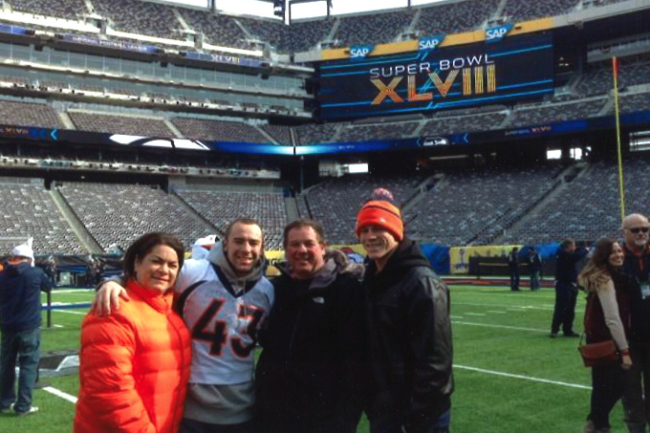 Credit: Boyett Family Photos (used with permission)
In fact, an hour after the Broncos' Super Bowl loss to the Seattle Seahawks, while staff hadn't even started cleaning up confetti on the field, Boyett was already back at the hotel, in the weight room. He hadn't been in the game, as he was only on the practice squad, but he was pissed about the loss, took it personally and wanted to make sure he'd be ready to help his team the next time around.
Matthews said that craft applied to the film room as well: "I've never seen anyone watch more film or someone try to perfect his craft more than he does."
Boyett describes himself as a workaholic.
As everything spiraled out of control in Boyett's life, he simply worked harder at the one thing that was supposed to make sense for him. In a sense, it worked out well, as his surgically repaired knee got better, continued to heal and allowed him to reach heights he had not before.
According to Marty James of the Napa Valley Register (via CBS Sports), he had a fantastic predraft pro day.
"Boyett looked sharp as he went through a battery of drills—backpedaling and cutting and catching passes," James wrote. He quoted Boyett as saying, "Everything I heard was great stuff. They were very surprised with how well I moved, and they're excited to see what I do when I get into camp. It felt great just to be out here on the football field."
Just months after being sewn back together like an old jacket, Boyett was quickly becoming like new...at least on the outside.
Inside, the young man was changing. The strain of the tragedies of his life was piling up, and he simply kept shoving it aside. He could meet a running back head on in the hole but could not do the same to his own personal demons.
Drinking had never been a problem for Boyett. Matthews describes the slightly younger Boyett's college days as "quiet" and "hardworking," pointing out that the two met when Boyett asked him where the Men's Wearhouse in Eugene was and that the two spent most of their time fishing when Boyett wasn't working out or watching tape.
This does not seem like the story of an addict.
It does not seem like the story of someone with a problem.
Boyett's agent and family friend Jeff Sperbeck put it this way: "I think the frustration [around the injury] was a part of it. He'd faced personal adversity with his sister, and he threw himself into football and working out as his escape. Football was his complete escape, and his escape was taken from him. He wasn't able to cope and unfortunately turned to alcohol."
The Colts, meanwhile, were one of the teams on the field for that pro day in Napa. They must have believed they found something in Boyett—a diamond in the rough of the sixth round. After the selection, Matt Miller and Michael Felder from Bleacher Report had this to say:
Matthews said he has no doubt Boyett would be a starter today in Indianapolis if not for his indiscretions, while Sperbeck said the Colts were mad at him for "backing them into a corner [of cutting him]" because "from a football standpoint, he was very much in their plans."
There is no bigger sticking point in this redemption story than the combination of the statement Boyett released after the incident in Indianapolis and the subsequent incident in Denver:
I want to apologize to Mr. [Jim] Irsay, the Indianapolis Colts organization and the Indianapolis police. The Colts gave me an opportunity and I blew it. My behavior didn't and doesn't represent who I am. I am deeply embarrassed and disappointed in myself. All I can do now is learn from it and never repeat it. I look forward to showing my true character in the future.
With that in mind, it is impossible to not be just a little cynical about this whole thing. Fool me once, shame on you; fool me twice, shame on me. Right? This is who you are and what you represent, we want to scream. The entitlement born from years as a small-town football god. The empty words backed up only with contradictory actions. The promises broken and trust shattered.
Yet, for those closest to Boyett, the trust is absolutely still there.
"I've never lost faith in him," Mott said. Later, he added, "I love the kid to death. I'm so proud of him."
Matthews was hosting Boyett at his home when I first reached out, inviting the man with two alcohol-related arrests under the same roof as his wife and his newborn baby son. About Boyett, Matthews said, "I trust him more than I trust most people. ... I'm 100 percent. I trust him that he's over it."
Sperbeck said he'd "go to the mat" for Boyett, calling him a "great friend, good son—high achiever."
These are people who've known Boyett before, during and after his crimes. Are they biased? Absolutely, but before doling out grains of salt about their faith, trust and support, consider that their estimation of Boyett is more than a couple of headlines from the darkest moments of his life.
They know the fighter, and they've seen the whole fight, not just the times he's hit the canvas.
We don't, and we haven't.
So, for the cynic, here's the next logical question: What exactly is supposed to be different this time around? What makes Boyett's words now any truer than his statement following his release from Indianapolis? For those of us who believed him before and don't have the personal stake of those closest to him, how can we believe him again?
For once in Boyett's life, he's realized he can't just get through something "with sheer willpower," as Sperbeck said. He's not just gritting through his pain and addiction like a final set of reps in the weight room. He's finally looking to heal.
Gibson put it this way: "After the first incident, he knew he had a problem, but he didn't do too much about it. After the second issue, he went straight to rehab. He focused on making himself better as a person rather than just as a football player. He's learned from his second mistake."
"It's not uncommon for people to make mistakes," Boyett said. "Everybody makes mistakes. It's about being able to learn and bounce back from those mistakes, and I think I'm doing one heck of a job of that right now. I've made the changes I felt that were necessary to become a better person. I'm sober now, and I've worked very hard at doing the right thing."
"I Believe I Can Do Some Great Things Out There"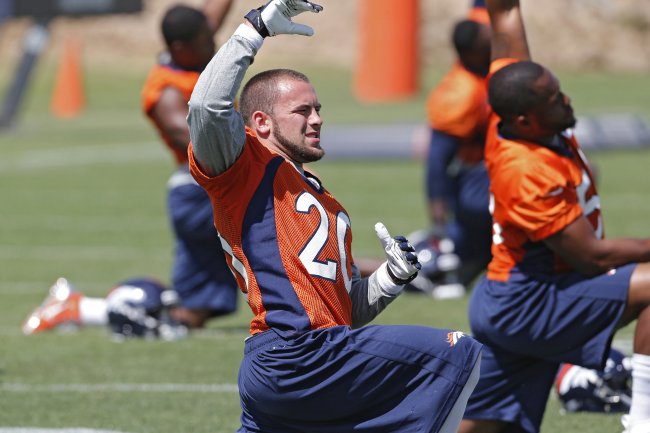 Ed Andrieski/Associated Press
How many chances does a young man deserve?
That's what this comes down to, correct?
"Sometimes people are just young, dumb and immature," Boyett said. "I made the mistakes, and that's all there is."
Talking to Boyett is a masterclass on the themes of mistakes and changes. He understands what he has done wrong and how he has failed. Yet he also has a sincere desire to do whatever it takes to atone for those past failings.
"My mistakes have allowed me to understand who I am and who I want to be," Boyett said. "It sucks that I had to face the consequences, but I'm thankful I am who I am, and I've moved forward. I'm just looking to the future."
Now, Boyett is home, working on everything it might take to get him back on an NFL team—to what he loves. He's helping with fundraisers and still pals around with the Napa High football team, mentoring some of the same young men in high school that he once did back when they were in elementary school.
Mott said Boyett does all of this away from the spotlight, agreeing to give back to his community "without calling the newspaper." In fact, it's telling that, of all the people I talked to, the one person who had the least to say about all the good Boyett has done and continues to do in Napa was Boyett himself.
Before any of the ignominy, Boyett once talked with Matt Walks of Pac-12.com about his status as a role model. While many might think those days are over, Boyett believes the opposite.
"It's crazy to think, but I think it now more than ever," Boyett said. "It's easy to go around and say the right things when you've never faced adversity before. I've faced true adversity and a good amount of it. For me to be able to step back and realize I need to make changes to be the person I want to be...I think that takes true character.
"A lot of people out there go through similar situations, but they're just not publicized. Hopefully others can learn and make the changes they need to make. Change can allow you to be a better person."
OK, now convince the NFL.
Thankfully, for Boyett, the process has already started.
"Scouts I've talked to," Boyett said, "they love me as a football player. They've said there's no doubt in their minds that I can play and make an impact in the NFL. I'm hopeful I can get into an offseason program and show a team what I can offer. I put in a lot of work because I love the game."
Sperbeck said there is a real interest from a couple of NFL teams, declining to call them by name.
"They know what kind of player he is," Sperbeck said. "He'd be on the Broncos competing for a starting job—in my opinion—if not for the incident."
But the incident did happen, and even close friends like Matthews admit, "Obviously, it's a risk."
Yet think of Boyett's past in the context of the NFL year right now. If Boyett were a draft prospect—and, honestly, he's not far removed from one—these incidents would be troubling but would hardly remove him from every single draft board any more than his knee injuries did.
"Hopefully," Boyett said, "if a team gets a chance to talk to me face-to-face, they'll realize I'm a good person, a good kid, and I've just made some mistakes, and a lot of people have made mistakes. I've made some serious changes."
Sperbeck put it another way: "He could've gone home, started drinking again and kissed his career goodbye. But he's healthy—physically and emotionally healthy. He's a better person than he was coming out of the draft. If you loved him then, you'll love him now. He's always been a good locker-room guy, but he's even better now."
The NFL is not a charity or nonprofit organization. For every John Boyett coming from the college ranks, there are tons of young men who never even get a first shot. By that measure, Boyett doesn't deserve a third chance and arguably didn't even deserve the second one.
The league is a meritocracy, though, and there is little doubt from anyone involved that Boyett has the talent to make it and be a huge part of any team willing to pick him up. Off the field, it's difficult to fully trust someone who has made the same massive mistake twice, but it's just as difficult not to respect where Boyett has come from and the depths from which he has clawed his way out.
Who is John Boyett?
Boyett is a football player.
He's a football player who has always seemed to have fate stacked against him for one reason or another—often, admittedly, because of his own mistakes. He's a football player who has achieved heights few have achieved, seen lows few can fathom and has been everywhere in between.
He's a football player who has picked himself up by his bootstraps dozens of times before finally admitting he couldn't do everything on his own.
He's a football player.
He just wants to play football.
Michael Schottey is an award-winning NFL National Lead Writer for Bleacher Report and a writer for Football Insiders. Follow him on Twitter. Unless otherwise noted, quotes were obtained by the author.