Wisconsin's greatest window of opportunity to win a national championship slammed shut Monday night when it couldn't come up with a way to stop Duke's magical end game.
For most teams, that would mean getting relegated to the ever-growing pile of title-game losers we've forgotten all about. History is never kind to those forlorn crews. Just ask anyone who's ever been on the losing side in a Super Bowl.
But this Wisconsin team will be different. They'll remain in the conversation about great teams, even if they sometimes looked and acted more like dairy farmers taking a break than the sensational band of athletes who made Saturday such a great night for the legion of Kentucky haters.
The only thing they shared more than the ball was good times.
Besides giving the college game a lesson on teamwork, they also provided evidence for every athlete out there that it's possible to have fun at a press conference. Their obsessive video game competitiveness provided some of the best laughs of the tournament as they showed they were as fearless in front of microphones as they were on the March Madness center stage.
They showed it's possible to play for a championship with a cast of characters, and still have plenty of character while exhibiting precious little ego.
So yes, this Wisconsin team simply stood too tall in too many ways to just disappear into the shadows.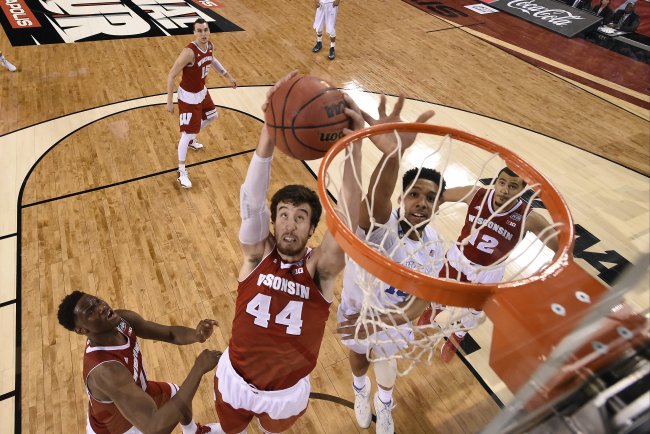 Chris Steppig/Associated Press
The tallest of them, 7-footer Frank Kaminsky, joins Tyler Hansbrough, Shane Battier and Tim Duncan as great examples of why it makes sense to hang around campus a fourth year. Players who put off cashing a seven-figure check for a year to stay in class are tough to forget, and Kaminsky's loyalty to Wisconsin earned him permanent good-guy status.
And rather than think of Kaminsky as a player who came up one win short of his goal, I'd rather remember him as a Captain Ahab who captured his great white whale.
Wisconsin getting a revenge win against Kentucky was one of the greatest semifinals we'll ever see. It had been nearly a quarter-century since anyone showed up undefeated at a Final Four, and Wisconsin took down Kentucky with even more authority than when Duke turned the same trick on UNLV in 1991.
They were never shy about stating that goal either, hoping openly that a march to a title would include a rematch with Kentucky.
It takes a lot of focus to chase a goal for an entire year, but that's the burning desire Wisconsin had after its heartbreaking loss by a point to Kentucky in the 2014 Final Four. Had they won, they likely would have been a prohibitive favorite against UConn in the title game.
They responded to that setback by becoming the most offensively efficient team of the season, a team that didn't commit fouls or turnovers, and that always looked for an extra touch. In short, the kind of people who habitually do it the right way.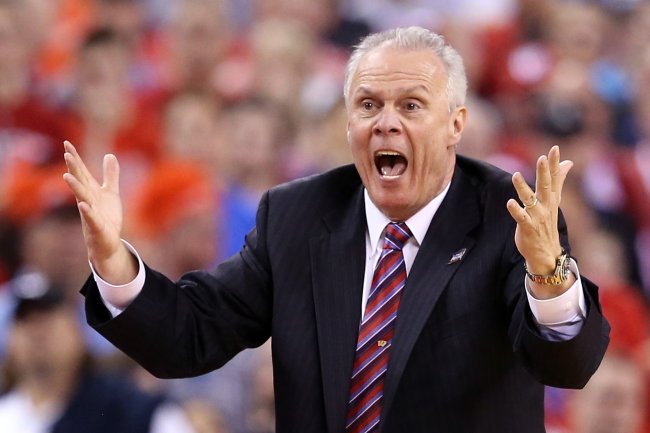 Andy Lyons/Getty Images
Wisconsin was probably the only team in the nation built to beat Kentucky, and the shame of it is that the bracket construction didn't allow that to be the title game.
Think Duke's eight-man rotation could have kept up with Kentucky's onslaught of future NBA players? Maybe, but I think that would have been a tough matchup for the Blue Devils.
The one-two punch of Kaminsky and Sam Dekker gave Wisconsin the raw material to beat the team that, let's face it, had the best wire-to-wire season.
Unfortunately for the Badgers, spilling all they had to knock Kentucky from the undefeated ranks may have left them too spent to handle Duke. And the defeat left Kaminsky way too drained to offer perspective.
"It's hard to say anything. These guys are my family," Kaminsky told reporters afterward (H/T Associated Press via Fox Sports). "I mean that literally. It's going to be hard to say goodbye."
The first hint of Wisconsin fatigue came when Dekker lofted an air ball to start the game. And he had another before his 0-for-6 night on three-pointers was done.
Think of that task. One night you're facing the only 38-0 team in the history of college basketball, and two nights later you're up against the game's greatest coach since John Wooden.
Even Frank can't play on an empty Tank. Kaminsky was steadily effective during a 21-point 12-rebound night, and occasionally brilliant while luring his freshman counterpart, Jahlil Okafor, into foul trouble.
His late 3-pointer was one of Wisconsin's last gasps, but Kaminsky and his crew failed to look and act like the more veteran team in the final minutes.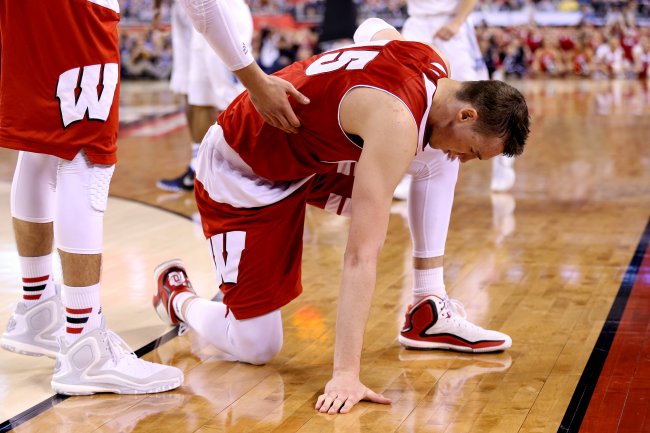 Andy Lyons/Getty Images
That's okay, given how well they carried themselves the rest of the season.
There was something comfortable about watching Wisconsin, and getting reminded that not all winners are McDonald's All-Americans or five-star recruits. They kept alive that everyone-has-a-chance feeling that's a huge part of every tournament early on, but fades quickly as the blueblood programs take over. At a time when there's grumbling about lower scoring, they were the perfect offense-heavy addition to the season's final act, and they simply played the game right.
Like a team we'll remember for a long time.
Tom Weir covered 15 Final Fours as a columnist for USA Today.