From the Sweet 16 to the Elite Eight to the Final Four, the NCAA tournament is always inundated with numbers.
We won't be seeing that 40-0 finish Kentucky hoped for, nor is No. 7 seed Michigan State around for the final. But championship opponents Duke and Wisconsin still provide plenty of math to ponder as we wait for Monday's showdown in Indianapolis.
The numbers:
1.25: Wisconsin's points per possession against Kentucky in Saturday's semifinal, the best performance this season against college basketball's No. 1 defensive team.
1 ¾: Average height advantage, in inches, that Wisconsin's starting lineup has over Duke's.
4: The number of national championships won by Duke coach Mike Krzyzewski and also by Wisconsin's Bo Ryan. The difference is that Coach K won all of his at the Division I Big Dance, and Ryan's came in Division III while at Wisconsin-Platteville. Both won their first national championship in 1991.
4-0: Ryan's record in national championship games.
4-4: Krzyzewski's record in national championship games.
5-0: Duke's record in Final Four games played in Indianapolis after defeating Michigan State in Saturday's semifinal. The Blue Devils beat UNLV and Kansas to win the 1991 title in Indy and in 2010 won another championship there by defeating West Virginia and Butler.
7: Wisconsin's lucky number in this tournament. The Badgers have had a seven-point winning margin in four of their five tournament games, including the 71-64 semifinal victory over Kentucky.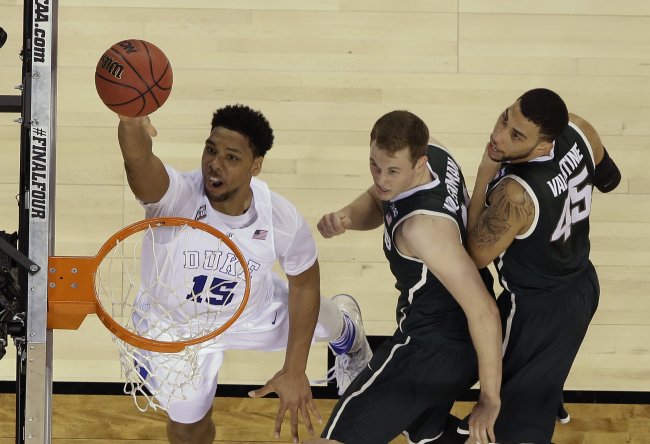 David J. Phillip/Associated Press/Associated Press/Associated Press
9: How many games Duke's Jahlil Okafor has gone without a double-double after having 11 this season. Last time he managed it was Feb. 28 in a win against Syracuse, with 13 points and 14 rebounds.
9: The number of Big Ten teams that have reached the championship game since 1990. The only one to win so far was Michigan State in 2000.
13: The number of ACC teams that have reached the championship game since 1990. Eight went on to win, including Duke in 1991, 1992, 2001 and 2010. The ACC also has won its last three shots at the national crown, with North Carolina cutting the nets in 2005 and 2009 and Duke doing likewise in 2010.
12.2: The average number of turnovers forced by Duke per game in the tourney, nearly double the 6.8 Wisconsin is averaging. Only Robert Morris, in Duke's opening game, didn't commit double-figure turnovers. Wisconsin has forced double-digit turnovers only once, getting Arizona to commit 10.
17.6: Duke's average winning margin in the 2015 tournament. Only Utah, in a 63-57 defeat, kept the losing margin in single figures.
39: How many points Wisconsin scored while winning its one and only national championship, 39-34 over Washington State, in 1941.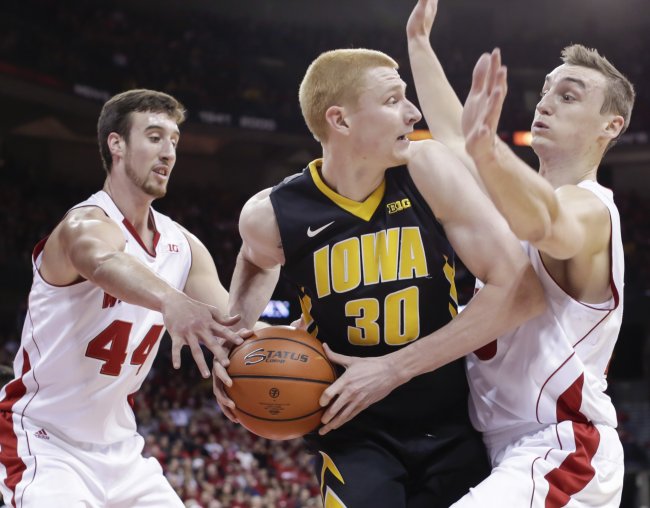 Andy Manis/Associated Press/Associated Press
42.8: How many points combined that Wisconsin's Frank Kaminsky and Sam Dekker have averaged in five NCAA tournament games so far.
22: How many points Kaminsky and Dekker combined for in an 80-70 loss at home to Duke on Dec. 3.
44.1: The best defensive field-goal percentage turned in by Wisconsin in five tournament games (against Oregon). Duke's defense has put up a better number in all five of its games and for the tournament is holding opponents to 37.4 percent shooting (108-289).
6-0: Wisconsin's record when playing a team for a second time this season. Average margin of victory in those rematches was 12.8 points. (And Saturday's victory against Kentucky was also something of a rematch game, since those two teams also met in last year's Final Four.)
.829: The sizzling-hot free-throw percentage of Wisconsin's opponents (63-of-76) in the tourney. Duke has been hurt far less at the line. Its opponents have made 25 fewer free throws (38-of-55) while shooting only 69.1 percent.
.509: Three-point shooting percentage (28-of-55) of Wisconsin's opponents in the tournament. (That should be welcome news for a Duke program that always loves the three but was only 2-of-10 from beyond the arc against Michigan State.)
310: How many days apart Mike Krzyzewski and Bo Ryan were born way back in 1947, when the NCAA tournament was in only its ninth year. Coach K is older, born on Feb. 13, and Ryan's birthday is Dec. 20. One guesses that neither is in any hurry to retire.
Now then, it's time to wait for the only statistic that really matters: Monday night's final score.
Tom Weir covered 15 Final Fours as a columnist for USA Today.