Kentucky's basketball team arrived in Indianapolis hoping to become the eighth team to win the Final Four with an undefeated record, and the first to do so since the NCAA tournament expanded to 64 teams.
Instead, UK winds up on a very different list: Those who very nearly made sports history, but fell just short of the mark.
The team that knows exactly what Kentucky is feeling today is the 1991 edition of the UNLV Runnin' Rebels, who also lost in a Final Four semifinal, as Kentucky did Saturday night to Wisconsin.
UNLV was 34-0, four wins shy of the 38-0 streak Kentucky was riding. Both teams lost to an opponent they had beaten in the previous year's Final Four, and both saw their bid for a permanent place in the record book brought to a screeching halt in Indianapolis.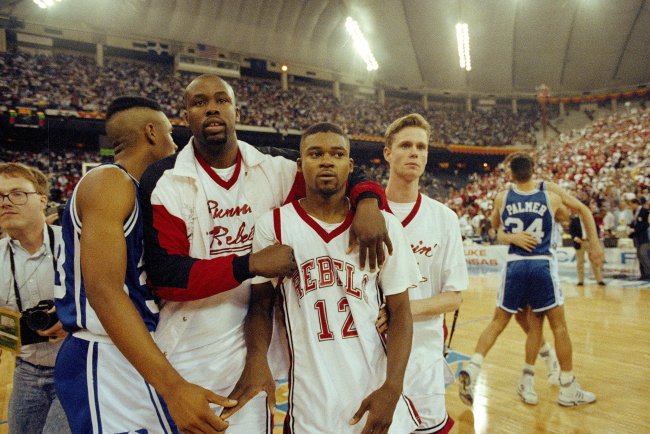 Al Behrman/Associated Press
The difference between them is that UNLV fell by two points, 79-77, when its offense failed to engineer a good final shot. The disarray was largely due to point guard Greg Anthony missing the final 3:51 of the game after fouling out.
For Kentucky, there was no chance for last-second heroics in a game they lost by the count of 71-64.
What other college basketball teams have reached the doorstep of history only to stumble on the final step?
How about Bill Walton's 1974 team at UCLA? Those Bruins were looking for an eighth consecutive NCAA championship for John Wooden but in the semifinal fell in double overtime to North Carolina State and David Thompson.
UCLA had dealt N.C. State its only defeat of the year, 84-66, and got a 29-point, 18-rebound performance from three-time college player of the year Walton, but was edged 80-77.
Even though Kentucky lost tonight, they'll still be considered one of the great teams in history, their Blue Nation carries college bball

— Bill Walton (@BillWalton) April 5, 2015
If Kentucky is devastated by seeing its 38-game winning streak come to an abrupt halt, imagine how low the Walton Gang must have felt. In NCAA tournament games, their winning streak was at an incredible 39 games.
Who in the NFL has suffered the way Kentucky did?
Tom Brady, Bill Belichick and the New England Patriots. A victory over the New York Giants in the 2008 Super Bowl would have given them the first 19-0 season in NFL history, after they already had become the first team to finish a regular season 16-0.
But then David Tyree kept the Giants' last-ditch drive alive by pressing the ball against his helmet for a mini-miracle catch.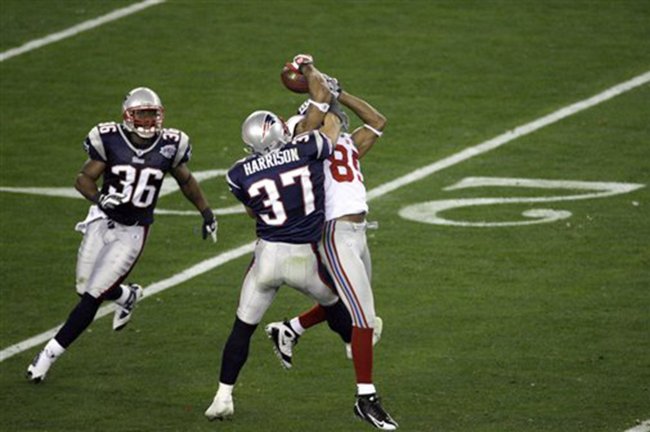 Charlie Riedel/Associated Press
The Giants, who had lost their regular-season finale to New England, went on to score and win despite entering as a 12-point underdog.
A big part of that upset was engineered by a Giants pass rush that sacked Brady five times and hit him repeatedly.
Kentucky can't claim getting blindsided by anything Wisconsin did. In fact, holding Frank Kaminsky scoreless for 14 minutes in the second half probably should have guaranteed a UK victory.
But perhaps Kentucky can take solace in knowing that even Joe Montana missed a fabulous opportunity to make history. His 1990 San Francisco 49ers went 14-2 and appeared destined to become the first team to three-peat at the Super Bowl.
But the New York Giants defense turned the NFC Championship Game into a field-goal festival and won 15-13 on the road as Montana took a knockout hit from Leonard Marshall.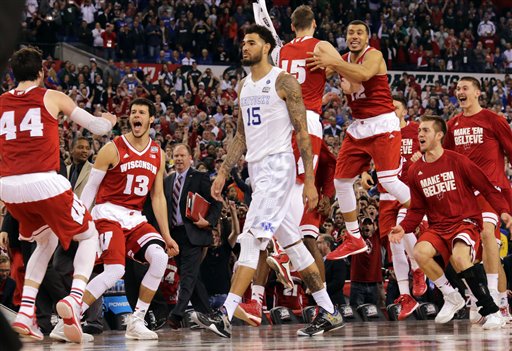 David J. Phillip/Associated Press
Going forward, it will be interesting to see how the Kentucky program handles this defeat after reaching the Final Four for a fourth time in five years, but winning only in 2012. Remember, UK lost last year's championship game to Connecticut and was beaten in the 2011 semifinals. And the 2010 team with John Wall also had title aspirations before falling in a regional final.
The pressure to win at Kentucky already is suffocating and will only get worse after letting another championship chance slip away.
At a school that has won eight national championships, being the first team to reach the 38-0 mark just doesn't mean that much without a title.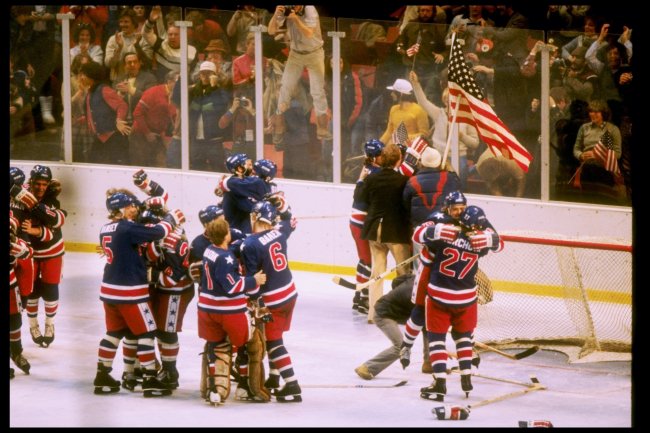 Steve Powell/Getty Images
Still, it won't be as bad as what the Soviet hockey team faced after losing the "Miracle on Ice" game to the U.S. at the 1980 Winter Olympics in Lake Placid, New York. That team had won four consecutive Olympic golds but was undone by a gang of mostly college kids, and the defeated Russians admit the loss still haunts them.
And you can forgive Larry Holmes if he isn't impressed by Kentucky winning 38 straight before losing its touch. The former boxing champion put away 48 consecutive opponents and was one fight away from tying Rocky Marciano's 49-0 record for most wins without a defeat by a heavyweight.
But then Holmes lost a unanimous decision to Michael Spinks, causing bitterness to spill out.
"I'm 35 fighting young men and Rocky was 25 fighting old men," Holmes said afterward. "To be technical, Rocky couldn't carry my jockstrap."
One athlete who would have been entitled to bitterness over seeing his chance for sport immortality lost was Ben Hogan, the legendary golfer who in 1953 won the Masters, the U.S. Open and the British Open. So what happened when he tried to sweep the majors at the PGA Championship?
How will Kentucky's 2014-15 basketball team be remembered?
He didn't even get the chance. He was beaten by the calendar, because at that time the wizards who ran golf managed to have the British Open and PGA overlap, meaning Hogan couldn't play both.
For all-time bitterness over a history-robbing defeat, the honor belongs to the 1972 U.S. Olympic basketball team. That group took a 63-game win streak in the Olympics into the gold-medal game, only to see a series of highly questionable calls by officials help the Soviets to a 51-50 upset.
Until that game, no U.S. team had ever been beaten in Olympic basketball, and the players were so upset by the officiating that they never accepted their silver medals.
Kentucky had a legitimate gripe about Wisconsin's Nigel Hayes tying the game at 60 with 2:40 left on a play where it appeared a shot-clock violation should have been called, but nothing to compare to that 1972 Olympic team.
"These kids wanted to win it in the worst way, but you have to give Wisconsin credit," Kentucky coach John Calipari told reporters after the game. "They did to us what we have done to teams."
Meaning history will just have to wait a little longer for its next undefeated Final Four champ.
Tom Weir covered 15 Final Fours as a columnist for USA Today.