Time to round up those doomsayers who just a few weeks ago were saying college basketball was in trouble, and we should all be prepared for a disappointing NCAA tournament.
One quick look at the slate for the Final Four should wipe away any remaining apprehension about low scoring, declining attendance and dwindling television ratings.
The lineup of Kentucky, Wisconsin, Duke and Michigan State is replete with stardom in every regard, packed with famed programs, legendary coaches and tomorrow's NBA superstars.
So, yes, regardless of how your bracket wound up, there are many reasons to embrace this Final Four.
Like…
Kentucky is still perfect
It's a wobbly version of perfect after barely surviving Notre Dame, but 38-0 nonetheless. And the UK fanbase will be out in full force, gladly making the three-hour drive from Lexington to Indianapolis to witness the Wildcats' attempt to become the first undefeated team in nearly 40 years. Expect those fans to hit the scalpers hard and be the dominant voice inside Lucas Oil Stadium.
Having come this far with no defeats, Kentucky is probably the team that has been scrutinized the most. It's also the one that has had to develop the thickest skin, as critics evaluate whether the title favorites have been convincing enough in victory.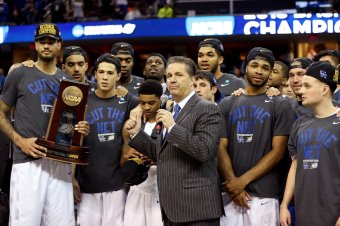 Andy Lyons/Getty Images
It will be up to coach John Calipari to keep a lid on any doubts that could be creeping in on his young team. Asked whether the Wildcats get enough credit for all they've accomplished, he told reporters after the regional final in Cleveland, "I don't know. They do from me. I think that's all they care about right now. I mean, again, we're—we know we're not perfect. We're undefeated, but we're not perfect."
Still, the setting is a little ominous for UK, given that the last team to get this close to an undefeated season had it unravel in Indy, when Duke whipped UNLV in a 1991 semifinal.
Additional bad Indianapolis karma for Kentucky is that it's where the Wildcats lost in overtime to Arizona in 1997 with the national championship at stake. Then-Kentucky head coach Rick Pitino was going for his second national championship, as Calipari will be next weekend.
But until they're beaten, the Wildcats remain a compelling chapter of college basketball history that's being written right in front of us. The viewers who made the UK-Notre Dame game a ratings record-setter, per Turner Sports (via Jonathan Lintner of The Courier-Journal), certainly thought so.
The best players are in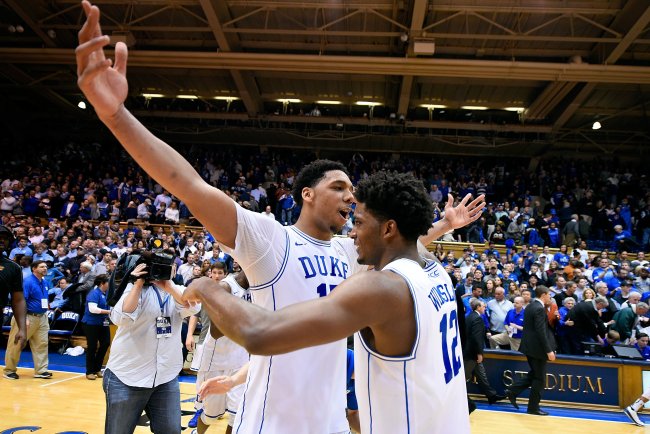 Grant Halverson/Getty Images
According to DraftExpress.com, four of the top six projected picks in this year's NBA draft will have their talents on display at the Final Four, as will five others who are expected to go in the first round. Kentucky's Karl-Anthony Towns and Willie Cauley-Stein, along with Duke's Jahlil Okafor and Justise Winslow, bring star power to this Final Four that sometimes is missing.
This won't be Magic Johnson and Michigan State against Larry Bird and Indiana State in 1979, but the individual talent is a lot better this year than most, and it's certainly way ahead of what 2014 offered.
Any NBA team with a lottery pick will definitely be making some important judgments in the coming week.
Wisconsin and Frank the Tank are back
Who will play in the NCAA title game?
There is something endearing about Wisconsin, which came within one point of beating Kentucky in one of last year's semifinals. This rematch gives Frank Kaminsky a chance to make his case as the nation's best player and validate the decisions by him and Sam Dekker to hold off on going pro.
Badgers coach Bo Ryan sometimes looks like he chugs battery acid straight, but you have to love a guy who shrugs off the recruiting ratings and just builds a team.
It also makes for one of the great grudge matches the Final Four will ever see.
"That loss left a sour taste in our mouth, so we wanted to get back," Dekker told reporters after Wisconsin's West Region final victory over Arizona. "As a team we set some goals of what we wanted to do, and now we're two games away from our last goal that we had."
Should Magic Johnson give his nickname to Tom Izzo?
This Final Four will have three No. 1 seeds, which is only the fifth time in NCAA tournament history that many have progressed that far, according to Jim O'Connell of The Associated Press. The one that got there with a No. 7 seed, Michigan State, had 11 losses during the regular season that still have Spartans fans blushing.
But somehow, Izzo has them back in the Final Four, and he's grinning like a March hare over his tournament success.
It probably helped that defense is trending heavily in the NCAA right now and that Izzo's teams are always tough as coal miners, regardless of their record. Still, to get to the Final Four after being down eight points at the half to a Rick Pitino-coached team is the stuff Hall of Fame careers are made of.
But while Izzo is getting the coronation treatment, let's not forget that…
Coach K still has hang time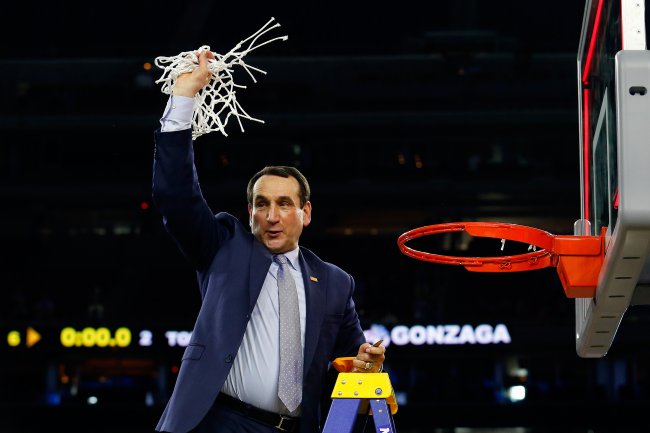 Tom Pennington/Getty Images
Duke head coach Mike Krzyzewski hardly looked like a guy who's eligible for Social Security while jumping with jubilation several times during the Blue Devils' Elite Eight win against Gonzaga. Having Duke at the Final Four is always a good thing, regardless of how many people out there still hate Christian Laettner.
While some are calling Izzo the greatest NCAA tournament coach ever, let's not forget Coach K has more national championships than the other three Final Four coaches combined. Seeing Krzyzewski facing off against Izzo in a semifinal will feel like seeing two of the guys on Mount Rushmore go at it.
Any way you cut it, redemption will be served
If Wisconsin doesn't win its revenge game against Kentucky, that theme won't go away.
Kentucky wants to avenge its loss to UConn in last year's championship game. Duke needs to erase the humiliation of losing its second-round game to Mercer last season. And Michigan State wants to make sure no one ever again mentions this season's loss to Texas Southern.
Tom Weir covered 15 Final Fours as a columnist for USA Today.