On a night when Kentucky kept looking more and more human, the NCAA tournament became more and more interesting.
The 68-66 escape against Notre Dame in the Midwest Region final on Saturday sends UK to another Final Four, but when the Wildcats get there, they'll be wearing a warning label that says, Caution: Our record is perfect, but we're not.
Kentucky proved that by settling early and often for mid-range jumpers against an opponent it dwarfed and should have overpowered under the basket.
UK continually got beat on the first step by a Notre Dame team that served a timely reminder that speed never slumps, especially when express lanes to the basket get left open.
And UK let the Irish's Zach Auguste give a robust impression of Ed Pinckney, the Villanova big man who—in the 1985 title game—shut down Patrick Ewing and Georgetown, another supposedly unbeatable team.
Auguste was good for 20 points and a stunning six offensive rebounds. But more relevant is that he was a sturdy oak who found a way to survive amid all of Kentucky's giant redwoods. He played with patience, backed off when that was the wiser course and flew to the rim when Kentucky's big guys had two feet firmly planted on the ground.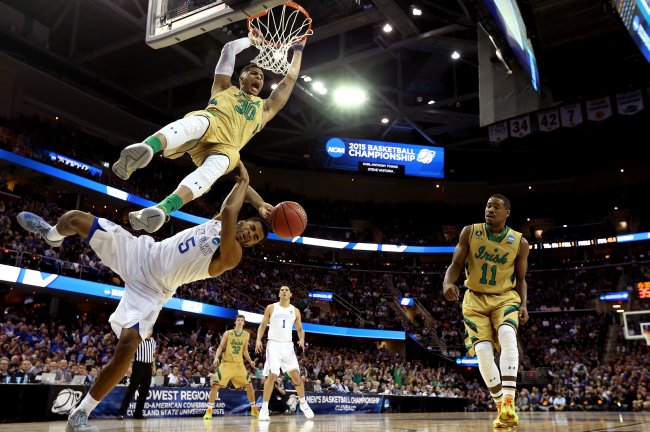 Andy Lyons/Getty Images
That's why Notre Dame's smaller tribe was able to finish dead-even for points in the paint, with 40 apiece.
Kentucky believers will say the Wildcats showed great poise under fire. But opponents who study this game video will see a lot of vulnerability mixed in with that demonstration of poise.
How will Kentucky fare at the Final Four?
The Wisconsin team that Kentucky faces next was surely watching and taking it all in, no doubt loving it. Frank Kaminsky can be forgiven if he's already licking his chops at the prospect of raising his NBA draft stock while ending UK's undefeated run at 38.
As a 7-footer with three-point range and great movement, Kaminsky is built to pick up where Auguste left off in creating a nightmare for Kentucky.
It's not as if that veteran Wisconsin team needs a blueprint for beating the bluebloods from the Bluegrass country, but it can't hurt.
If Kaminsky can score 29 against Arizona, then there's no reason he can't hit for 30 against the Wildcats. And Kentucky has a week to think about how fragile its championship hopes are. The NCAA tournament gets more competitive every year, and there are no guarantees for anyone at the Final Four.
But maybe the person who's under the most pressure is Kentucky coach John Calipari.
No one can dispute that he has the horses, but can he get them to the finish line?
If Calipari can't close the deal with this group, his record in big games will go under the microscope.
Like when his 2008 Memphis team lost in the title game to Kansas because it couldn't hit a free throw in the final minutes of regulation. Or when the 2010 Kentucky team with John Wall was the pre-tourney favorite, only to lose in a regional final.
Or when last year's Wildcats lost the championship game to UConn and second-year coach Kevin Ollie.
It happens.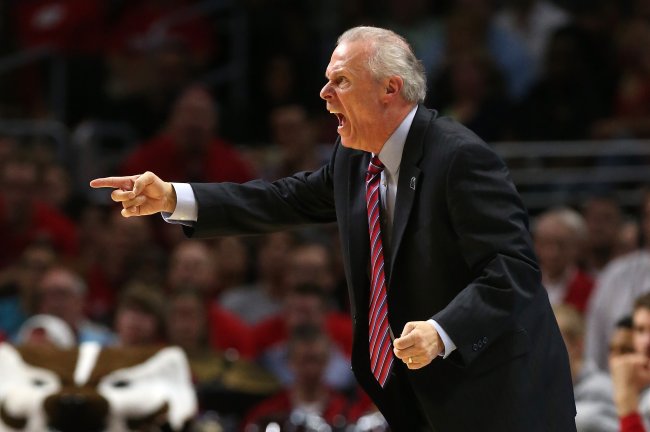 Stephen Dunn/Getty Images
Think a gnarly, 67-year-old guy like Wisconsin's Bo Ryan doesn't like his chances? His teamwork-over-talent philosophy is tailor-made for tackling Kentucky. And after losing by just one point to the Wildcats in last year's Final Four, you can bet the Badgers are ready to go eye-to-eye with Kentucky again and not blink.
If Kentucky does get past Wisconsin, the prospects of getting out-coached won't diminish in the final, where they could face Mike Krzyzewski, Rick Pitino or Tom Izzo.
Jerry Tarkanian had every bit as impressive a lineup as UK has when his 1991 UNLV team carried an undefeated record into the Final Four. There were four future first-round picks among the Runnin' Rebels', and a fifth player who went in the second round.
But when no one stepped up to take the game-winning shot in the final seconds, UNLV was beaten in the semifinals by a Duke team it had whipped by 30 points in the previous season's title game.
That was the kind of game this Kentucky team found itself stuck in against Notre Dame, and it was only the Elite Eight.
Next weekend, the collar may feel a lot tighter and the task much more desperate as Kentucky clings to its bid for history.
Tom Weir covered 15 Final Fours as a columnist for USA Today.