Michigan State vs. Louisville is the most surprising Elite Eight matchup in this NCAA tournament, but it really shouldn't be, considering the two coaches.
Michigan State's Tom Izzo and Louisville's Rick Pitino always seem to find a significant spot in each edition of March Madness, even when their teams are lightly regarded.
Izzo and Pitino are both exceeding expectations in this tournament. Izzo with a band of Spartans seeded only seventh and Pitino with a fourth-seeded team that many thought took a big step backward when Pitino dismissed star player Chris Jones Feb. 22.
But both coaches are just a Sunday victory away from another Final Four trip. For Izzo, it would be his seventh, for Pitino an eighth. Neither Bob Knight, Lute Olson nor Jim Calhoun reached those numbers.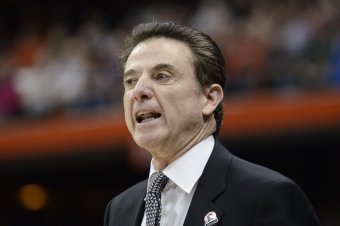 Heather Ainsworth/Associated Press
Pitino has two national championships and Izzo one, and they've amassed relatively equal amounts of fame and success. But once the conversation moves past the Italian roots they share, it quickly becomes apparent they have hiked different paths to the top of college basketball.
Izzo was born in the sparsely populated region of Michigan's Upper Peninsula, where the only thing that thrives in winter are the hardwood forests that are ideal for making NCAA tournament courts.
Izzo's teams are always lumberjack tough, and his most famous workout is the "war" rebounding drill where players sometimes suit up in football helmets and shoulder pads.
Pitino was born in New York City and raised out on Long Island, where gym rats are a welcomed rodent population.
Pitino's teams run like five guys chasing a departing subway train and shoot the three as if they've been told the only good shots are ones that originate out beyond the arc.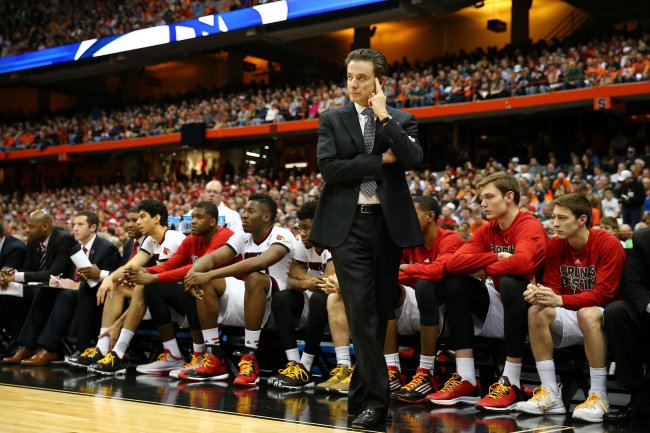 Maddie Meyer/Getty Images
Izzo is a Michigan lifer whose entire career has been based inside the borders of his native state. He played at Northern Michigan, where his friends included future NFL coach Steve Mariucci and Starbucks founder Howard Schultz. His first coaching job was at Ishpeming High School in Michigan.
Pitino, 62, has been a traveling man. His playing time at UMass intersected with Julius Erving for a year. His first job as an assistant was at Hawaii, and his second was at the other edge of the college basketball map, on Jim Boeheim's staff at Syracuse.
Neither has been afraid to follow a tough act.
Izzo, 60, succeeded Jud Heathcote at Michigan State, and somehow he has managed to take the program to even greater heights than Heathcote reached with Magic Johnson.
Pitino took over for Eddie Sutton at Kentucky, and at Louisville he replaced the legendary Denny Crum.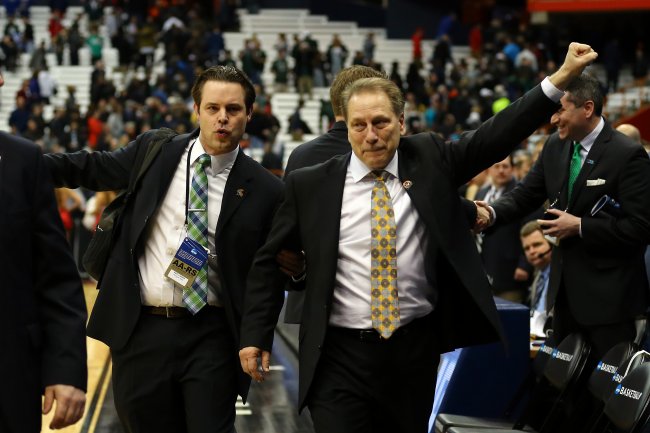 Maddie Meyer/Getty Images
Izzo has resisted the temptation to jump to the NBA, including declining the chance to coach LeBron James with the Cleveland Cavaliers.
Ironically, Pitino spoke up during Izzo's flirtation with the Cavs, saying it would be a bad move to be attracted by the NBA's sirens. That's a lesson Pitino learned the hard way, during middling runs with the New York Knicks and Boston Celtics that failed to meet expectations.
"My advice to him would be, if you're really happy where you are, then it doesn't make any sense to mess with happiness," Pitino told SI.com during the 2012 NCAA tournament (via Diamond Leung of MLive.com).
But Pitino's former nomadic ways mean he has won at more places on the map, which Izzo envies.
"I love his energy. I love his enthusiasm. I love his passion. It's easy to see. It's not because he wears it on his sleeve. It's beyond that," Izzo told reporters on Saturday at the East Regional. "For a guy who's done it at different levels and different schools, I haven't done that."
Which coach has had the greater career?
Now, with a settled-down Pitino in his 14th year at Louisville, it's not a surprise to see these two meeting deep in the tournament for the third time in seven years.
During the 2012 tournament Michigan State had a No. 1 seed and was favored against the Cardinals but fell victim to a stonewalling Louisville defense, 57-44, in the West Regional semifinals.
That reversed their outcome from 2009, when Louisville's run as a No. 1 seed ended at the hands of No. 2 MSU in a Midwest Regional final that sent the Spartans on to a national championship appearance.
Izzo believes both teams will hit the floor Sunday in Syracuse carrying a similar storyline.
Talking to reporters in Syracuse, Izzo said of Pitino that: "Rick's a great coach. He, too, has gone through a year a little bit like ours. I think people counted them out, 'What's wrong with them?' They lost a player, and he just rebounded back like any great coach would, and a great team."
The showdown figures to be a gritty one, but the outcome doesn't figure to settle any arguments about who's the superior coach.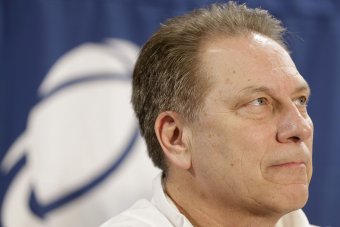 Seth Wenig/Associated Press
The case can be made that Izzo is the most successful coach in the NCAA tournament's modern history. As FiveThirtyEight.com points out, no other coach has as many tournament victories against higher-seeded teams.
But Pitino's followers can counter that USA Today just declared their guy the best NCAA tournament coach of the last 10 years. That sentiment is guaranteed to pick up steam if Louisville wins Sunday and earns a third trip to the Final Four in four seasons.
And while fans no doubt will marvel at these two coaches yet again squeezing unexpected greatness from their rosters, Pitino says perhaps it should be expected by now.
"I think in today's basketball world, the highs are really high, and the lows are really low," Pitino told reporters on Saturday. "I think that's the key to managing success is really don't get too low because you've been through it before. Especially when you're in an environment like Louisville or, I'm sure, Michigan State, where the fans get so paranoid about one or two losses."
All of which gets solved by knowing how to win in March.
Tom Weir covered 15 Final Fours as a columnist for USA Today.