Why is it always the New England Patriots?
As Rich Cimini of ESPN.com reported, the New York Jets are alleging that Patriots owner Robert Kraft inappropriately commented on Jets cornerback Darrelle Revis while at the owners meetings in Phoenix. This allegation is likely retaliatory for earlier, almost identical charges by the Patriots against the Jets for comments made by their owner, Woody Johnson, about Revis.
These are the days of our lives...
In a way, the latest tampering allegations are like a quiet return to normal for the NFL news cycle. Without some sort of soap opera-esque drama involving head coach Bill Belichick and/or the Patriots, it's almost like the NFL ceases to exist. The NFL's and Patriots' drama go together like peanut butter and jelly or the Kardashians and terrible life choices.
It just feels right.
Why, though?
What is it about the Patriots organization that seems to invite this kind of controversy at every turn?
Haters Gonna Hate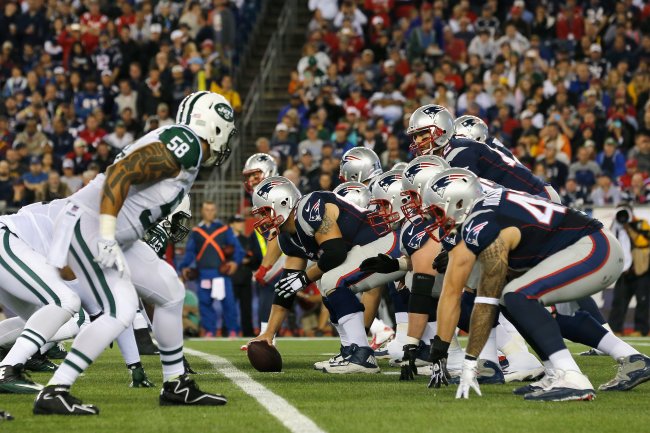 Jim Rogash/Getty Images
The Patriots are one of NFL's most polarizing teams, and possibly the most.
Combine the new cycle's constant preoccupation with the Patriots, their success, their quarterback and all their controversies over the years, and one finds a significant section of any fanbase that would list New England among its least liked teams.
First, there are clear-cut divisional rivalries against the Jets, Buffalo Bills and Miami Dolphins. Then, add in all the New York Giants fans that hate them because of the recent Super Bowls. On top of that, they're not exactly well liked in either Indianapolis or Denver because of playoff meetings and the whole Peyton Manning vs. Tom Brady thing.
We're not done...
Oakland Raiders fans still hate them because of the Tuck Rule game.
Baltimore Ravens and San Diego Chargers fans aren't exactly chummy with the Patriots after multiple playoff meetings and losses to Brady and Belichick. Large segments of people who self-identify as Jacksonville Jaguars, Tampa Bay Buccaneers or Arizona Cardinals fans may not have plenty of reasons to hate the Patriots now but grew up in northern states where they once did.
Hate doesn't die easily.
Why all of the hate? Before the Super Bowl, I wrote on the fact many were calling it something along the lines of "The Hater Bowl." Here's an excerpt:
Forget "Hater Bowl." Let's call it what it really is: The Jealous Bowl.

Seriously, guys and gals, look around at the NFL landscape. There are at least 20 to 25 teams that would love to straight up trade positions with either of these teams over the past decade, even as they spout idiocy like, "The Patriots haven't won since Spygate."

They would love to have a Bill Belichick- or Pete Carroll-caliber coach, even while deriding them as arrogant or "cheaters."

Pretend you're hate-watching this game all you want, but take a good, hard look at your team before deciding what exactly it is you're hating.
Every once in a while when columns like this pop up, people take exception to the use of "hate"—that it's an overused generalization or a turn of phrase that has lost all of its real meaning. For the Patriots, this is an entirely unironic and relevant usage of the term.
That's not a value judgment of the Patriots in any way; it's simply a realistic and general assessment of how outsiders view them based on nearly a decade of "Patriots haters" flooding the comments of every column I've ever written about them.
Here's the kicker: The hate simply fuels more hate.
The more people click on, comment, tweet about or otherwise discuss their dislike of New England, the more it encourages coverage of the Patriots because it keeps them in the spotlight.
The Closer You Look, the More Dirt You Find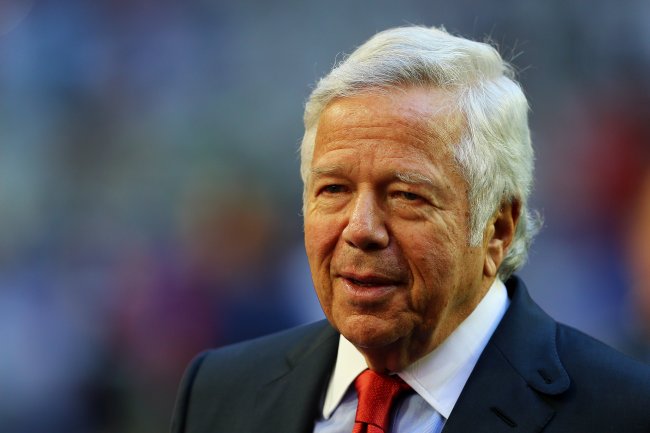 Elsa/Getty Images
One of my favorite sayings comes from former Supreme Court Justice Louis Brandeis, who once said in a 1913 Harper's Weekly article (via Sunlight Foundation): "Sunlight is said to be the best of disinfectants." Though, scientifically, Brandeis didn't have much of a leg to stand on, he was speaking metaphorically about the ability of institutions to rid themselves of corruption by being more transparent.
This has then evolved into "Sunshine Laws," which enforce transparency both in government and certain private institutions.
The irony with this concept is that one has to actually shine a light on the dirt to find it.
That doesn't mean there was less dirt in the first place or that things got any dirtier with higher visibility. It just means we are more cognizant of the dirt we see. This same phenomenon happens with our perception of a lot of things in the NFL—because we pay so much attention to it, we perceive its issues to be more widespread than they actually are.
Tampering is a great test case for this idea.
Tampering happens everywhere.
Show up to Indianapolis around the NFL Scouting Combine and enter any establishment where beer is served. Do that, and there's a good chance tampering is happening in the same room as you. The same can be said for events like the Shrine Game, Senior Bowl and various pro days.
If a team personnel man and an agent are in the same room and there isn't some form of tampering going on, those guys aren't doing their jobs. This is a regular fact of NFL life, and it's one of the reasons "anonymous sources" are so prevalent. These things do happen right under the NFL's nose, but because no one's name is ever on the news reports, the league can't do much about them.
The tampering the NFL can pursue is almost like Al Capone getting brought down on tax evasion—the only reason the smaller thing is being punished is because the powers that be feel powerless about the more egregious behavior they can't punish.
Despite what they may want you to believe, Commissioner Roger Goodell and the NFL offices are not omniscient bastions of perfect investigative and disciplinarian ability. Rather, they tend to ignore a lot of serious problems and only react when a scapegoat does something in the light of day. At that point, the punishment is less about the severity of what happened and more about a warning to other teams they know are doing the same.
It happens with player, agent and team conduct all the time—the New Orleans Saints and the bounty program being the best example.
One way to answer why it seems to always be the Patriots is because media and fans always seem to have them under the microscope.
A Culture of Toeing the Line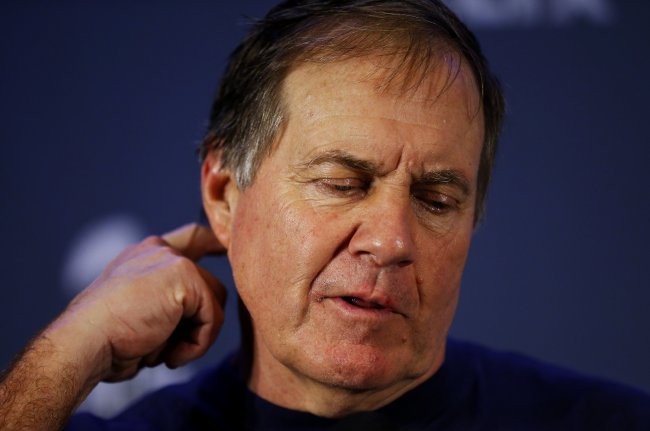 Tom Pennington/Getty Images
In the end, though, Belichick and the Patriots have brought a lot of this upon themselves because they have consistently been the team caught doing the thing everyone else was doing but in a slightly more egregious way.
Bleacher Report's Mike Freeman laid this out pretty clearly as he drew the connection between Deflategate and Spygate:
Remember what Spygate was in the first place. The NFL asked all teams to stop videotaping coaching signals during games. That's the key: Almost every team in the NFL was doing it. The league sent out a memo. Belichick ignored it. That is why the league blasted Belichick. He basically told them he didn't care what they said.
It's not about making a moral statement against Belichick, but it is a question as to whether he's smart enough about the NFL's rules or cares enough for his team to do the same dirt the rest of the NFL is doing and not get caught. Now, "smart" clearly isn't much of a problem when it comes to X's and O's (or much of anything else), but he seems to have a blind spot when it comes to issues like this—even if it's just in his hiring practices.
One level above Belichick, and Kraft doesn't seem to be doing a whole lot better after sticking his foot in his mouth about Revis while there's an undergoing investigation on another team doing the same!
The NFL has lines that no one is supposed to cross, and Belichick seems willing to step up to those lines as much, if not more than anyone. Maybe it's the first couple of points above that's fueling that perception, but it's difficult not to look at facts—like Belichick's flouting of the Spygate rules, the way he manages the injury report, the way he pushed the limits of substitution rules—and not wonder what's going through his head.
This puts another spotlight on Belichick, not just from the public but also from rivals and the league offices. He's the disruptor in the back of the room that the teacher knows an extra eye must be kept on at all times. It's not about if trouble is coming but simply when.
Again, this doesn't mean the Patriots or Belichick are "worse" or "cheating" more. If that were truly the case, the league would have taken more substantive action in a much more meaningful way long ago.
Rather, when one puts together the body of evidence along with the other factors listed above, this turns everything into a self-fulfilling prophecy, which means it won't be long between this and the next Patriots "scandal" or the next after that, or after that...ad infinitum.
It's always the Patriots because it's been the Patriots just about every time as long as many NFL fans can remember. It always will be the Patriots until the culture changes—not just for a moment but long enough for the spotlight to shift and the hate to die down.
Until then, another Patriots controversy is just another day for the NFL and its fans.
Michael Schottey is an award-winning NFL National Lead Writer for Bleacher Report and a writer for Football Insiders. Follow him on Twitter.