Will I watch Manny Pacquiao vs. Floyd Mayweather Jr. on May 2? Of course. Count me among the thousands who are suckers for every single Fight of the Century that comes along.
But just because I'll be part of the legion of fight fans willing to pay $100 or whatever price tag the HBO-Showtime consortium comes up with doesn't mean my hopes are high for this becoming a night to remember.
The five-year wait for this fight is just another reminder that if other sports followed boxing's approach to scheduling, we probably would have just played Super Bowl 25 instead of awaiting next season's No. 50.
If this showdown had occurred in early 2010, as originally planned, the fight game would have caught both men at their pinnacles.
Pacquiao was coming off a string of 11 consecutive victories that included seven knockouts and marquee triumphs against Ricky Hatton, Oscar De La Hoya and Juan Manuel Marquez. Mayweather had completed the same trifecta and was at 40-0 after ending a 21-month layoff by looking as sharp as ever in defeating Marquez.
Pacquiao would have been 31 and entering the ring as the most aggressive fighter in the universe. Mayweather would have been 33 and in full command of the spins and counters that made him boxing's best and most elusive defender.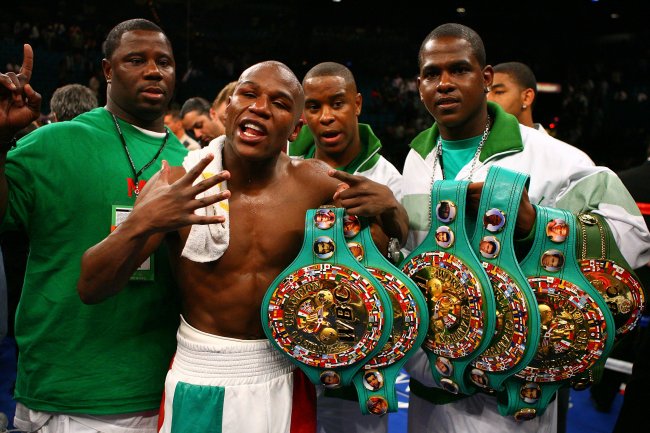 Al Bello/Getty Images
It was a match made in heaven, but it was bedeviled by drug-testing issues and all the other ego-driven pettiness that has helped dwarf boxing's status. So instead, we'll get Pacquiao at 36 and Mayweather at a just-turned 38 when these two welterweights finally settle the issue of who's the best pound-for-pound fighter of their generation.
That it has taken this long for them to meet is absurd. Their ages essentially mirror those of Tom Brady and Peyton Manning, whose teams have met 16 times, including three AFC championship games.
They should have fought Pacquiao-Mayweather I, II and III by now, but instead we'll be force-fed the notion that in this era of advanced training techniques, their ages are the new 30.
The promoters can slice that baloney in any direction they want, and it still won't go down easy. These two champions have fought a combined 111 professional bouts, and the treadwear is beginning to show.
Pacquiao is 7-2 with no knockouts since a November 2009 TKO of Miguel Cotto. Mayweather is 7-0 in the same period, with one KO.
This fight will break every possible record that involves a dollar sign, but there's no guarantee the hitting will match the hype.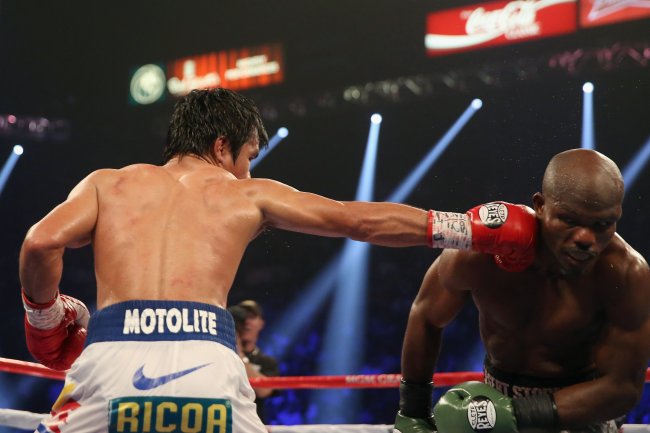 Jeff Gross/Getty Images
Pacquiao is understandably a more cautious warrior since taking the stiff right hand that left him a face-down failure against Marquez in late 2012. And patient retreat has always been a cornerstone of the Mayweather game plan that has protected "Money's" greatest asset: the zero in his loss column.
In 2010, it would have been different. Pacquiao's buzz-saw attack was off the chain, and Mayweather wasn't quite so calculated. Their ages would have fit the blueprint for making boxing history.
Who will win Pacquiao vs. Mayweather?
Muhammad Ali was 33 and Joe Frazier was 31 when they emptied their arsenals in Pacquiao's homeland at 1975's Thrilla in Manila. And, ahem, that was the third fight between The Greatest and Smokin' Joe.
Sugar Ray Leonard was 31 when he finally met 32-year-old Marvelous Marvin Hagler in a 1987 fight that at the time seemed to have kept the public waiting forever.
And though Hollywood's version portrays Jake LaMotta as a tad over the hill when he met Sugar Ray Robinson for the third time, both men were only 29 when the Raging Bull suffered an epic TKO on Valentine's Day in 1951.
But not many boxing memories are made with two fighters as old as Pacquiao and Mayweather are now.
Maybe being older and slower will make Pacquiao and Mayweather better targets, but I wouldn't waste a wager on that. And if the action fails to meet expectations, boxing will take a hit despite having its biggest payday.
Pacquiao-Mayweather is certain to bring in the fringe spectators, the occasional fans who will be hoping for the same kind of show they got when Mike Tyson tried to eat Evander Holyfield's ear in 1997. (The two Tyson-Holyfield fights also took way too long to book, in part because of Tyson's time in prison. But he was still only 30 for both of those bouts, and Holyfield was 34.)
I doubt we'll see that kind of crowd pleaser here.
More likely, I think, is a Mayweather victory, in a controversial decision.
That will set up a rematch, and one can only hope it won't take five years to negotiate.
Tom Weir covered numerous championship fights as a columnist for USA Today.