With all due respect to winner Joey Logano, what I'll remember about the 2015 Daytona 500 is that for 16 of the late laps, the lead pack rumbled three-wide, packed as tight as swarming bees and flirting with the 200 mph mark as the finish line neared.
Nearly every name that means something in NASCAR was up there, seeking racing's biggest prize, all of them flooring it like theirs was the getaway car from a Fort Knox heist.
You didn't have to be a gearhead to feel it. This was racing at its best. Everyone stuck to the same postage stamp, bumpers nearly kissing, making a Blue Angels flyover look sloppy.
Would Dale Earnhardt Jr. find a crease and defend his title? Would Jeff Gordon muster one last surge and leave his sport's biggest stage as befits a legend? Surely this Daytona 500 would get the finish it deserved, one that would bring a knowing wink and a respectful nod of recognition for decades to come.
Instead, with three laps to go, Justin Allgaier wrecked his No. 51 Chevrolet, causing a seven-minute cleanup project. Whatever hope remained for closing drama in the two-lap green-white-checkered finish was left firing blanks after a multiple-car crash, back in the pack, turned the superspeedway into a junkyard.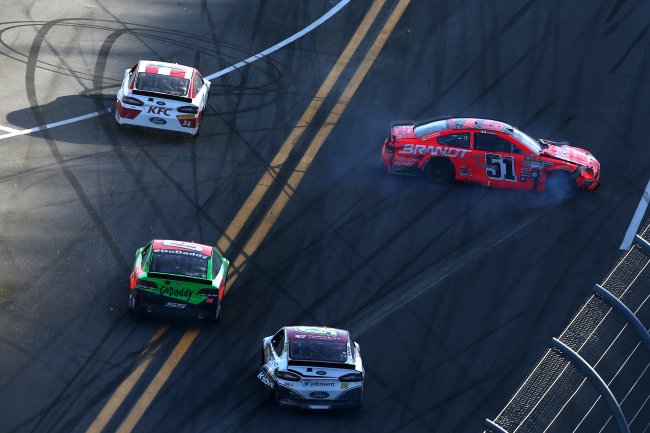 Sean Gardner/Getty Images
What should have been one of the greatest Daytona 500s instead finished under the caution as the yellow flag came out.
Yellow, the color of cowards. Yellow, a color famous for its namesake fever and not much else. And, in a telling coincidence, the color of Logano's victorious car.
So no, the Fat Lady didn't sing. And despite what Yogi Berra always said, this one was over before it was over.
One of the drivers who was in the hunt until the yellow came out made it clear he'll remember this race more for that incredible triple-wide scrum than who won.
Six-time NASCAR Sprint Cup Series champion Jimmie Johnson, interviewed on the Fox broadcast immediately after the race's default ending, said, "I'm just excited that we were sitting there three-wide, however many deep, with five (laps) to go, putting on a killer show."
But the killer show ended up shrouded in yellow. It was like finishing the Super Bowl with a deflated ball. Or no ball. Like a walk-off balk ending the World Series. Or when the 1993 Final Four was decided when Chris Webber called a timeout he and his Fab Five Michigan team didn't have.
That Sunday's race ended under the caution flag shouldn't dim the rising star of 24-year-old winner Logano. But it does strip the shine from NASCAR's showcase event when all the winner had to do in the final mile was drive like he was in a school zone at lunch time.
It's a little like when a prize fight ends with a head-butt or a low blow. And in NASCAR, these late-race crashes are particularly galling because they usually have nothing to do with the guys who are vying for the checkered flag.
It seems like it almost always is a car way back in row seven or eight that spins out and spews debris, meaning the leaders can't duke out the final lap or two safely.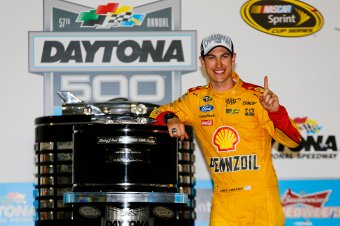 Jerry Markland/Getty Images
It's like comparing apples to asteroids, but they don't shut down the Boston Marathon if the last-place runner trips, nor does the Kentucky Derby come to a screeching halt because some anxiety-ridden nag can't get out of the starting gate.
How does NASCAR fix this? I have absolutely no idea, and obviously neither does anyone else.
NASCAR just might be the most technologically advanced sport out there, as was made evident by a new electronically timed system that caught 21 pit crew violations Sunday, some of them involving millisecond-long infractions of tire changers coming over the wall too soon.
This is a sport that would have no problem discerning a .001-second margin of victory, but it has no way to curb the adrenaline rushes that spark race-ending pileups.
For all of NASCAR's high-tech advances, there's still a little bit of bootlegger in everyone behind the wheel, and if they take that away, they might as well start posting speed limits and yield signs.
This certainly isn't the last time we'll walk away from a NASCAR race with an empty-tank feeling. But we may never see another one that was so deserving of a better ending.
Tom Weir was a sports columnist for USA Today.