The search for the Texas Longhorns tight ends and special teams coach is finally over. Former Gilmer High School head coach Jeff Traylor, who interviewed for the position Tuesday, announced Friday he has accepted the job and will join Charlie Strong's staff.
I have officially accepted the job at the University of Texas. I know without the coaches of East Texas none of this would have happened.

— Jeff Traylor (@CoachTraylor) February 13, 2015
"There were only a couple of schools I would consider leaving for, and one of those schools called," Traylor said. "Having an opportunity to coach at The University of Texas is a dream come true."
Some Texas fans may not be too fond of the idea of going to the high school ranks to hire a coach. Sure, Traylor may not have experience coaching at the college level, but this does not mean that he is not an elite hire for the Longhorns.
Traylor is a winner and has coached a long list of athletes who have gone on to play Division I college football.
Gilmer's former athletic director and head football coach won 87 percent of his games. He compiled a career record of 175-26. He also won three state championships, most recently in 2014, during his 15 seasons coaching the Buckeyes.
But Traylor's on-field success is only one reason why he is a solid hire.
Strong did not have any ties to Texas high school coaches or much experience recruiting the state when he took over the Longhorns football program in 2014. The only member on his staff with deep Texas roots was former tight ends coach Bruce Chambers, who was also the only staff member Strong retained from the previous regime.
A former Texas high school coach and longtime coach of the Longhorns, Chambers had history and relationships with high school coaches in the state, which could have played a factor in Strong's decision to retain him. One could assume that having Chambers on the staff may have helped bridge the gap between Strong and the Texas high school coaches.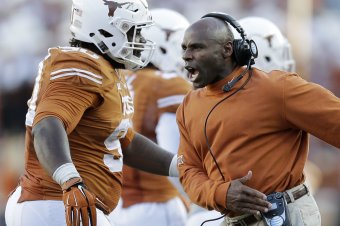 Eric Gay/Associated Press
Strong cut ties with Chambers in December and found a replacement who has similar experience but also offers something Texas has lacked in recent years: close ties to one of the most fertile recruiting regions in the country.
Gilmer is located in East Texas—or, as some high school football fans like to call it, "Beast Texas." It gained its nickname due to the wide variety of talented football prospects who have come from the region. Countless NFL stars—such as Earl Campbell, Billy Sims, Adrian Peterson, Aaron Ross and Dez Bryant, to name a few—have East Texas roots, and the region continues to produce talented football players.
In fact, 115 athletes from East Texas were on Division I college football rosters in 2013, according to Clint Buckley of ETSN.
Strong just wrapped up his first complete recruiting cycle at Texas and finished with the nation's No. 12 signing class of 2015. But some recruiting pundits, including Rivals' Mike Farrell, were not entirely impressed with the final product because the Longhorns missed out on some of the state's top prospects.
Texas used to have a lot of success recruiting in East Texas, but in-state rival Texas A&M has recently taken over the reins and seen more success landing the region's talent. The two rival schools offered five 4-star East Texas prospects in the 2015 recruiting class. The Aggies signed four, and the Longhorns signed one.
But that could change with Traylor in the mix, which appears to be one of the reasons why Strong chose him for the job.
"Jeff's a tremendous football coach who has built a program at Gilmer that has had unbelievable success," Strong said. "He has a great deal of knowledge and experience and having coached in this state for so long, really knows Texas. East Texas has so many great players that it really helps us to have a guy like Jeff on staff that knows the area so well. We're excited to have him on board."
Traylor's coaching tenure and relationships with East Texas coaches are huge for Texas recruiting.
This hire can help strengthen the connections between Strong's staff and the high school coaches, which could significantly help the Longhorns' recruiting efforts and ultimately help Texas regain control of the state's elite talent.
Unless otherwise noted, all quotes were obtained firsthand.
Recruiting information via Rivals.com.

Taylor Gaspar is Bleacher Report's featured columnist covering the Texas Longhorns. Follow Taylor on Twitter: @Taylor_Gaspar.