Will Muschamp's buyout at Florida, the school that fired him as head coach in December, will cost the Gators $6.3 million.
That's how much they paid to have their recruiting class pillaged by Auburn, where Muschamp is the new defensive coordinator.
Muschamp lured three of the biggest fish of national signing day—5-star defensive end Byron Cowart, 4-star outside linebacker Jeffery Holland and 4-star wide receiver Ryan Davis—to the Plains, poaching each from Florida's backyard.
All three were considered strong UF leans a couple months ago. Now they'll wear burnt orange and navy blue.
Cowart, Davis, Holland. All three were leaning Gators until Muschamp left. All three now Auburn.

— Matt Hayes (@Matt_HayesSN) February 4, 2015
Florida survived the cycle with commitments from a pair of Top 10 players: offensive tackle Martez Ivey (No. 2) and defensive end CeCe Jefferson (No. 7). Muschamp pushed hard to bring them to Auburn, but instead they'll play under Jim McElwain.
Still, it's impossible not to think what might have been. Ivey, Cowart, Jefferson and Holland were all supposed to play together. They were connected at the hip, and Muschamp had them wrapped around his finger.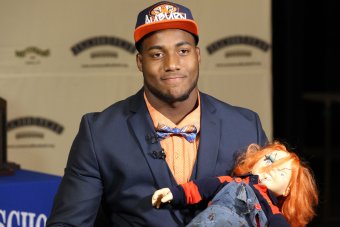 USA TODAY Sports
When he left, he not only deprived Florida of the coach those prospects wanted to play for—he took it to the worst possible place. He took it to a team those players already found attractive.
Auburn, after all, is just one year removed from an SEC championship. It came 13 seconds short of a national title. It plays fast, sexy, fun, progressive football.
"When Coach Muschamp and [DB coach Travaris Robinson] went back to Auburn, that was a big deal right there," Holland said after committing, per Kevin Scarbinsky of AL.com.
He was the straw that broke the Gators' back.
After signing day, Florida ranks No. 21 in the 247Sports team rankings.
For most teams, that is nothing to scoff at. Michigan State, for example, ranks No. 22 after back-to-back Top Five finishes in the postseason Associated Press rankings. Florida ranks ahead of the Spartans despite firing its head coach in December.
But the Gators don't get to measure themselves against "most teams." They forfeit that right because of where their school is located—nine of the top 19 recruits in the country came from Florida—and how much their athletic department profits. No matter the circumstances, they should never rank outside the Top 20.
Other than Ivey and Jefferson, Florida landed zero Top 100 recruits. Running back Jordan Scarlett ranks No. 118, but he's the only other member of the Top 250.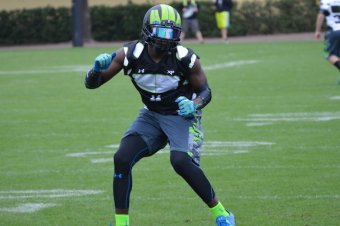 Credit: 247Sports
Auburn, on the other hand, has 11 Top 250 recruits—and that's not even counting Jovon Robinson and Jason Smith, a pair of JUCO prospects whose composite grades would place them in the Top 250. The Tigers have 13 players who grade .9075 or higher (out of 1.0000).
The Gators have three.
Does all of that have to do with Muschamp? No. But a sizable amount of it does.
Muschamp led the Gators to 13 losses in his final 24 games—their worst two-year stretch since 1980—and deserved to be relieved of his job. But firing him didn't eradicate the stink. They didn't burn the body when it was warm, and now they're being haunted by Muschamp's ghost.
And they're paying more than $6 million for it to happen.
Note: All recruiting info refers to the 247Sports composite rankings.