Manchester United's ignominious 0-0 draw at Cambridge United in the FA Cup fourth round was ultimately overshadowed by an improbable set of upsets that most notably saw both Chelsea and Manchester City eliminated from the competition by lower-league opposition.
So Louis van Gaal will be circumspect to avoid becoming the latest slain giant in Tuesday's replay at Old Trafford.
Despite recording a comfortable 3-1 win over Leicester City in their most recent league outing, there's a feeling that United need not just to win but to put on an entertaining performance in the replay against the U's.
But as those who've watched United this season know, there hasn't been much confluence between expectation and reality.
United's listless performance at the Abbey Stadium was the nadir of the drab, one-paced play that had been seen since Louis van Gaal's "twitching ass" got too much for him and he reverted to the 3-5-2 employed at the start of the season.
Match-going fans' acquiescing of Van Gaal's persistence with the three-at-the-back system ended during the game prior to the Cambridge tie, with a significant portion of the travelling support at Queens Park Rangers chanting for 4-4-2, as reported by Rob Dawson of the Manchester Evening News.
The obstinate Dutchman made the switch and United scored within seconds.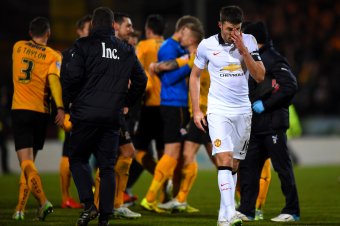 Shaun Botterill/Getty Images
It was presumed that the return of the diamond would see United regain their swagger. Instead, the players retained the inhibition that's been a hallmark of this season and failed to break down their League Two opponents.
The first half against Leicester featured sporadic flashes of the kind of incisive play United haven't really demonstrated since the Boxing Day victory over Newcastle United; that there were moments when quicker balls were preferred to dawdling hinted that the 3-5-2-imposed shackles were coming off.
If the formation will be favoured going forward, it'd be nice to see a few first-team players feature to further assimilate into the system and their roles therein.
But given that United exited the League Cup before August concluded and haven't had any European competition this season, this rare midweek game gives fringe players a chance to stake their claim for a regular starting berth.
Among them is Ander Herrera. Van Gaal's constant overlooking of the Basque, at a time when United have needed a midfield presence who can move the ball intelligently at pace and put their foot in, has been baffling.
According to WhoScored.com, Herrera hasn't started a game since his goalscoring, man-of-the-match performance against Yeovil Town in the third round of the FA Cup on January 4.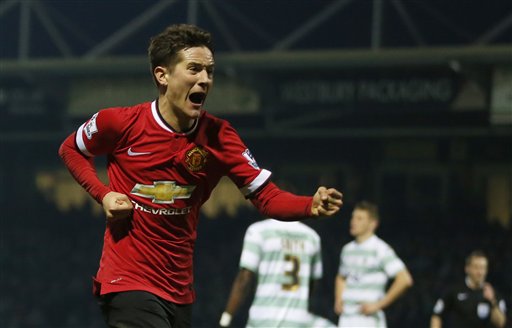 Alastair Grant/Associated Press
With Michael Carrick out for the foreseeable future, another omission for Herrera on Tuesday may suggest he'll never be in Van Gaal's plans.
Another player who could be brought in from the cold is injury-prone full-back Rafael da Silva. Despite hailing his attitude as "fantastic" following the Yeovil game, as reported by the Independent, Van Gaal hasn't started Rafael since.
With United reportedly looking at bringing in Southampton's Nathaniel Clyne at some point in the near future, as reported by James Dickenson of the Express, the Brazilian's time at the club could be drawing to a close if he doesn't reclaim his place in the team soon.
He offers United a much greater attacking threat and more defensive nous than the one-dimensional Antonio Valencia, so Tuesday's game could provide a rare opportunity for the popular right-back—though Valencia's early withdrawal from the Leicester match hints that he's in line for another start.
United's defensive crisis—initially due to injuries, latterly due to performances—this season has been well documented. Centre-back Tom Thorpe, a contemporary of Tyler Blackett who captained the club to success in the inaugural U21 Premier League, recently returned from an injury with an impressive performance against Liverpool at that level.
Could not get tweet oembed code for tweet 559812591372206080
Before his injury, many were wondering why Thorpe had been limited to just a few minutes shoring up the back line in the narrow victory over West Ham United in September.
However, with Marcos Rojo back to full fitness and bringing out the best in whoever he partners in the centre of defence, if Van Gaal is looking to solidify his back line, he will likely partner the Argentinian with Phil Jones—who was exceptionally poor in the first game against Cambridge—in an attempt to continue the development of their fledgling partnership.
One player who may feature after appearing in the aforementioned U21 fixture with Liverpool is Victor Valdes. The former Barcelona man looked rusty and let in a soft goal, but with Cambridge unlikely to pose too much of a threat, the game will be as good as any to afford Valdes his bow in English football.
The players on the periphery may actually offer United a better chance of winning the game than a team full of regulars because they have something to prove.
But United will be wary of a repeat of the Milton Keynes Dons debacle and becoming the latest Goliath casualty of the FA Cup fourth round, possibly limiting the involvement of vastly inexperienced players.
Cambridge manager Richard Money was reported by BBC Sport as saying that he " doesn't care " if his side defeat the 11-time winners of the FA Cup, but even without such apathy, you'd expect United—no matter who lines up—will have enough quality to win out on the night.
In his latest blog post, Juan Mata showed that United won't be underestimating the East Anglian outfit: "In sports, having respect for your opponent is a must. Even in football, where distances have shortened. That is something we have to be aware of ahead of our game against Cambridge. Not long ago, they proved to be a tough rival."
Mata missed the first game, in which his guile around the penalty area could have been a difference-maker, given United had so much possession but lacked invention.
Adnan Januzaj has replaced the Spaniard in the team for the past two games, but for all the excitement he offers running at defenders, "the boy who can do anything " has developed a tendency to dwell on the ball and allow defenders to regroup—something that could see him overlooked on Tuesday.
Julian Finney/Getty Images
Van Gaal has declared that the FA Cup is United's priority this season, reported by Rob Dawson in the Manchester Evening News—refreshing in an age when fourth place is considered more of an achievement than a tangible trophy—and it's a prize United fans are craving.
With a trip to the winner of the Sheffield United-Preston North End tie awaiting in the fifth round, the only two teams above them in English football already knocked out and without the distraction of European football, this season presents as good a chance as any for United's first FA Cup triumph in 11 years.