Twenty years have passed since the red mist descended on Eric Cantona at Selhurst Park, a moment that, for many, defines the Frenchman's career.
Cantona was no stranger to controversy before he planted his studs into the chest of Matthew Simmons on January 25, 1995. He wound up in English football following multiple acts of indiscipline in his homeland, including but not restricted to punching a team-mate, throwing a ball at a referee and calling each member of the subsequent disciplinary committee an "idiot," per Glenn Moore of The Independent.
His rebellious streak dissipated somewhat when he arrived at Leeds United, with whom he'd pip Manchester United to the title in 1992. However, once he'd made his epochal £1.2 million move across the Pennines, Cantona's maverick genius was soon offset by volatility. As he once said: "I play with passion and fire. I have to accept that sometimes this fire does harm."
He was sent off in consecutive games not 12 months before the incident at Selhurst Park. The first of those red cards was given for a stamp on Swindon Town's John Moncur. His reputation preceded him for the second; an innocuous collision with Arsenal's Tony Adams in an ill-tempered affair resulted in Cantona receiving his marching orders and a five-game ban.
During that suspension, he became the first player from outside the United Kingdom and Ireland to win the PFA Players' Player of the Year. His return couldn't come soon enough for the Red Devils. Blackburn Rovers were six points behind table-topping United following the Arsenal game. By the time his ban was up, Rovers were level—United winning just once in the league during his enforced absence.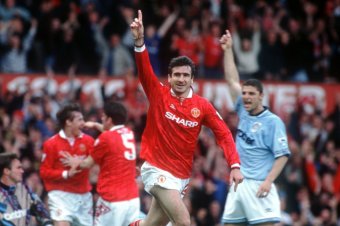 Anton Want/Getty Images
On his first game back, Cantona scored both goals in a 2-0 derby victory over Manchester City.
United rediscovered their verve during that win and were one month later celebrating the club's first league and cup double.
A week before the start of the ill-fated 1994/95 campaign, Cantona, a half-time substitute, was sent off in a pre-season friendly against Rangers. After the game, Alex Ferguson delivered some prescient words, per James Traynor in The Independent: "When Eric feels there has been an injustice he has to correct it. He can't control his temper in such a situation. But I'm still delighted to have him and we will have to live with his faults."
Just a few days after scoring the only goal in a top-of-the-table clash against Blackburn in January 1995, Cantona lined up for United away at struggling Crystal Palace. Richard Shaw was the Palace player tasked with keeping the Frenchman in check, and he was succeeding. Cantona believed he wasn't losing that duel fairly, and according to the referee that night, Alan Wilkie, per Jamie Jackson in the Observer (h/t the Guardian), he asked "no yellow cards?"
Alex Ferguson was less subtle with the referee in the tunnel ahead of the second half: "Why don't you do your f-----g job?"
Unfortunately for the Scot, the referee did just that soon after the restart; Cantona, aggrieved at what he perceived to be another foul going unpunished moments earlier, kicked out at Shaw in front of the referee's assistant and received a straight red card.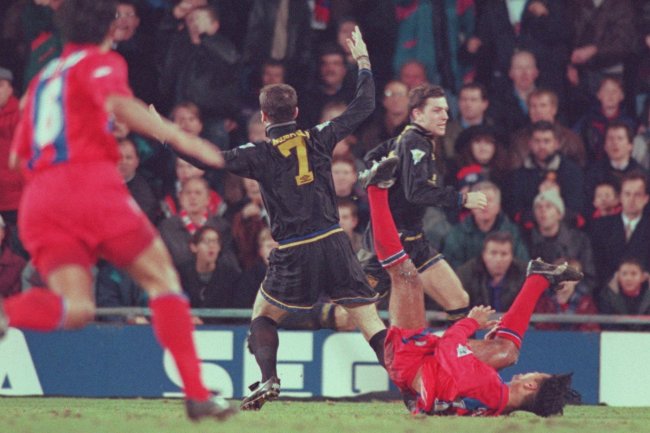 Shaun Botterill/Getty Images
After walking past his manager, who didn't once avert his gaze to catch the Frenchman's eye, Cantona was joined by then United kitman Norman Davies for the walk to the changing room. It was on this walk United's No. 7 met Simmons, who had run down several rows to, in his words, say: "Off you go, Cantona—it's an early bath for you," per Philippe Auclair's biography of the player, Cantona: The Rebel Who Would Be King.
Other accounts have Simmons' goading of United's talisman being far more colourful and xenophobic, per Brian Oliver of the Observer (h/t the Guardian). Regardless, Cantona's retaliation was inconceivable. Speaking to Jim White of The Telegraph some years later, Cantona couldn't explain his actions:
Provocation we always had. Millions of times people say these things, and then one day, you don't accept it. Why? It's about how you feel at that moment. One day you react, but the words are exactly the same as those you have heard a million times, so it is impossible to say why you react.
The fact he'd employed a kung-fu kick was emblematic of his enigma. Not only had he attacked a fan, he'd done so in the most unconventional manner—producing arguably the iconic image of the Premier League era in the process. Iconic or not, the kick was the catalyst for a backlash unlike anything before.
Trevor Haylett of The Independent's match report was titled "Cantona brings disgrace to the game." In it, he suggested that his future in English football was in jeopardy and advocated a lifetime ban. The Guardian's David Lacey described him as "nitro-glycerine in human form."
Brian Clough, a man who once punched pitch-invading supporters of his Nottingham Forest team, believed that Cantona needed castrating, per the Evening Chronicle.
Criticism wasn't exclusive to those outside the club; former United players were just as keen to denounce Cantona and his actions.
In Cantona: The Rebel Who Would Be King, Philippe Auclair reported that European Cup winning goalkeeper Alex Stepney said he was "disgusted" and that "[Cantona] shouldn't play for United any more."
Some club directors shared Stepney's opinion, according to Jim White in his book, Manchester United: The Biography.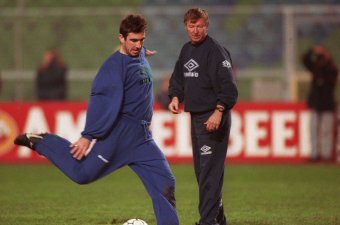 Shaun Botterill/Getty Images
However, his manager stood by him. In his Mail on Sunday column the weekend after the incident, Ferguson stated, per Auclair: "I intend to keep working on him and with him...I have to impress upon him that there will be players and teams who will set out to wind him up."
Writing in The Independent at the time, Richard Kurt, a regular contributor to influential and recently departed Manchester United fanzine Red Issue, opined that football, "as an entertainment industry that thrives as much on controversy and bad deeds as it does on good play and clean living," needed Cantona.
The club suspended him for the remainder of the 1994/95 season and fined him two weeks' wages. The FA's disciplinary commission fined him a further £10,000 and doubled the ban, which was still irking Ferguson more than 18 years later, per ESPN FC: "[Then-FA chairman] David Davies promised us if we [suspended Cantona ourselves] there wouldn't be any more action taken.
"Think about that. A nine-month ban. It is quite incredible. I still can't get my head round it."
Lord Rees-Mogg's famous lifting of Alexander Pope's "who breaks a butterfly upon a wheel?" line to argue that justice should be the same for everyone regardless of their wealth or status could arguably be applied here.
Just a few months earlier, a game between Fisher Athletic and Wealdstone FC saw David Ward of the former make a beeline for a supporter who'd been abusing him during the game and giving him a punch, per John Ashdown of the Guardian. It is unknown whether the recipient was Wealdstone's infamous Raider getting "some."
Not being a press-anointed "role model," Ward's actions were never going to draw a modicum of the hysteria that followed Cantona's defining moment of madness. He received a two-week ban.
Two weeks also happened to be the length of the prison sentence handed to Cantona in Croydon Magistrates' Court just under two months after the incident at Selhurst Park.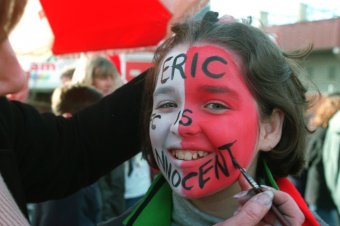 Mike Hewitt/Getty Images
Chairman of the bench Jean Pearch used Cantona's stature as justification for the decision: "You are a high-profile public figure with undoubted gifts and as such you are looked up to by many young people. For this reason, the only sentence that is appropriate for this offence is two weeks' imprisonment," per Steve Boggan in The Independent.
As it turns out, two weeks wasn't the only appropriate sentence—it was reduced to 120 hours of community service on appeal, per the BBC. The Independent reported that he used this conviction to devise and hold a football coaching course for youngsters. While there was the presence of probation officers at these sessions, a reminder that it was a sanction, Cantona later said of the experience, per Auclair: "It wasn't a punishment. It was like a gift."
While he was making the days, years and lives of the hundreds of children who experienced two-hour coaching sessions with a man once voted by Manchester United supporters as the club's player of the 20th century, something changed in Cantona.
The fact he never received another card before his premature retirement from the game in May 1997, per Jim White in The Telegraph, attests to his—while hesitating to use the word rehabilitation—learning during this period.
However, his commitment to Manchester United wasn't unwavering throughout the suspension. Talk of a move to Inter Milan was never far away, and per John Brewin of ESPN FC, Ferguson had to make an impromptu trip to France to persuade Cantona to retract a transfer request.
Cantona's importance to Manchester United cannot be overstated, and his compulsory sabbatical is perhaps the most telling illustration. Upon his arrival in November 1992, United were eighth in the table, nine points behind leaders Norwich City. They won the league that season—their first title for 26 years—by 10 points.
With Cantona suspended, United—even with then British record signing Andy Cole leading the line—lacked the guile needed to supplant Blackburn and win a third straight championship.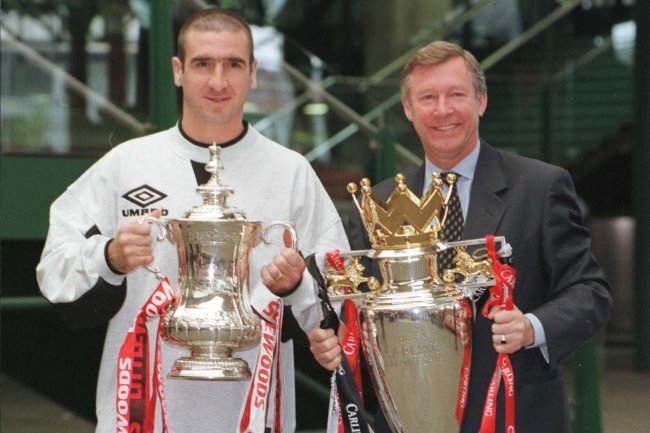 Shaun Botterill/Getty Images
Once he returned to action in October 1995, he took the as-yet-unnamed "Class of '92" under his wing and led United to their second league and cup double in two years, scoring the only goal in six 1-0 victories—including an 85th-minute winner in the 1996 FA Cup final—and winning the FWA Footballer of the Year award.