The New York Knicks are having an abysmal season, but coach Derek Fisher is doing fine work, all things considered.
Of course, any conversation about the Knicks and how they're being run right now must start with their record.
At 5-32, New York sits dead-stinking-last in the entire NBA. The neophyte Minnesota Timberwolves have been better. Ditto for the military-grade tank known as the Philadelphia 76ers. In Fisher's rookie campaign coaching at any level, the Knicks have undercut them all, and they show no signs of charging out of the cellar.
For all Mike Woodson's 2013-14 struggles in New York, he posted a comparatively respectable 37-45 record en route to his axing. His offense was basically just Carmelo Anthony isolations, and his defense was switch-happy and discordant, but the Knicks produced significantly better under Woody than they have with Fish, who was brought in to be the steward of New York's championship resurgence.
That was never going to happen in one year, but the Knicks have taken such a giant leap backward that 2014-15 is a lost season in nearly every sense. The newly implemented triangle offense isn't jelling, the defense remains sieve-like. Fish's efforts to build a foundation for future Knicks teams haven't yielded much in terms of tangible, real-time results.
But for all New York's struggles, Fisher's performance at the helm is redeemable. The on-court product is ugly, but it's backed by sound logic and firm emotional leadership.
Considering Fisher never had a mandate to win now, he had three main challenges in coming to the Knicks' sideline: implement new strategies, develop players for future roles and get his locker room to buy into the changes he was brought in to enact.
Fisher the Tactician: C+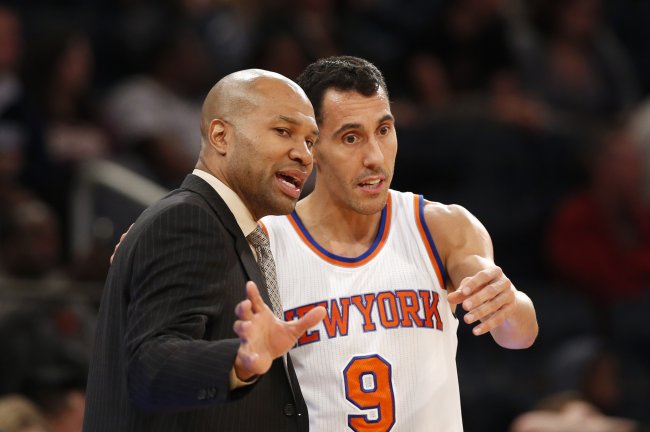 Kathy Willens/Associated Press
Giving the coach of this Knicks team an average grade for his strategic work requires you respect the process over the results.
If nothing else, these Knicks are trying their damnedest to make the triangle work—even when doing so has a headbutting-a-brick-wall quality about it.
They started out overly reliant on swinging the ball to the weak side of the floor and setting up a two-man game, playing more tentatively when operating through the strong-side triangle proper. The Knicks have since improved their play through each triangle option, shoring up their entry passing to get the ball inside, though no maneuver could be described as reliable for the 25th team in the league in offensive rating at 99.5.
Some of that execution failure must fall on Fisher's shoulders. As Chris Herring of The Wall Street Journal pointed out, even when Fish gets to draw up a play for his charges and talk over what they should do next, too often the Knicks are unable to do anything at all with the motions they're tasked with running.
Another shot-clock violation out of a timeout. Makes the eighth one this season for the Knicks.

— Chris Herring (@HerringWSJ) January 3, 2015
Fish takes some blame not just because he hasn't fully communicated a tricky system to learn, but because his rotation hasn't made the process any easier. Save for Andrea Bargnani and Cleanthony Early, all 13 other Knicks to suit up in 2014-15 have started at least once. Even accounting for injuries forcing lineup changes, that's too many to develop any sort of continuity.
Even so, the effort to succeed within the triangle has sustained across myriad five-man units, and that counts as a win for Fish.
As for the defensive end, on which the Knicks rank 28th with a 108.7 rating, it's not even worth considering in-depth.
Fisher did away with Woodson's switch-happy scheme, focusing on his perimeter guys funneling dribblers toward the sidelines while his bigs drop back to guard inside.
In theory, those are reasonable shifts, but it's impossible to see if New York is actually making gains. In this case, the personnel's shortcomings have no bearing on Fisher, who was cursed with zero rim protectors and since-traded-away Iman Shumpert as his only halfway decent ball-stopper.
For what he can control, Fisher has the Knicks on the modest path toward triangle competence, if not excellence, in 2014-15. Given an inexperienced roster of one-dimensional offensive players and woeful defenders, playoff-caliber improvement was never really in the cards.
Fisher the Teacher: B-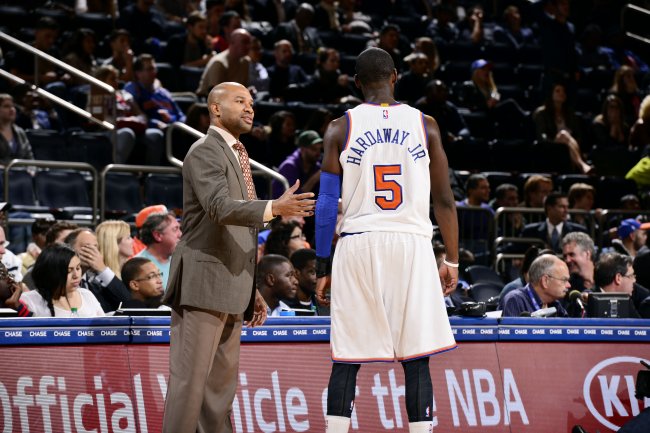 David Dow/Getty Images
Looking at the youngsters who may play a role in New York beyond this lost campaign, Fish has gone 2-of-3 with their development.
That's easiest to see with Shane Larkin, a 5'11", 175-pound water bug who's looking like a rotation guy in his second season—his first in New York.
Part of that has to do with a young player's natural development; the head coach doesn't likely deserve the credit for Larkin upping his free-throw percentage from 64.0 to 88.9 in the span of one year.
But there's also evidence of Larkin settling into Fisher's offensive system. His three-point percentage leap from 31.6 last year to 37.7 in 2014-15 has more to do with Larkin's growing comfort playing off the ball in New York, and his shooting jumped from 38.8 percent from the field in November up to 44.4 in December.
The same can't be said for Tim Hardaway Jr. He has the limitless range to be a deep threat, but he hasn't been reliable from three-point land this season, dropping to 33.1 percent shooting after hitting 36.3 as a rookie.
For someone who was an offense-only player throughout his first year, that decline could have been a major red flag. He still must fix it going forward, but improvements in other facets of his game have helped offset some of the slippage.
While not directly setting his teammates up for shots yet, Hardaway has reduced his ball-stopping tendencies, moving better within the offense and keeping the ball circulating. He has also made more than token strides on the defensive end; he's not disruptive there yet, but he now has the wherewithal to position himself properly and not get constantly beaten.
Hardaway's growth into a multidimensional player was never a given. Amidst the futility—both the team's and his own—he has made substantive strides under Fisher.
Iman Shumpert wasn't able to. After a strong shooting start, his three-point percentage fell back to 34.8, just barely above his career rate and far from his promising 40 percent showing from 2012-13.
Fisher couldn't solve the 24-year-old's inconsistency issues. In the final year of his rookie deal, Shump had not proven he deserved a role in New York's future plans, so Phil Jackson dealt him to the Cleveland Cavaliers to facilitate dumping J.R. Smith's contract, per Adrian Wojnarowski of Yahoo Sports.
Even that's not entirely a loss for Fish. Shumpert's expiring contract put a cap on how long he had to audition for the triangle. Learning that the Knicks ought to move on from an erratic performer was also valuable for Fisher and Co. to know sooner rather than later.

Fisher the Motivator: A
Tony Dejak/Associated Press
After 32 losses in 37 games, only one report of locker room unrest has emerged.
ESPN The Magazine's Chris Broussard reported that Knicks players, and Anthony and Hardaway in particular, were "arguing and cursing at each other after games," according to a source. There was specific mention of Melo threatening to beat up Hardaway, but nothing more emerged to validate it as a significant incident.
Per Ramona Shelburne of ESPN.com, Melo understands how vital his new coach has been to holding this team together: "I think if it was anybody else in his position, I think this probably would've crumbled already. I think he's doing a great job of keeping everybody focused on the task at hand and believing in what we're trying to do."
That's great praise for the captain of this sinking ship, and it stems from the belief Fisher has instilled in the new offensive system.
In a December 14 loss to the Toronto Raptors, the Knicks wound up relying on more conventional pick-and-rolls to force the current East leaders to overtime before falling 95-90. Following the game, per Herring, Anthony and Amar'e Stoudemire said that the departure from the triangle was incidental and affirmed the importance of sticking to their strategy.
Listening to Amare and Melo talk, sounds more as if the pick-and-roll actions just sort of happened tonight. Melo actually said that he...

— Chris Herring (@HerringWSJ) December 15, 2014
... hoped Knicks wouldnt use too many pick & rolls going forward, bc he wants NYK to focus primarily on the system theyre building long-term

— Chris Herring (@HerringWSJ) December 15, 2014
Through it all, Fisher has not wavered from supporting his players and what they are trying to build together, and he has done so without sugarcoating how catastrophic all this losing has been. It's a wearying task, and he has performed it with quiet strength.
Fisher Overall: B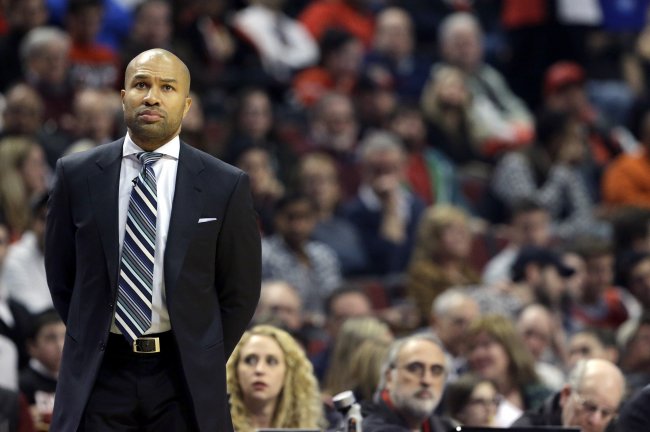 Nam Y. Huh/Associated Press
This inauspicious start won't inspire confidence in Fisher's ability, but his and his players' resolve through it should.
Consider 2014-15 a trial by fire. The Knicks have flamed out quickly and brightly, yet Fisher remains undeterred. He keeps hammering home triangle precepts, encouraging Larkin to shoot and Hardaway to defend with the support of his franchise cornerstone.
Does that mean New York will be better over the second half of the schedule? Not necessarily. In fact, things will be even more difficult without Shump, Smith and Samuel Dalembert, who Wojnarowski also reports the Knicks will waive.
That won't break Fisher. He has proven his ability to keep working toward his long-term goals in the face of daunting present-day circumstances. Even if he hasn't been quite a masterful enough coach to overcome them off the bat, the progress he has made through them has been admirable.