It has always been about endurance, the endurance to overcome challenging childhood circumstances, the endurance to push the body past its common limits on the court. So it shouldn't be a surprise that, when Masai Ujiri is asked for a Luol Deng anecdote related to their shared tours of their native continent, the Toronto Raptors GM summons something that speaks to the Miami Heat forward's ability to overcome.
"I will never forget during the camps in Rwanda he was really, really sick," Ujiri, born in Nigeria, told Bleacher Report during the 2014-15 season. "He came from England, where he was with the national team, and he had been traveling so much. He was so sick, so sick, but he still woke up early that morning and participated in the camp and went to give everything to the kids."
Of course he did.
Because this work is everything to him.
As the NBA embarks upon a landmark event in Johannesburg, South Africa—a star-studded August 1 exhibition game that will follow three days of Basketball Without Borders clinics and community outreach—the man from South Sudan is the appropriate face of the enterprise as the captain of Team Africa.
---
Return to late November, just after Thanksgiving and a spirited practice at Miami Heat headquarters that had the 11-year veteran sopping the sweat off his eyelids and resting on an exercise bike. This was roughly a month after the latest racial scandal to rock the NBA, one in which the Duke product was a passive participant, drawn into the controversy when a recorded conference call between members of the Atlanta Hawks' front office leaked to the media.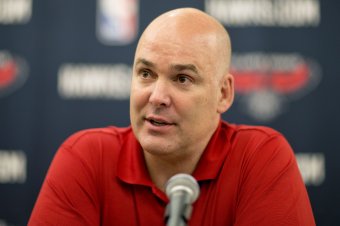 David Goldman/Associated Press
During that call, then-Hawks GM Danny Ferry, paraphrasing a scouting report about one of that summer's prospective free agents, said that Deng "has got some African in him," explaining that he might have "a storefront out front that's beautiful and great but he may be selling some counterfeit stuff behind you."
Coming after Clippers owner Donald Sterling was issued a lifetime ban for racially insensitive comments caught on tape, casting a pall over the 2014 playoffs, the Deng story had the potential to stain the league for much of the 2014-15 season had Deng chosen a combative course. Instead, on September 9, he responded with the dignity that has defined him, acknowledging he was "saddened and disappointed" that anyone would be "reduced to a stereotype."
"I'm proud to say I actually have a lot of African in me, not just 'a little,'" Deng wrote in a statement. "For my entire life, my identity has been a source of pride and strength."
That identity has always included some mystery, because Deng—the son of a Sudanese parliament official jailed during a coup—was just five years old when he and his siblings fled on a plane to Egypt. Deng has never been able to entirely separate his memories of South Sudan and its seemingly endless civil war from the secondhand stories of his older siblings. "When you're that young, you're kind of taken under their wings," Deng said during the aforementioned November interview with Bleacher Report. "You don't really know what's going on. You're just happy with your family. The struggle's not really there; they're the ones going through it."
But he does remember plenty about Egypt and specifically recalls what happened when he was seven. That's when a real-life Sudanese star returned from the faraway United States to spend some time with some refugees. Manute Bol was only supposed to stay for a weekend, but the 7'7" icon stayed for a month, teaching Deng's brothers and others how to play, so they could teach the younger kids. "He felt like if he put in the time, the talent was unbelievable," Deng said.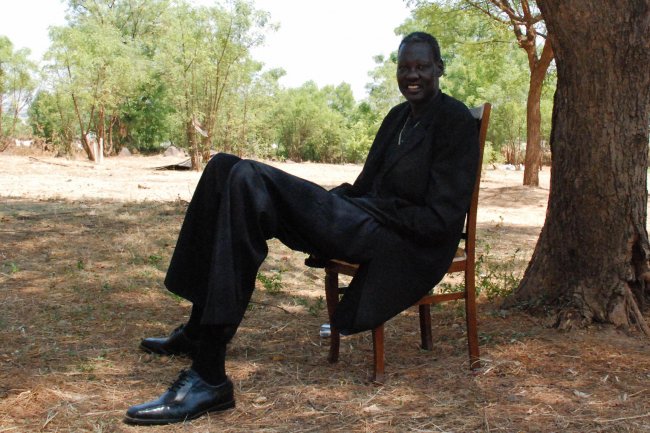 AFP/Getty Images
That proved true. "My older brother played professionally in Europe," Deng said. "My other older brother went to UConn on scholarship, finished his education in political science, then he went on and played in Europe for years. My other brother played in Europe. I ended up here. I have friends who ended up playing professionally in the Middle East and Europe. So just that one month from Manute, it's really amazing how many lives he touched. It's unbelievable. Can't even document it. It's unreal."
It's what has always mattered to him, that power of one person to make that sort of permanent impression, to create that kind of lasting legacy. Those good deeds should stick, and they do to Bol, even after the two-time NBA single-season blocks leader has passed on; days after Bol died of kidney failure and a skin disease in 2010, the U.S. Senate gave him a posthumous salute for his good work as a conciliator and educator.
Stereotypes?
Those, on the contrary, must be shaken off, and quickly.
That, as Deng explained inside the Heat facility in November, is what shaped his post-Hawks statement.
"I think my response was the way it was because it didn't bother me in the way that people would take it," Deng said. "It was never personal. Because I am very proud of being African. It's almost like everything he said didn't matter. I think a lot of people were struck and couldn't wait for the response, because it's such a negative image and negative words to put together to describe somebody. But I think at the end of the day, being who I am and my family, [there's] nothing you could do words-wise, because of what I've been through, that could affect me. To me, somebody can say what they want about me all day, whether it's my game or my personality or who I am as a human being."
Certainly not someone that he didn't know intimately.
"Now if you are a friend, or you are family, and you say something, then it could affect me," Deng said. "But someone that I don't know, I could see that on the Internet every day. It's nothing that's really going to really ruin my day."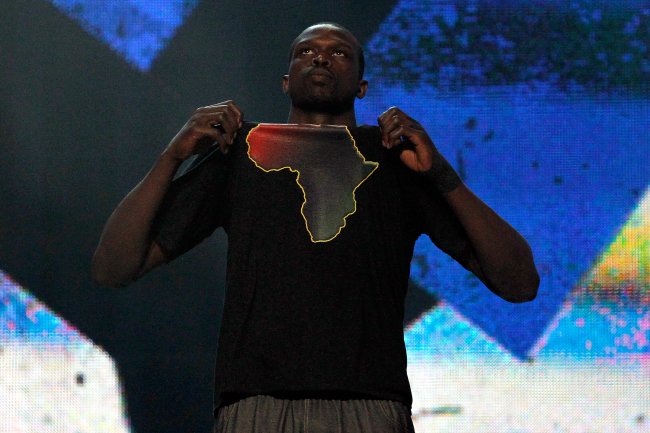 Ronald Martinez/Getty Images
He laughed. No, he didn't think Ferry—who was suspended by the Hawks and later resigned—was racist. Still, he didn't feel he could let it go without saying something. "My response was not only for me," Deng said. "It was almost a message that I wanted everyone to hear and be proud of and being who they are no matter what's said. ... It was like, 'OK, he said that, but there's good people out there.' ... And even when I read it at first—'there's a little African in him.' I said, 'Well, yeah.' I stood at the All-Star Game with an African T-shirt on my chest. I'm proud. Why would I do it? So it's OK."
It wasn't done lightly. Deng spoke to Ujiri, among others, about the proper tone to take.
"His natural instinct is to forgive," Ujiri said. "That was his natural instinct, to move away from it. I'm proud of him that he did that. And also proud that in training camp, people kept bringing it up, and he had the classiest way of saying, 'You know what? It's done. It's forgiven. No need to stir this stuff up again. Like, move on.' That's Luol."
That's what he did throughout the season, the November conversation with Bleacher Report aside, when he engaged on the topic only because it was asked in an effort to put his philanthropic efforts into context. For the most part, others spoke for him, including Magic Johnson at a "Nelson Mandela: Giant of Africa" event that Ujiri hosted prior to a Raptors/Cavaliers game in December.
"Oh, it was perfect," Johnson told Bleacher Report, when asked about Deng's response to the controversy. "It was perfect. First of all, first-class. ... He didn't respond in a negative way. And sometimes you've got to be bigger than what was said about you, because you know who you are. So he was very professional and he handled it so well, and he taught a lot of other players how to handle tough situations. ... It was really wonderful. I was proud of him, too."
But, as Deng well knows, even the strongest words can't compare to a single good deed.
---
There's a lot of Luol Deng in Africa.
All over Africa.
So much that it's tough to track all that Deng has done.
The Heat media guide, even using the tiniest type, spreads the "personal" section in his bio out over three columns just to accommodate it, and the majority is charity work, work that earned him the NBA's J. Walter Kennedy Citizenship Award for the 2013-14 season. Some of that has been done in Chicago, where he played for his first nine-plus seasons. Much of it has been done in Great Britain, where his family, once reunited in Egypt, was ultimately granted political asylum; the Deng Academy has become a fixture in South London, whether to teach critical developmental skills for boys and girls through basketball, offer scholarships or provide a steppingstone for exceptional athletes to follow Deng's path to America.
But, again, so much of what he does is in Africa.
"My whole goal is to try to do as much as I can, and not necessarily try to focus on one thing," Deng said.
Or on one country. Africa, after all, is not a monolithic place. The needs may be similar in many of its countries, but not necessarily identical. That's why, in every recent summer but last year's when Deng was dealing with his NBA free agency, he takes at least a month to cross the continent, north to south, east to west. Amadou Fall, the NBA vice president and managing director for Africa, has traveled with Deng to Senegal and Tanzania and Ghana and Rwanda and Angola and Ivory Coast and South Africa and, of course, South Sudan. "Having traveled with him, in nearly 10 countries, I've seen the consistency in terms of his approach and how he goes about his business," Fall said.
That approach is to immerse himself. In Kenya, Deng spent a week in the refugee camp of Kakuma "just to understand the lifestyle and the feel of it" before building a basketball court. He has worked with Save the Children to raise money through his NBA exploits and offer safe shelter and psychosocial services for children displaced by war, disease and poverty. He has served as spokesman for the World Food Programme and Nothing But Nets, with the latter aimed at protecting children from the mosquitoes that carry malaria. He has worked recently with Deki, an organization that provides microloans and training to help enterprising people work their way into prosperity.
"Whatever the issue is, whether it's Ebola or something else, I just want to get involved," Deng said. "Sometimes even if it's just my time or my words. If my involvement changes people from donating $1 to $2, then I'll do it."
His involvement is naturally more limited during the season, but the season is necessary, because it provides him with a platform. "I think, right now, my biggest focus is basketball, and how good I can be, and this is my job," Deng said. "But honestly, this is just preparing me for my legacy. I really believe that my involvement in this world, or in this life, is yet to come. I think what comes next after that, when I have more time on my hands, is really the question. … It's almost like, let me do what I can now. And ultimately, put all my energy into what I believe in, that I can change."
Why him?
Maybe because he sees himself, where he was, where he is, where he might not have been. On that late November day, he mused about his fortune. "Here I am, talking to you, in a facility where it's safe," Deng said. "The toughest thing I could think about is how practice was. The mind is not even about: What am I going to eat next? Am I afraid someone might come over to my house and rape my family? Am I afraid that I might be taken to an army and be a war kid? The only thing probably to complain about is traffic on my way home."
He laughed.
"I don't blame anyone for it," Deng said. "It's just, we're humans. We adapt to our society. But when you do things like I do it in the summer, it allows me to really understand how lucky I am, and how blessed I am to be doing what I'm doing. I go home and I see a lot of kids who really have the talent and don't really have the right opportunities. I've seen kids, 12, 13, 14, who are in war. They are in the army and they are fighting.
"Maybe in the future, I can build academies and take these kids out of the society that they're in, and the position that they're in, and have them focus on the future for themselves. I just believe that my purpose in life is to really make it a better world. If it's 10 kids that I take out of having machine guns on their backs, and put a ball in their hands, then I'm more than happy."
This Saturday, many will be happy to watch him with a ball in his hand.
---
Luol Deng did not win a national championship in his one season at Duke, reaching the Final Four before losing to the University of Connecticut by one point.
He has not reached an NBA Finals, though he has played on some compelling, competitive teams, and may again this season, with Miami expected to compete again in the Eastern Conference.
But it is safe to suggest that Saturday represents his career highlight, a validation of so many of his efforts, and a precursor for so many to come. Deng's team consists of 10 players who were born, or one of their parents was born, in one of six different African countries. That group will face Team World, which includes captain Chris Paul, Bradley Beal and Marc and Pau Gasol. The proceeds will go to good causes (Boys & Girls Clubs of South Africa; SOS Children's Villages Association of South Africa; and the Nelson Mandela Foundation), and the game will get good exposure, airing live on ESPN at 9 a.m. ET.
Chris Paul, Luol Deng, Gasol brothers headline first NBA game in Africa on August 1! http://t.co/tDNlkOZIRf pic.twitter.com/NltrEAPYQf

— NBA (@NBA) July 16, 2015
This is an NBA, not Deng Foundation, project, but it fits with everything he's been trying to accomplish, especially of late.
"He's taken the leadership role," Fall said.
While Deng is comfortable serving as Africa's primary active NBA ambassador, in the massive footsteps of Bol and Dikembe Mutombo and others, he has been relentless in seeking the support of his peers. "I'm trying to really do something where I am uniting everyone together," Deng said back in November. "Hopefully, here in Miami, I will do a three-day, a four-day event. My goal is to start an organization or a foundation within us, the players, that we all someday donate, and every year we select a country or somewhere in Africa. I want this to happen for years and years to come. And every player who comes in, in the future, will feel a family atmosphere where there's a unity there."
That's one of the reasons he speaks to Serge Ibaka and Thabo Sefolosha and Luc Mbah a Moute so often, so they can coordinate their African efforts; Ibaka works with Unicef in Congo, while Sefolosha started an after-school program in South Africa.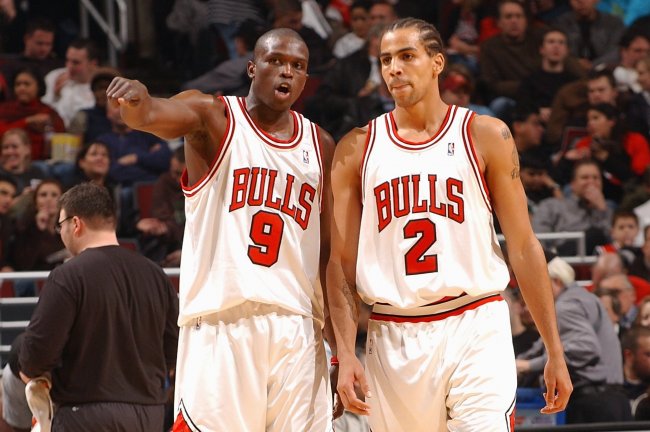 Randy Belice/Getty Images
That's why Deng made the case to Al-Farouq Aminu—born in Atlanta but a member of the Nigerian national team—during a visit last season to Dallas that all players with any African heritage needed to support each other's events. That's why he pulled aside Senegal-born Gorgui Dieng in warm-ups prior to the Heat facing the Timberwolves to arrange for a longer conversation following the game about the league, about work they could do.
"He's a great guy to look up to," Dieng said.
That's why Deng reached out to Cameroon-born Joel Embiid, after Embiid was drafted, to make sure he understood, from the start, that he was representing all of them.
"Luol has to be a leader of the African players in my opinion, because there's nothing he hasn't gone through," Ujiri said. "Whatever it is, he's experienced it. It's incredible, it's remarkable. He made it out but, not only that, but to a high level. To a two-time All-Star."

Anteneh Addisu, Deng's Duke classmate and current manager, referred to the "ecosystem of basketball," especially as players trickle out of Basketball Without Borders, into major American colleges and ultimately the NBA. "But every trail that each individual has blazed, it's important now to have all hands on deck and be able to leverage those relationships," Addisu said. "So we can get players from there to here."
And get them the best guidance.
"One of the sensitivities is that, you hear the stat that 70 percent of NBA players go broke," Addisu said. "If that actually happened to all African players, there's a direct linear outcome of the game. They can't be ambassadors. They can't develop camps. They need to be stable. They need guys like Joel Embiid coming in, and he should be able to hit up the elder statesmen. When the Spaniards come into the league, they hit up (the) Gasol(s). And it's not for lack of interest. It's just that everyone is so spread out. You play the season here. And then in the summer, everyone is all over the place, they go back to their respective countries."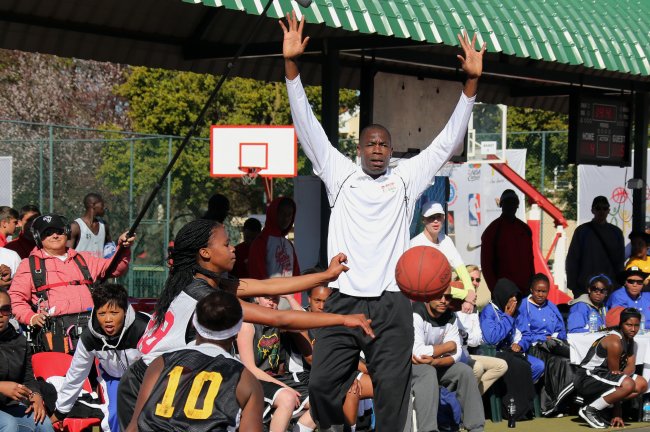 Nathaniel S. Butler/Getty Images
Saturday, Deng, Dieng, Ibaka, Aminu and Mbah a Moute will be on a team together. Maybe there's another two-time All-Star in the crowd Saturday, someone inspired by those on the floor. Or maybe there's one in one of the Boys & Girls Clubs that receive financial assistance. After all, every one of the NBA players interviewed for this story—from Sefolosha to Ibaka to Aminu—said they see enormous growth in the game in Africa, just as they see themselves with an ongoing responsibility to help expand it.
"One thing I know is they are watching us, they see what we are doing," said Ibaka, who will be in attendance Saturday but will not play as he continues to recover from knee surgery. "Everything we do is after other players. Like, I got my inspiration to go back home and give back in the community from Dikembe Mutombo. So I'm sure, those young kids, they gonna see us as inspiration for sure."
Mutombo, the gold standard of African giving, a newly minted Basketball Hall of Famer and an NBA global ambassador, is responsible for—among other efforts—the $29 million Biamba Marie Mutombo Hospital on the outskirts of the Congolese capital of Kinshasa. Indeed, Deng has watched and admired him, too.
And now Mutombo, who will be in attendance Saturday, is returning the admiration.
"I did go to Southern Sudan two years ago to see his work," Mutombo said. "I think he's doing a great job, he's lifting a lot of young people, he's trying to make a difference after 22 years of civil war in his country, to make a difference for humanity."
What is required to inspire?
"It's just about love," Mutombo said. "The only way I can describe everything is about love. And passion. How do you see yourself in a society? How do you want to be remembered in this world? Do you want to be here one day, and one day gone, and people have nothing to say about you? That's how I look at this world."
Saturday, Mutombo can look out at the court, at Ellis Park Arena, and see someone who sees the world exactly the same. Someone determined to leave a legacy that endures.
Ethan Skolnick covers the NBA for Bleacher Report. Follow him on Twitter @EthanJSkolnick.