Iman Shumpert and Tim Hardaway Jr. are the young New York Knicks with the most long-term value, but the most pragmatic, forward-facing move New York could make would be to trade them both.
When a team begins its campaign 5-25, any potential personnel decisions focused on the present go out the window.
Derek Fisher and the players must work towards prepping the triangle and the defense for next year rather than worry about a last-gasp playoff push, while Phil Jackson has to figure out how to flip current roster pieces into future assets.
If someone is willing to offer even a second-round pick for J.R. Smith, a 29-year-old with a $6.4 million player option that could keep him on New York's books past this season, per ShamSports, Phil does that deal in a heartbeat. Smith limits the Knicks' financial flexibility in the 2015 offseason, a cost which outweighs whatever production he might provide for an organization in transition.
Yet Hardaway, 22, and Shump, 24, do offer upside down the line. With their youth comes room for improvement, and thus the ability to develop their games within the confines of New York's system. While Shumpert hits restricted free agency this summer, Hardaway is even more tantalizing on his rookie deal; the Knicks have team options on him through 2016-17, when he's due just $2.3 million.
Talented role players on affordable contracts are the mortar that binds championship rosters. That makes Shump and Timmy tricky cases to consider: Both of them have skills that could help the Knicks contend, but they come with drawbacks which could make other prospects more desirable.
The Case for Trading Shumpert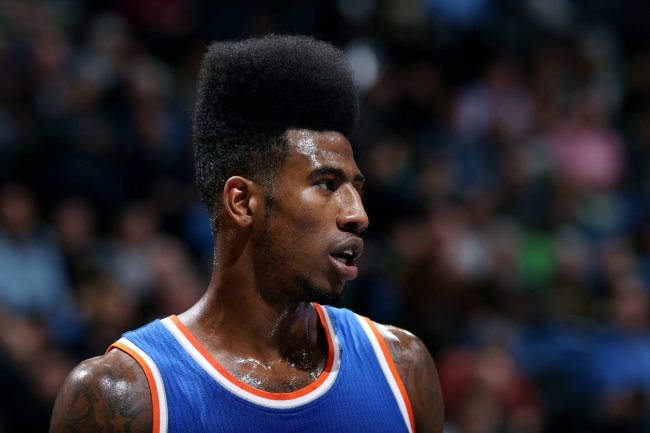 David Sherman/Getty Images
At his best, the 6'5", 220-pound guard is one of the toughest perimeter defenders in the league. He's prone to chasing steals and fouling at his worst, but even then, he's still the only plus defender the Knicks have at their disposal.
This reality isn't unique to the 2014-15 squad; Shump has been the lone bright spot on New York's defense for basically his entire NBA tenure. He has also nonetheless found himself on the trading block intermittently through the last three-plus seasons.
In fact, the Knicks nearly dealt Iman to two Western Conference heavyweights at least year's trade deadline. Ian Begley of ESPN New York reported a Shump offer for an Oklahoma City Thunder first-rounder, while New York also discussed a five-man swap that would send him to the Los Angeles Clippers, per Yahoo! Sports' Adrian Wojnarowski.
One thing to keep an eye on with Shumpert: Source says OKC has interest if MCL isn't torn. #Knicks want a first-round pick back for Shumpert

— Ian Begley (@IanBegley) February 20, 2014
Clippers discussing Darren Collison, Willie Green and Matt Barnes for Iman Shumpert and Raymond Felton, league source tells Yahoo.

— Adrian Wojnarowski (@WojYahooNBA) February 20, 2014
Even with a year down on his contract, Shumpert could still reasonably command a pick in the 20s from a title hopeful. He's streaky, but he has the makeup of a dynamic three-and-D wing who could push a contender over the top as a second-unit athletic threat.
Then again, those are the same strong points that make him so unique and useful in New York. Other than his inconsistency, particularly on the offensive end, why cut bait here?
That logic won out in February, when Shumpert still had another year on his rookie contract. As a young gun with an expiring deal, he's due a raise this summer; how modest or extravagant it is depends on how he finishes off this season.
Let's break for a little blind player comparison:
Player A vs. Player B

| | | | | | | | |
| --- | --- | --- | --- | --- | --- | --- | --- |
| Career (4 seasons) | MPG | FG% | 3P% | PPG | RPG | APG | SPG |
| Player A | 26.2 | .394 | .343 | 7.9 | 3.5 | 2.2 | 1.3 |
| Player B | 22.6 | .435 | .355 | 10.2 | 2.8 | 1.9 | 0.7 |
| 2014-15 season | MPG | FG% | 3P% | PPG | RPG | APG | SPG |
| Player A | 26.0 | .409 | .348 | 9.3 | 3.4 | 3.3 | 1.3 |
| Player B | 33.3 | .399 | .375 | 13.5 | 4.3 | 3.0 | 0.7 |
NBA.com
Player A is Shumpert. Player B is Alec Burks of the Utah Jazz, who re-upped Burks with a four-year, $42 million extension, per ESPN's Brian Windhorst. Burks is a year younger and offers some driving and creating that Shump doesn't, but the Knick is far superior on the defensive end and is a more reliable spot-up shooter.
When Shumpert locks in defensively and shoots consistently from deep, the difference between him and Burks is not significant. If New York keeps Shump and the market values him near eight digits a year, he might not be worth the commitment for the star-chasing Knicks.
The flip side is if he plays ace defense only in spurts and plays haphazardly on the other end throughout the season, driving his price down. In that case, New York would be better served having a younger wing prospect still on a rookie deal than Shumpert, who would have already proven himself to be undependable.
Nearly four years into his Knicks career, Shump's future in blue and orange represents a no-win situation for New York. If he steadies himself, he paradoxically won't be worth keeping. If he remains an enigma, he takes a more straightforward path to the same summer exit.
Either way, New York would benefit more parting ways sooner if it could land a late first.
The Case for Trading Tim Hardaway Jr.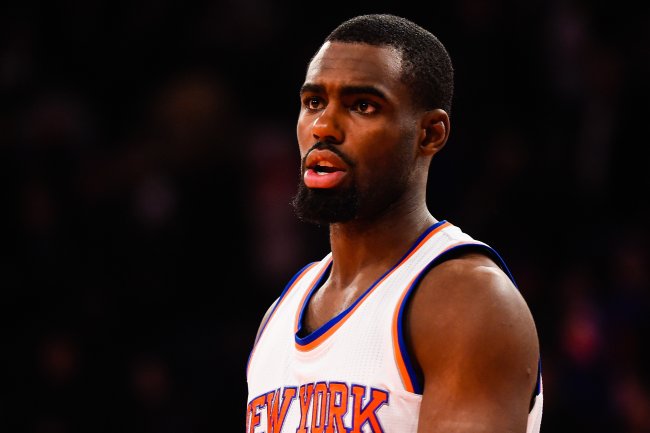 Alex Goodlett/Getty Images
Timmy started his professional career in promising fashion, notching 10.2 points per game in 23.1 minutes, shooting 42.8 percent from the field and 36.3 from deep. In the triangle under Fisher, he's boosted the scoring to 10.7 in 21.3, but he's also putting up 9.5 attempts per game as opposed to 8.5 as a rookie; he's also down to 39.4 percent from the field and 33.3 percent from beyond the arc this season.
If Hardaway can't score, he's not just useless—he's a straight-up liability.
His pitiful 1.7 rebounds per game are actually a slight increase over his rookie production, while his 1.5 assists are nearly double last season's output. Hardaway is also a truly awful defender, offering no man pressure and getting shaken off the ball easily en route to a 108.0 defensive rating in 2014-15.
Those don't have to be permanent shortcomings. At 6'6", 210 pounds, Tim has the size to contribute on the boards with some added commitment to crashing, and his distribution skills should improve as he gains more experience moving the ball within a team offensive scheme. He may even someday rise to the level of defensive mediocrity, as opposed to unmitigated futility.
Unfortunately, he's multiple years away from achieving competency in each of those facets; the likelihood of him doing so within the two years remaining on his current contract is incredibly slim.
This isn't a matter of giving up on TH2 as an NBA player. It's about acknowledging that, like Shumpert before him, Hardaway won't develop into the well-rounded contributor the Knicks need him to be before he gets paid.
To a team in need of instant offense from the wing, Hardaway with two years on a rookie deal would be well worth a first-rounder. With New York building around Carmelo Anthony's scoring prowess, the one-dimensional Hardaway represents a redundancy in its roster construction.
The Knicks can either wait past Melo's prime for Hardaway to become multifaceted or they can pivot and draft a more compatible youngster while they're rebuilding anyway.

Moving on from Hardaway so soon might seem like a front-office admission of failure in developing him. It certainly shares the pragmatism of such a concession. Rather, it takes wisdom and humility to look at a young talent and acknowledge he will be someone else's success, not yours, and get the most out of him while he's around.
All stats via NBA.com.
Josh Cohen writes about the NBA for Bleacher Report. Follow him on Twitter @arealjoshcohen.