During this first playoff season in college football history, many people (including me) have maintained and complained that the four-team format must be doubled to eight.
But now that the dust has settled (except at Baylor and TCU) does an eight-team playoff still have the same allure?
When one looks at the final College Football Playoff rankings it's easy to say yes.
First, having eight teams would have averted all the Baylor and TCU arguments. They both would have been in at Nos. 5 and 6, and the Big 12 would have been spared its embarrassing decision to not name a conference champion.
Also, No. 7 Mississippi State and No. 8 Michigan State are 10-2 teams from Power Five conferences, and everyone below them was clearly distanced by having a third defeat or being from a lightly regarded league.
But wait a sec.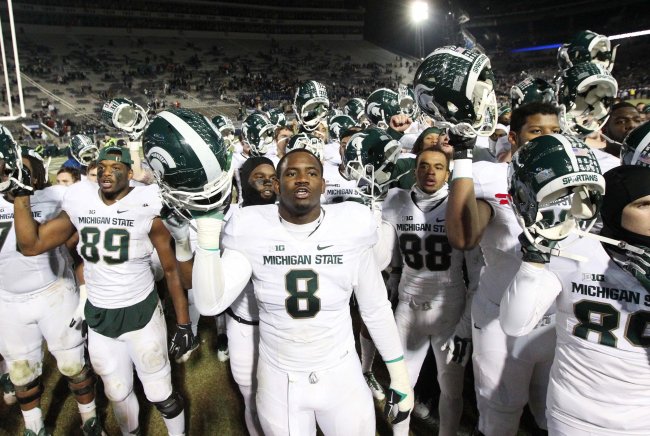 USA TODAY Sports
What was the key to Mississippi State and Michigan State ending the regular season with only two losses? The fact that neither won its division and didn't have to suit up during championship week. Yes, sitting on the sidelines is what would have allowed both back into an eight-team playoff.
Don't get me wrong. Both of those MSU schools fielded excellent squads. Michigan State led Oregon late in the third quarter in their September meeting, and Mississippi State's early play merited the No. 1 ranking it held for four weeks.
But Arizona, Georgia Tech, Missouri and Wisconsin also were 10-2 teams whose division titles sent them to conference championship games. There, they lost to the final four playoff teams and were punished in the final rankings, while other schools benefited from having a figurative bye.
Maybe Michigan State wouldn't have been beaten 59-0 by Ohio State in the Big Ten Championship Game the way Wisconsin was. And maybe Mississippi State could have made it close against Alabama again.
But the college football championship shouldn't be about mulligans and second chances.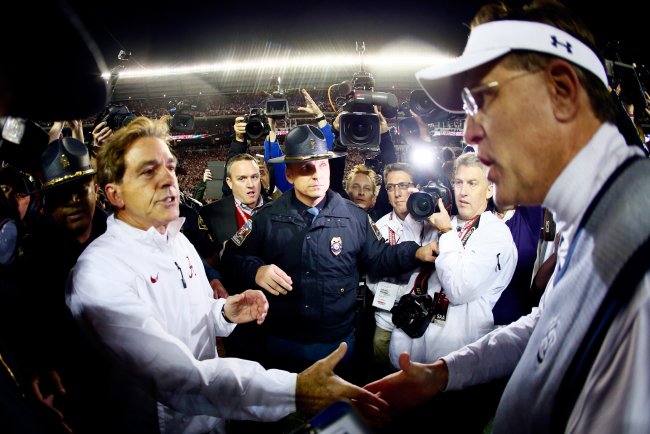 Kevin C. Cox/Getty Images
It also shouldn't be about diminishing big regular-season confrontations. That's what would have happened if Alabama had been beaten by Auburn in the Iron Bowl. The Crimson Tide still would have had a top-eight spot, rendering the outcome of one of the nation's biggest rivalry games meaningless.
We probably also need to think twice before we ask college teams to adopt an NFL-like postseason. And as for the crowd that cries for fairness, this is the one and only time I'll quote Stephen A. Smith: "Fair is a place where they judge pigs."
So, what would an eight-team playoff have looked like back in 2013?
Pretty hazy, quite frankly.
Based on that season's BCS rankings, Missouri would have been last in, grabbing the eighth spot with an 11-2 record. Four teams with 10-2 marks would have been left out: South Carolina, Oregon, Oklahoma and Clemson.
How many teams should be in the College Football Playoff?
2012 would have had a similar problem, with No. 8 LSU getting in at 11-2. But there would have been several other schools from Power Five conferences that also had only two defeats.
Perhaps the most eye-catching eight-team playoff would have come in 2011 when Boise State would have squeaked in at No. 7 with an 11-1 record. But again, several twice-beaten Power Five teams like Wisconsin, South Carolina and Michigan no doubt would have protested heatedly.
Having eight teams would solve some arguments but also would just create new ones elsewhere.
The other problem is logistics. Finding four neutral sites for first-round games wouldn't be hard, but how often can you ask college fans to pack up and travel?
Only 45,618 fans from Oregon and Arizona showed up at 68,500-capacity Levi's Stadium for the Pac-12's conference championship on a neutral field in Santa Clara, California.
And it wouldn't be surprising if many fans skipped first-round playoff games and saved their cash for the possibility of spending it on a title-game ticket.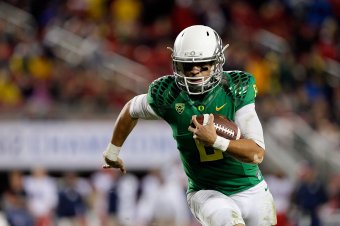 Brian Bahr/Getty Images
The No. 2 Oregon-No. 7 Mississippi State game would have matched schools that are about 2,500 miles apart. Having the top-seeded teams host first-round games could solve that issue, but there likely would be resistance to giving away that big advantage in the postseason.
There's also the question of how to schedule an additional week of playoff games.
If they're put on the back end, further lengthening the season, the college game will finish in late January, and the current setup already means seasons are ending later than ever. And if they're put earlier, toward the end of December, the playoff games will be messing with Christmas, another factor that could ruin the attendance and, with it, the game-day atmosphere.
So instead of adding a third round of playoffs, maybe we need to realize there already is a third round, the conference championship week. That proved to be a knockout round for the losing schools, didn't it?
Tom Weir covered college football as a columnist for USA Today.