What's more important: what a team has conclusively accomplished on the field or what some people think that team might possibly do in future games?
That suddenly is a huge factor for the College Football Playoff committee as it weighs the implications of Ohio State losing Heisman Trophy candidate J.T. Barrett to a season-ending ankle injury and being left with untested sophomore Cardale Jones as its quarterback.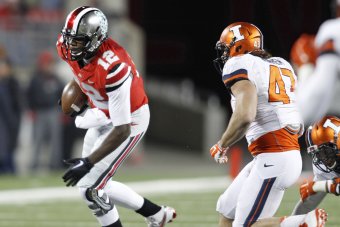 PAUL VERNON/Associated Press
For the moment, the committee hasn't done anything. Ohio State predictably sits in the No. 5 slot, moving up one place after Mississippi State's loss.
But what if Ohio State defeats Wisconsin in the Big Ten title game in Indianapolis, yet Jones clearly struggles in his first start? How will the committee react then?
The committee is perfectly entitled to hammer the Buckeyes in the rankings and drop them out of sight. That authority was extended in the protocol that has been posted all season long on the CFP website.
It's the fifth and final "principle" that's to be considered—after conference championships won, strength of schedule, head-to-head competition and comparative outcomes of common opponents—and reads: "Other relevant factors such as key injuries that may have affected a team's performance during the season or likely will affect its postseason performance."
And it needs to be erased.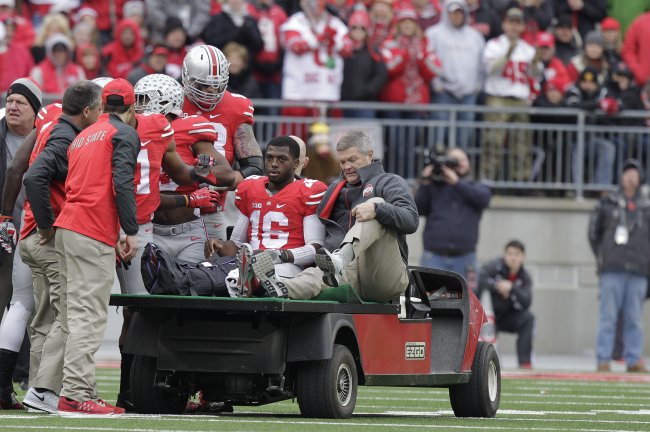 Jay LaPrete/Associated Press
Injuries are a huge part of sports, and to suddenly wipe out a team's drive for a championship because one player has been hobbled is totally contrary to the fundamental belief that anything can happen once the game kicks off. It's also like taking points off the board in a game that has been completed.
Imagine if Peyton Manning cracked a couple of ribs just before the NFL playoffs, and NFL commissioner Roger Goodell responded by removing a division-winning Broncos team from the postseason. It's too ridiculous to even consider, yet the CFP committee has that option.
No matter who gets hurt, it shouldn't undo the victories a team has amassed. The Buckeyes can log a 12th win on Saturday, and if they miss the playoffs, it should be because they lost to a vastly mediocre Virginia Tech team at home—not because they've had to dip into their depth chart.
The same Ohio State team that's being questioned because of Barrett's injury is also the one that proved a season-ending setback to a star quarterback can be overcome.
Hardly anyone knew who Barrett was back in August, before the Buckeyes lost Braxton Miller, their two-time Big Ten Offensive Player of the Year, to a shoulder injury.
Should injuries play a role in team rankings?
Can Jones make the same magical ascent as Barrett? I have no idea, and neither does the committee. What is definite is that he has been in Urban Meyer's offensive system for three years, and that if Ohio State gets past Wisconsin, he'd have nearly a month to prepare for the playoff.
But heaping the decision about Ohio State's future solely onto Jones' shoulders misses the point. He could have a three-interception game, like Blake Sims did for No. 1-ranked Alabama last Saturday against Auburn, and still see his team win.
No one is going to seek Oregon's playoff ouster if Marcus Mariota is so-so in the Pac-12 championship tilt against Arizona, as long as the Ducks win. The same applies to TCU's Trevone Boykin against Iowa State.
But Ohio State has reason to be very nervous.
The playoff committee has shown a willingness to run against the grain, and some might say extremely so.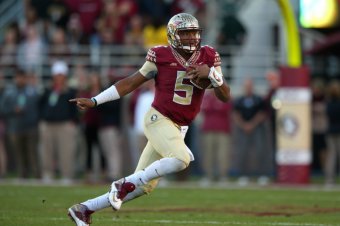 Mike Ehrmann/Getty Images
The committee dropping Florida State to No. 4 was flat-out a rogue move. The defending national champions are wobbling as they edge closer and closer to a second consecutive undefeated season, but dropping them behind three once-beaten teams shows the committee has little regard for traditional ranking methodology.
Similarly, reading the collective mind of the committee is even more difficult with TCU ranked two spots ahead of No. 6 Baylor. Baylor beat TCU, but the protocol principle of valuing head-to-head competition seems to be getting ignored.
The committee chairman, Arkansas athletics director Jeff Long, shed precious little light on Ohio State's situation when the latest rankings were unveiled on ESPN.
Long said Barrett's injury "has not impacted" Ohio State's ranking yet, but he added that, "It will be evaluated in this last game."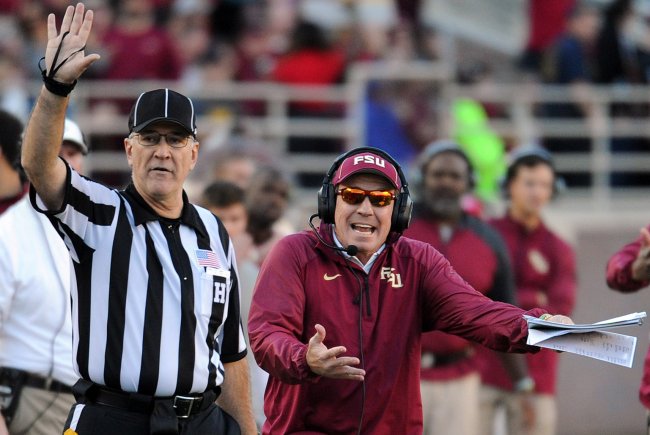 USA TODAY Sports
Florida State coach Jimbo Fisher thinks that's one of several things that are wrong with the way rankings are being conducted this season, as Fisher told reporters regarding Barrett's injury and the rankings:
It should have no bearing. Their body of work and what they do should be measured. It's not figure skating. If Ohio State wins the game and does what they're supposed to do and that's what they feel is right, they should put them in there. Their other quarterback got hurt and they put him in and he did pretty well. They have one loss and they've done pretty well. To me, that is total craziness if you think that way.
If Barrett's injury proves to be a hurdle the Buckeyes can't clear, the committee will hear from Coach Meyer. And loudly so.
Contemplating that possibility, Meyer told Doug Lesmerises of Cleveland.com before this week's rankings were announced, "I think that's wrong, if that happens. If it's Ohio State or some other team, I don't know how—it's strictly how you play."
Added Meyer, "You're the champion of the Big Ten Conference, you lose one Heisman Trophy candidate before the season and another one in [Game 12] that is also a Heisman candidate. I think that's almost a positive, that your team can still go function, and it tells you about the players and talent on your team."
Meyer has it right. Suppose Jones is downright awful against Wisconsin, but Ohio State still finds a way to win via the rushing game, air-tight defense and special teams precision.
Doesn't that speak to the talent level of the rest of the Buckeyes, and isn't football still a team sport?
Tom Weir covered college football as a columnist for USA Today.