Watching Nick Saban on the sideline, even the untrained eye doesn't take long to pick up on the fact there's an acidic harshness about the man, an overt willingness to climb down the throat of any slacker who's only giving 99.99 percent.
And it never is more evident than when Saban's Alabama football team brings a bare-knuckle attitude to a revenge game, seeking to administer some payback justice.
Saban's teams bring an extra roundhouse punch when facing an opponent who beat them the last time out, as was overwhelmingly apparent during the decisive minutes of Saturday's 55-44 victory over Auburn in the Iron Bowl.
This was the fourth consecutive time that a Saban-coached Alabama team has won in the revenge role against an opponent that threatened to topple the Tide's place atop the nation's toughest football conference.
Even more impressive is that, since taking over in Tuscaloosa in 2007, Saban has a 9-1 overall record in SEC games where Alabama had the opportunity to avenge a loss and prevent an opponent from mounting a two-game winning streak against the Crimson Tide.
That march of dominance took firm hold in 2009, when Alabama and Florida met as the nation's No. 2- and No. 1-ranked teams, respectively, in the SEC championship game. The 32-13 victory left tears on Tim Tebow's face and signaled that the Gators no longer owned the conference as Alabama went on to win its first national championship under Saban.
Alabama's Record in Recent "Revenge" Games

| | | | | |
| --- | --- | --- | --- | --- |
| Auburn | Lost 34-28 in 2013 | Won 55-44 in 2014 | | |
| Texas A&M | Lost 29-24 in 2012 | Won 49-42 in 2013 | | |
| LSU | Lost 9-6 in OT in 2011 | Won 21-0 in 2011 BCS title game | | |
| Auburn | Lost 28-27 in 2010 | Won 42-14 in 2011 | | |
Alabama media guide
The vengeance theme continued last season against Texas A&M. After a Johnny Manziel-led upset ended a 13-game Alabama winning streak in 2012, the Tide bounced back with a 49-42 victory in College Station.
The only exception to Alabama's history of retribution under Saban came when Louisiana State followed up its 24-21 victory in 2010 with a 9-6 overtime survival in 2011. But Alabama still had the last word that season.
The two teams met again in the 2011 season's BCS championship game, and Alabama reclaimed superiority with a 21-0 romp that gave Saban the second of his three national championships with the Tide.
But Saturday's victory may have been even sweeter.
Nothing will ever totally erase the stunned agony of seeing Auburn win last year's Iron Bowl on the famous "Kick Six," when the Tigers' Chris Davis ran back a missed field goal 109 yards for a game-winning touchdown. But Saturday's victory will at least dull the memory of what may be Alabama's most painful defeat.
The retaliation didn't come easily, however.
Down 26-21 at the half, Saban was compelled to deliver a quick speech, telling his team:
This is a gut-check as to what kind of heart you have, what kind of character you have and what kind of competitor you are in how you go out and play the second half of this game. I believe in you, I think we can win and I think we will win if everybody makes a commitment to doing their best in the second half.
In a game that was filled with explosive numbers, defensive-minded Saban ultimately beat Auburn coach Gus Malzahn at his own high-scoring game. Saban no doubt felt the sting of seeing his defense yield a school-record 630 yards, but he found the perfect salve when his offense rattled off a 28-0 scoring binge beginning late in the third quarter until the outcome was decided with 3:46 left.
What made this revenge game a little different for Alabama was that Saban's demand for perfection found itself at a crossroads in the third quarter, after Blake Sims threw his third interception. The Alabama quarterback typically has done his best work in home games, but this didn't start out as one of them, and his errant arm put his team in a 33-21 ditch.
Backup QB Jacob Coker began throwing on the sideline, and for a few moments, it appeared Saban would abandon the signal-caller who had guided the Tide to the No. 1 position in the College Football Playoff rankings.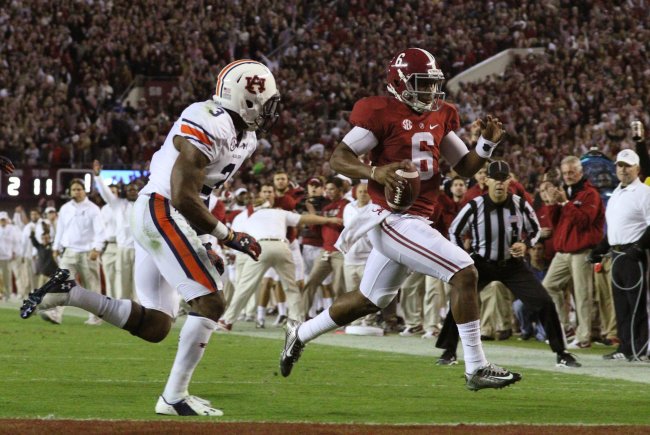 USA TODAY Sports
But then Saban proved he does possess at least a little patience, and his decision to stick with Sims was rewarded with five consecutive touchdown drives that restored Alabama's national championship hopes.
"Blake just didn't seem to be having his best stuff, and I talked to him about needing to respond and do a little better," Saban told reporters afterward. "We really didn't think about making a change, but if things kept going the way they were, we probably would've given Jake a chance."
Saban no doubt will spend this week hammering his defense back into place, but give the man credit for adapting and realizing that he sometimes will look at the scoreboard and wonder if he's playing in the Big 12.
"The way we're headed in college football, there's going to be games like this and we're going to have to win games like this," Saban readily conceded to reporters.
And there's only one reason to doubt Alabama as it heads to Atlanta for Saturday's SEC championship game against Missouri: The only other time 'Bama faced Missouri during the Saban era, the Tide won handily, by the count of 42-10 in 2012.
So no, this won't be a revenge game.
Tom Weir covered college football as a columnist for USA Today.