Winning the Super Bowl may be the ultimate accomplishment in football, but you know what? Winning college football's national championship is a much tougher proposition.
And in some respects it has become an even more exacting task this season, when the first College Football Playoff was supposed to open the door to more schools.
Start with some basic math.
In the NFL, 12 teams will qualify for the playoffs. That's 37.5 percent of the league.
If college football decided to be that generous, 48 of the 128 FBS schools would be invited to the playoffs, instead of just four. Heck, Marshall already would have clinched a spot, and getting into the tourney would be no more difficult than qualifying for a lightly regarded bowl game.
But what really makes the college trek so much more intense is that one flawed Saturday can derail the entire season of one of the most talented teams in the nation.
The folks at Ohio State would certainly agree with that. No matter what their Buckeyes do, they can't rid themselves of the stink of losing to Virginia Tech back in September.
It's even worse if that blemish surfaces in the last week or two of the regular season. In the NFL, that's when the top teams think about resting their starters, but no college team has a playoff spot clinched yet. They're all like tightrope walkers. They can wobble a little, but one serious stumble and they're toast. Squashed toast.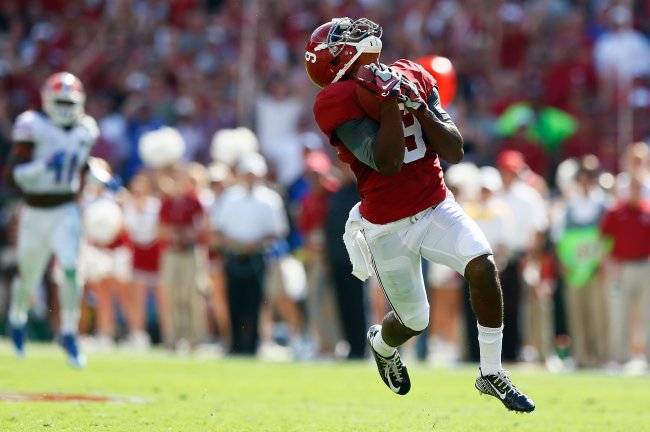 Kevin C. Cox/Getty Images
Consider:
No. 1 Alabama has to face archrival Auburn and then survive the SEC Championship Game in Atlanta, which will feel like a road game if Georgia is the opponent.
No. 2 Oregon has a seeming walkover against Oregon State, but that was also the case last year, when the Ducks had to scramble for a 36-35 victory at home. And their likely opponent in the Pac-12 title game is UCLA, which is on a five-game winning streak.
No. 3 Florida State has to play an emotion-packed game against Florida, which will be determined to send Will Muschamp out on a winning note. Then the Seminoles will vie for the ACC Championship against Georgia Tech, which has a triple-option offense that's nearly impossible to replicate in practice.
No. 4 Mississippi State must win at Ole Miss in what ranks as the biggest game in the history of The Magnolia State. But its biggest test will come the next week, when it will be idle unless an Alabama loss puts the Bulldogs in the SEC title game. Without a conference championship, teams from around the nation will be pointing at Mississippi State as the team that needs to be bounced from the playoffs.
Imagine that. Mississippi State's defense has allowed only six points in its last 95 minutes of play, yet could tumble if it doesn't throttle its in-state rival as more and more attention gets paid to the "eye test."
Should only conference champions get College Football Playoff spots?
But there are at least three recent Super Bowl champions who never would have vied for the Lombardi Trophy if style points mattered in the "National Forgiving League."
The 2012 Baltimore Ravens were pounded 43-13 by Houston in Week 7 and then went on to lose four of their last five regular-season games, including two at home. They limped into the playoffs with a 10-6 mark but then got hot.
The 2011 New York Giants fell all the way to 6-6 after losing four consecutive games from Nov. 13-Dec. 4, including a 49-24 torching at the hands of New Orleans. They finished 9-7 but squeaked into the postseason because no one else in the NFC East had better than an 8-8 record.
The 2010 Green Bay Packers lost two of their last four, including a 7-3 dud at Detroit when losing Aaron Rodgers to a concussion made them look like a one-man team. They got in the playoffs as a 10-6 wild card and caught fire when Rodgers returned.
Who's like that in college football right now, the suddenly dangerous team no one wants to play? How about Arkansas, after back-to-back shutouts against two top-20 teams? But in college football, the Razorbacks barely rate as an afterthought while playing in an SEC West Division where every team is bowl-eligible.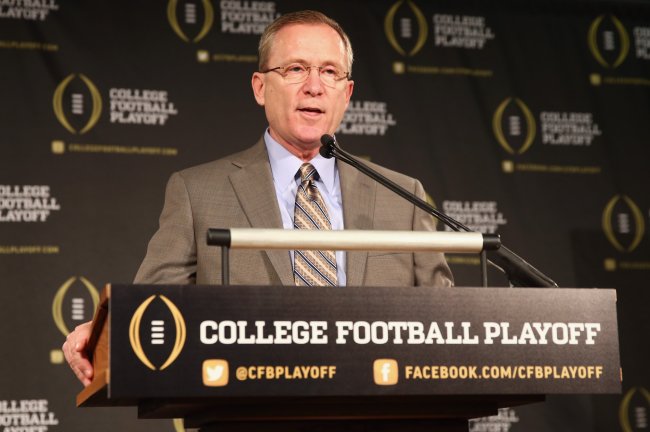 Tom Pennington/Getty Images
And, compared to the regular seasons of those three Super Bowl champions, all of Florida State's come-from-behind victories against so-so opponents don't look so shabby, do they?
Yet the Seminoles are perhaps the most maligned 11-0 team in college football history, because they haven't exercised the "game control" that CFP committee chairman Jeff Long has said is a factor in the playoff rankings.
Side note to Mr. Long: I hereby challenge you to give Bill Belichick a call and chastise him the next time his New England Patriots don't exhibit the requisite amount of game control in a win. Just remember to hold the phone a safe distance from your ear when the blowback erupts.
The first-half flubs that have left FSU with an image problem are proof that winning somehow is no longer enough as credentials for the college championship get scrutinized like never before.
In other times, Florida State's victories would have classified as dramatic, and the Seminoles would have been celebrated. But in the age of style points and eye tests, they're regarded as winning lazily, even though they're the defending national champions and have the reigning Heisman Trophy winner in James Winston.
We saw a little of that overreacting in the NFL this season, when some people actually thought Tom Brady needed to be benched after the Patriots were blown out 41-14 by Kansas City in September. But that tumult never affected New England's playoff status.
So how about we compare Florida State to some of the NFL franchises that reside nearby, the ones that belong to the NFC South? Believe it or not, the 2-9 Tampa Bay Bucs still have a chance to make the playoffs, because no one in the division is better than 4-7.
If FSU fans read that and begin to weep, it's understandable, because there's no doubt that a loss will immediately exorcise Jimbo Fisher's team from the playoff picture.
But take heart, Seminoles fans. If your guys come up short there's still hope for them to go on with their football careers and accomplish easier things. Like winning the Super Bowl.
Tom Weir covered college football as a columnist for USA Today.