The continued speculation about the future of Barcelona's record-breaking goal-scorer Lionel Messi is currently making waves across Europe.
At a time when the handy work of the Camp Nou's other attacking assets, Messrs Neymar and Suarez, has been short of their incredible combined potential, their contribution alongside Messi needs fast improvement.
For much of last season, questions were raised regarding how to get the best out of Messi. However, now that he is rediscovering his best form, it is his teammates who find themselves under the spotlight. Guillem Balague suggests in his article for Sky Sports the performance of the team will likely determine Messi's future:
When he was 18 or 19, Inter Milan made a huge offer for him and Joan Laporta told Messi's dad that he may get a lot of money at Inter but he would not get the glory and the love he would have at Barcelona.

[...] That was the closest he came to leaving. But I feel we are getting to that stage again – I have the impression the question of his future is on the table again. I don't believe it's been answered, and it won't be until the club put out a competitive team on the pitch to answer it.
ESPN football correspondent Sid Lowe recently spoke of off-field events that are beginning to take their toll on Messi. He suggested soured relations between Messi and the club's board have caused political unrest, resulting in Messi feeling "uncomfortable at Barcelona."
However, Balague's latest comments suggest Neymar, Suarez and Co. can have a more direct influence on Messi's present frustrations.
The golden boy of Brazilian football looked unstoppable during a summer in which he led his country to the World Cup semi-finals. Netting four goals in five games before Germany cruised to victory in Belo Horizonte, Neymar announced himself as a truly world-class talent.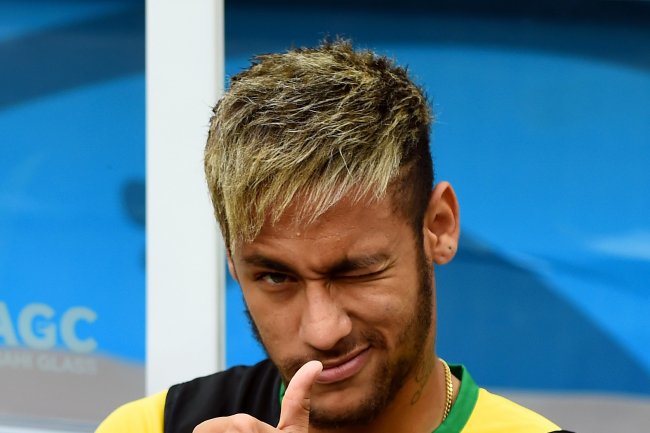 Buda Mendes/Getty Images
A tally of 13 goals this year has added much in the way of support for Messi but the problem of misfiring in key games has been noticeable. His wastefulness in front of goal proved decisive against Celta Vigo, as noted by BBC Sport, with Barcelona succumbing to a home defeat.
Suarez has been absent for much of the season following his infamous bite on Giorgio Chiellini, and it is now almost a year since he proved himself a hit for Liverpool. At his Anfield peak the former Liverpool ace had notched up 17 goals before Christmas. He's yet to score in the league for Barca.
Clint Hughes/Associated Press
Manager Luis Enrique recently insisted that his lack of goals is temporary, but Suarez's initial impact in La Liga has not carried fireworks.
The stylish performances of Real Madrid have put a comparative strain on the Barcelona duo. Cristiano Ronaldo has already scored 20 league goals this season and is on course to surpass Messi's record of 50. Though his individual tally is exemplary, the additions of James Rodriquez and Toni Kroos have added to Madrid's reputation as the best in Europe.
Madrid have found no problems with accommodating their best attacking options. Indeed they have scored 16 times more than Barca in La Liga this season, finding the perfect balance between defence and attack to give Ronaldo the ideal platform on which to shine.
Barca must do the same for Messi. The tactical key for Neymar and Suarez is to support Messi by providing space for him. Playing wider than either are used to will allow Messi space to roam from deep. For Suarez it is a greater sacrifice after he left Liverpool as the club's focal point.
The Uruguayan is of course better suited to playing through the middle himself but that philosophy has to be revised for his team's benefit, not just Messi's.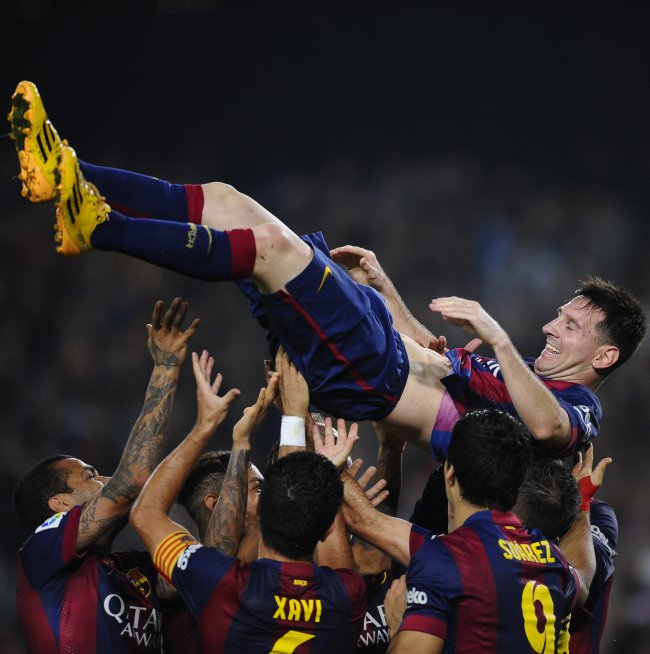 Manu Fernandez/Associated Press/Associated Press
A stunning hat-trick for Messi last time out against Sevilla served only to show again his unequalled individual talent. He is driven solely by a desire to be the best, so Barcelona must provide the right conditions to ensure he doesn't feel the need to move clubs to achieve this.
Neymar and Suarez have a key job in this, ensuring their positional play is tailored to the needs of the club's talisman, otherwise the likelihood of Messi's departure will loom larger.