Who's the best pound-for-pound fighter of this era? Nobody.
For me, that title is vacant and will remain so until Manny Pacquiao and Floyd Mayweather Jr. quit ignoring what the public wants and finally meet in the ring. Until they do, it's a debate that hasn't been settled.
And if they don't?
The legacies of both men will be indelibly tarnished. They will go down in history as two bullheaded superstars whose stubbornness was responsible for the greatest fight that never happened.
Pacquiao deserves a mini-salute for rekindling the issue in the lead-up to his overwhelming unanimous decision on Saturday night against Chris Algieri. Pacquiao told BBC Sport that he's informed Mayweather "My phone line is open 24 hours, seven days a week."
But it's one thing to say he still wants to fight Mayweather and quite another to make this long-awaited bout happen.
Great fighters fight, plain and simple.
Scan back through the pages of boxing history, and there's nothing that compares to the failed matchmaking of Pacquiao-Mayweather. There's no other fight in history that the public wanted so badly but never witnessed.
Chris Hyde/Getty Images
And time is quickly running out on staging what would be the biggest fight of this century.
Yes, it's a fight that real boxing fans know would have been far more meaningful if it had happened five or more years ago.
Mayweather turns 38 in February, and Pacquiao will blow out 36 candles in December. Mayweather is no longer the most elusive target on the face of the earth. Pacquiao's days as a fearless attacker seem behind him, even if he did knock down an obviously overmatched Algieri six times on Saturday. He still doesn't have a knockout since 2009.
Already some, like SI.com's Chris Mannix, are suggesting that the time for this fight has come and gone.
Still, it's a grudge match that needs to be settled, a chance for one of them to have the last word and for their countless fans to have the pleasure of saying, "I told you so." But it won't be if their 40th birthdays have rolled around, and it looks like they're just lunging for a final payday.
Among active boxers, they still have the two biggest followings in their sport in the world, and Pacquiao-Mayweather is the only matchup that can bring in mainstream sports fans the way Mike Tyson did.
Boxing desperately needs that infusion of pulse-racing excitement, and both of these guys owe it to the game that has made them mega-rich and globally famous.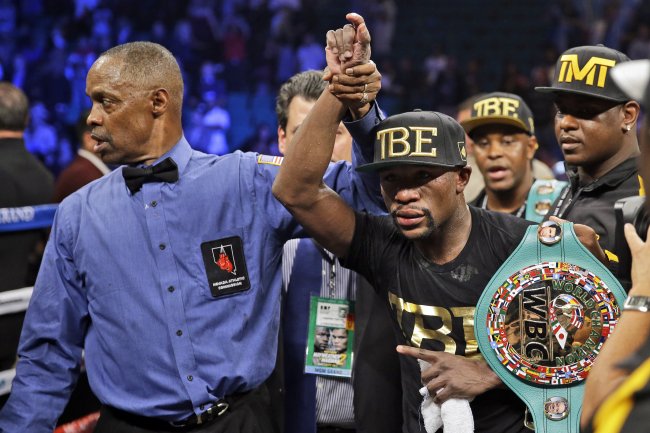 John Locher/Associated Press
The main excuse we hear recently about why this bout hasn't happened is that Pacquiao is an HBO fighter and Mayweather now belongs to Showtime. Those two cable providers should be ashamed about being the roadblock that is keeping the plug pulled on the fight their pay-per-view customers crave.
Boxing is a dying sport, with fewer household names than at any other time in its history. HBO and Showtime, unfortunately, have evolved as its caretakers. They're as vital to making big fights happen as the NFL is to putting on the Super Bowl.
And yet they're keeping the golden goose caged because of their rivalry.
Let me offer a solution that will never happen, because it makes too much sense: Have both HBO and Showtime broadcast the Pacquiao-Mayweather fight. Pac-Man's fans can sign up with HBO, and Money's can patronize Showtime. The financial pie will be so huge that splitting it will be better than any other payday that's out there.
Want another solution? Agree to a fight and a rematch, with an even split of the revenues.
Who would win a Manny Pacquiao-Floyd Mayweather fight?
Want a third solution? Man up and flip a coin.
Or how about if it the fight shifts from cable to network television? That may be what Pacquiao promoter Bob Arum is angling for.
The Wall Street Journal quotes Arum as saying this week that he has met with Leslie Moonves, the chief executive of CBS, which is the parent company of Showtime.
Arum said Moonves "has wanted this fight to happen for a long time, and added: "Les is confident that we can make this fight happen. Because he is optimistic, I am now more optimistic than I have ever been about a Pacquiao-Mayweather fight."
With boxing promoters, you never know what's hype and what's real. Moonves, through a spokesman, declined comment to the Journal. But maybe there's a ray of hope there.
If there isn't, it's ridiculous. But the bottom line is that the onus is squarely on Pacquiao and Mayweather. They're the ones who must commit to making the fight and twisting the arms of anyone who gets in the way. If they don't, history must condemn them.
What if Muhammad Ali and Joe Frazier, instead of having three (Yes, three!) epic fights had zero? Imagine Ali, now 72, trying to explain why he never faced Smokin' Joe.
"Well, the TV guys couldn't make a deal."
Huh?
Ali and George Foreman managed to hold their historic "Rumble in the Jungle" in the middle of Africa, in Zaire. A young Don King had to sway a reluctant Foreman with what then was a huge $5 million purse, had to get help from the tyrannical leader of Zaire, Mobutu Sese Seko, and had to have the first bell sound at 4 a.m. so the fight could be shown in prime time on closed circuit the U.S.
And he did it. Yet in this day and age we can't get Pacquiao and Mayweather in the ring together?
This matchup isn't subject to two guys surviving playoffs or tournament play. It can be held any day of the year. Vegas and dozens of other cities would welcome it.
Yet here we sit, wondering which spoiled kid in the sandbox will give in first.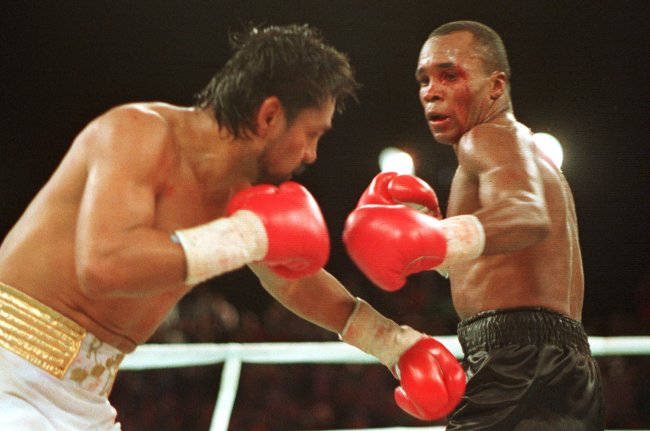 LEONARD IGNELZI/Associated Press
Pacquiao and Mayweather could both learn plenty from the collection of fighters who, in the last half-century, created the most compelling pound-for-pound argument.
For that, you have to go back to the 1980s, to when Sugar Ray Leonard, Marvelous Marvin Hagler, Thomas "The Hitman" Hearns and Roberto "Hands of Stone" Duran were all thoroughly in the mix for that distinction.
Guess what? All four of those greats fought each other at least once. Leonard and Duran met three times, and Leonard also went in the ring twice against Hearns. (For the record, here's how they fared in those fights: Leonard was 4-1-1, Hagler 2-1, Hearns 1-2-1 and Duran 1-4.)
All four can look back on that decade with pride, knowing that they gave the public what it wanted and faced each and every one of the greatest competitors of their era, in their primes.
Pacquiao and Mayweather need only to face each other to be able to say the same, and there's simply no reason not to make it happen.
Tom Weir covered numerous championship fights as a columnist for USA Today.