Florida State's football reputation is on trial, and since the gridiron isn't a courtroom the Seminoles will have to endure being considered guilty of fraud until proven otherwise.
That means they really need to beat Boston College by about 60 points on Saturday.
Such is life for a team that dominates the ACC but flatlines with the 12 members of the College Football Playoff committee, ranking only third again this week despite an undefeated record.
The Seminoles are learning the hard way that evaluating today's teams extends way beyond counting wins and losses. At a time when style points are being tallied and discussed like never before, FSU has spent 2014 looking like someone in danger of drowning in his or her own bathtub.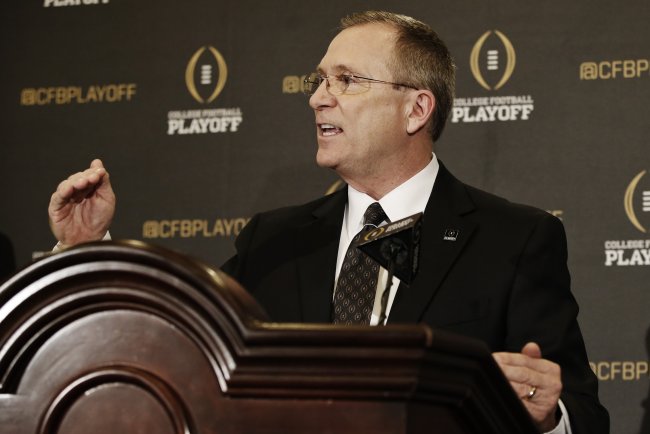 USA TODAY Sports
CFP committee chairman Jeff Long made it clear that it's not enough to win on the scoreboard. A team also must look good doing it.
"We look at the games, how they've played them, whether they've controlled the game," Long said, via AL.com's Mike Herndon, referencing FSU's repeated early deficits against so-so opponents. "They've had a number of come-from-behind victories."
That makes me a little itchy. It hints that selecting four teams for the playoff is drifting into the world of beauty pageants. Or worse, figure skating, where soft landings, mood-enhancing music and flashy sequined costumes all figure into the judges' computations.
But the committee's collection of hypercritical eyes also speaks to just how valuable the four playoff spots are. This isn't the NCAA basketball tournament, where sixth-place teams can grab a spot in the field and no-name universities get gifted with a play-in game.
Which team in the top four of the CFP rankings is weakest?
Per Jeff Sagarin (via USA Today), Florida State's strength of schedule ranks only 51st, and there's no chance of it spiking with only a pair of unranked teams left on the regular-season slate, Boston College and Florida.
To be fair, playoff contender Baylor is further back at 55th, and Ohio State is starting to stir up talk of edging into the final four despite a schedule that ranks 47th.
But Florida State's performances scream vulnerability. Saturday's win over Miami was the fifth one this season that saw the Seminoles trail at halftime.
Also, maybe FSU has stirred up residual doubts by having a history of not living up to its early-season ratings. According to the The Wall Street Journal, no other college team has been overrated so often as the Seminoles have been this century.
If FSU is looking for a scapegoat for its plight, Notre Dame is the best candidate.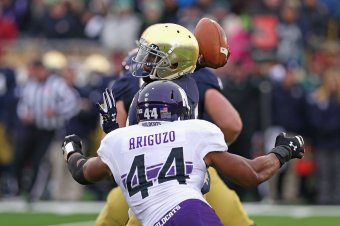 Jonathan Daniel/Getty Images
The Fighting Irish were undefeated when they took FSU down to the wire on Oct. 18 in what seemed like the game of the season at the time. But that 31-27 victory, which easily could have flipped if not for a late pass-interference call, now looks aggravatingly ho-hum in the wake of Notre Dame nosediving to 7-3 after an overtime loss to Northwestern.
That means the only FSU games that yielded "quality wins" came against two teams that barely wedged their way into the CFP rankings: No. 22 Clemson and No. 24 Louisville. And FSU should be glad that the AP poll's voters don't get a say in the playoff, because neither Clemson nor Louisville made that Top 25 this week.
But there's a second Notre Dame factor at work for those who would love to see Florida State shunned from college football's first four-team playoff for the national championship.
It doesn't take an elephantine memory to recall what a lousy participant Notre Dame was in the 2012 season's BCS Championship Game, trailing 28-0 at halftime and falling further behind at 35-0 before losing 42-14 to Alabama.
That's the team FSU resembles right now.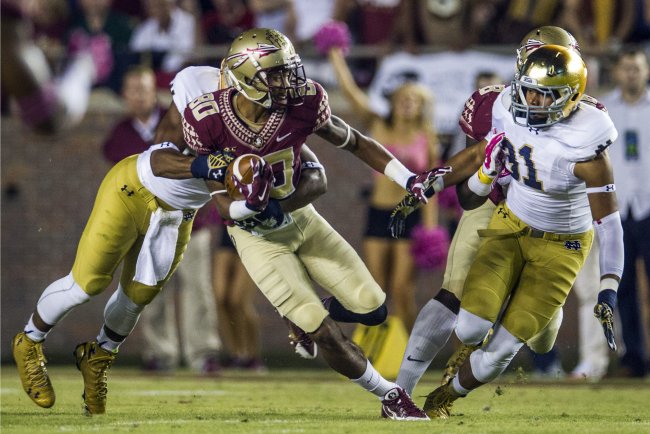 Mark Wallheiser/Associated Press
The Irish had three wins against teams that finished in the final AP poll's Top 25: No. 7 Stanford in overtime, No. 15 Oklahoma and No. 24 Michigan by the scant margin of 13-6.
Florida State is 10-0 and has won 26 consecutive games, but things get blurry when the eye test is administered.
Riding the arm of reigning Heisman Trophy winner Jameis Winston, the Seminoles rank a very respectable 11th for passing yards. But the ground game has been absent since the school year started, ranking only 105th.
For scoring, they're 17th, and the defense is 34th for points allowed. Those are nice numbers if you're trying to impress the selection committee of a tier-three bowl game, but they definitely don't scream final four.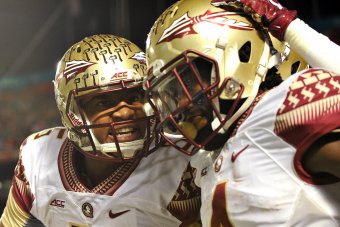 USA TODAY Sports
Florida State has some ready-made alibis for why it has had to scramble its way to victories that should be walkovers for a team that's truly playoff-worthy.
Last Saturday's 30-26 survival against Miami was an in-state rivalry game, where emotions often narrow the final margin.
As the defending national champion, FSU also has a figurative target on its collective back. The added incentive for opponents is ending that 26-game winning streak and earning a distinction that can never be taken away.
But the committee obviously couldn't care less about the tough road that teams will take to what may be the most prestigious national championship ever won in college football. The schedule SEC West teams play ends that discussion in a hurry.
So if Florida State is unhappy with its No. 3 spot in the playoff rankings the best way to show it is by looking like a champion on Saturday—a take-no-prisoners champion who controls the game from the outset and starts making up for all those other unimpressive performances.
Tom Weir covered college football as a columnist for USA Today.