A constant theme of this season has been that there's still a lot of football left to be played, and the remaining games will sort everything out. But now there's a lot less football left, and the picture is murkier than ever as the College Football Playoff committee faces its toughest rankings session.
Florida State, the team so many fans love to hate, still has its golden goose egg in the loss column, so there's really no arguing that the defending national champions don't belong in the final four. But after that, there are six one-loss teams from the power-five conferences, and good luck figuring out a fair way to rank them.
Let's make some guesses on how the College Football Playoff committee distinguishes between the rest of the pack.
Teams on the rise: What to do with Ohio State?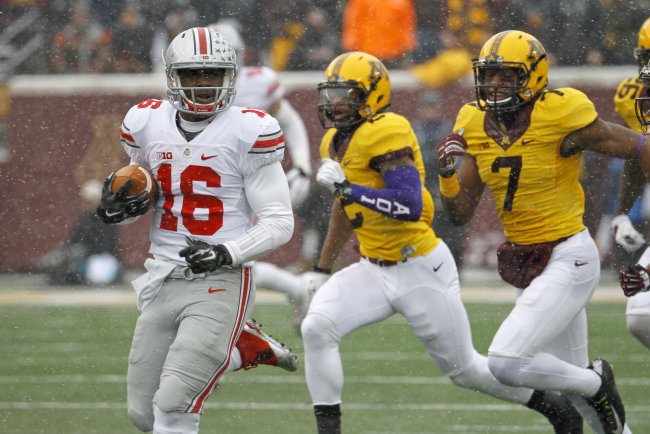 Ann Heisenfelt/Associated Press
The Ohio State delegation would benefit most if the committee favors teams that show the greatest November momentum. The Buckeyes won the Michigan State showdown, then backed it up with a victory in arctic conditions at Minnesota on Saturday.
They also have a nice little comeback saga working with J.T. Barrett steadily emerging from an unknown backup (until Braxton Miller got hurt) to one of the nation's most dependable quarterbacks. But the committee needs to be careful about overvaluing the OSU comeback.
Every team has to overcome adversity; that's part of football. Teams shouldn't be ranked in order of who has the best storyline.
Is Mississippi State still alive?
The big loser in the what-have-you-done-lately equation could be Mississippi State, after having its undefeated run ended by Alabama.
Is Mississippi State still a playoff team?
I hope it doesn't shift like this. I don't see how an awful loss, like Ohio State's to Virginia Tech in September, can be overlooked in favor of a so-called "quality defeat," like the one Mississippi State suffered on the road against Alabama, just because of where those games fell on the calendar.
The SEC's hope to land two teams in the playoff has taken a big hit, but Mississippi State could revive them by crushing Ole Miss in the regular-season finale at Oxford. That's far easier said than done in what looms as the state's all-time showdown, but the Bulldogs shouldn't be sent to the scrap heap because of losing a road game against a top-five opponent.
Head-to-head: The TCU-Baylor dilemma
Isn't a head-to-head result the most common tiebreaker in sports and the one we resort to first? The NFL certainly has always seen it that way, but the CFP committee hasn't valued that factor so far, at least not with Baylor and Texas Christian.
Baylor beat the Horned Frogs on Oct. 11 by the eye-popping score of 61-58. But the committee had Baylor three spots below TCU in last week's rankings.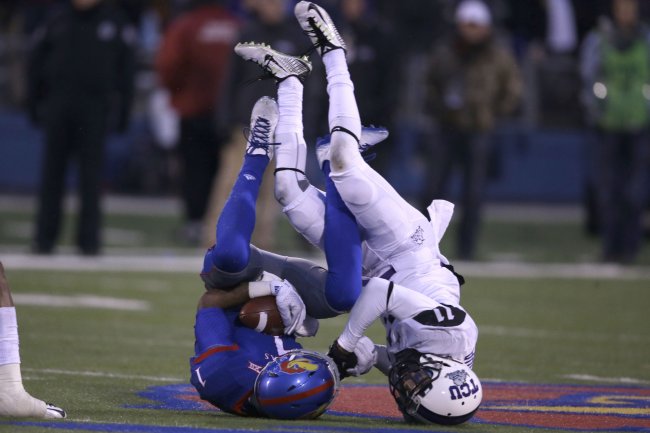 Orlin Wagner/Associated Press
The swing factor appears to be how those two Big 12 teams performed in games at West Virginia. Baylor was swamped there by the Mountaineers 41-27. TCU squeaked out a victory in Morgantown 31-30 on a last-second field goal.
But doesn't a head-to-head outcome outweigh results against a common opponent? If I'm Baylor, I want a recount. The only other one-loss teams to face each other are Alabama and Mississippi State, and imagine how loud the Crimson Tide would scream if anyone ranked them behind the Bulldogs.
Who suffered the worst loss at home?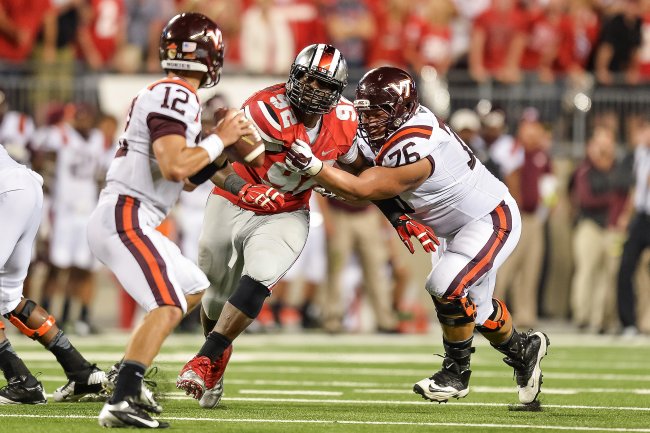 Jamie Sabau/Getty Images
Home-turf defeats are a big factor for me, but the committee doesn't seem to weigh them heavily. Oregon was ambushed 31-24 at home by Arizona in early October, yet the committee pushed the Ducks ahead of Florida State in last week's rankings.
Ohio State endured a humbling loss at home to unranked Virginia Tech, falling 35-21. The Hokies look more respectable after a road upset over Duke on Saturday, but they're still just a 5-5 team with a 2-4 record in the weakest of the power-five conferences.
Quality wins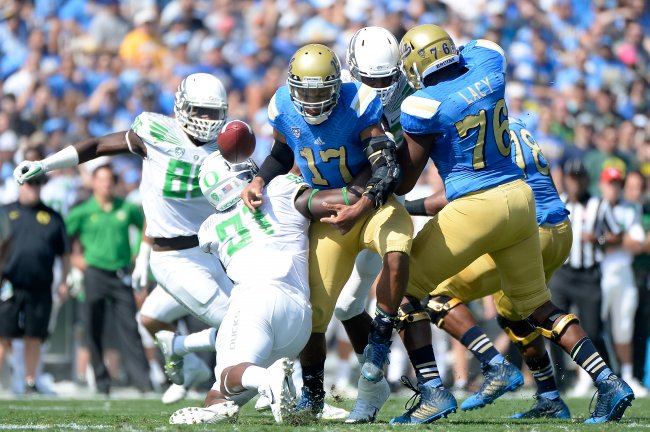 Harry How/Getty Images
This factor has morphed a lot as the season played out. For instance, Florida State gained prestige when it outlasted then-unbeaten Notre Dame back on Oct. 18, but that win carries a lot less weight after seeing the Fighting Irish fall to 7-3 on Saturday with a home-field loss to 4-6 Northwestern.
So let's update the quality-wins factor in order of how the once-beatens ranked with the committee last week. (Spoiler alert: An analysis of quality wins probably starts more arguments than it settles.)
Mississippi State: Winning at LSU's Death Valley was huge before the Tigers dropped two in a row, and the victories against Texas A&M and Auburn don't look nearly as big now.
Oregon: The Ducks have a hefty pair of vote-swaying road victories at UCLA and Utah, the latter of which was by the whopping count of 51-27. But some of the shine has come off the early-season win at home over Michigan State.
Alabama: Personally, my vote for No. 1 will go to the Crimson Tide, if they survive Auburn in the Iron Bowl and go on to another win in the SEC title game. Saturday's win over Mississippi State was much more lopsided than the five-point margin showed, and there's no disputing that SEC teams play a meat-grinder schedule. But it has to be acknowledged that Alabama's survival at LSU required overtime and a miracle escape in regulation.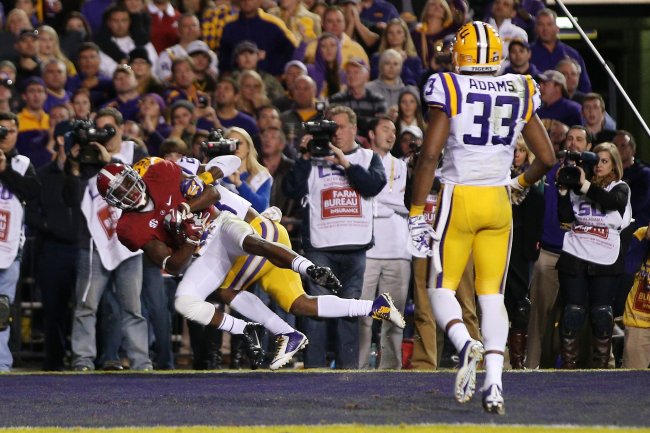 Chris Graythen/Getty Images
TCU: The wins against Oklahoma, Oklahoma State and West Virginia seemed impressive at the time, but all of those teams subsequently fell out of the AP poll's Top 25 and remain on the fringe, at best. Kansas State is TCU's only triumph against a Top 25 team, and Saturday's struggle at Kansas was humbling.
Baylor: TCU is the only defeated opponent that's highly regarded, but the Bears get a season-ending shot at Kansas State. And wouldn't it be nice if the Big 12 had a conference championship game?
Ohio State: The back-to-back road victories against Michigan State and Minnesota give the Buckeyes some style points, but that momentum could be blunted by finishing against two cupcakes, Indiana (3-7) and Michigan (5-5). A win in the Big Ten title game against Wisconsin could be persuasive, particularly if OSU figures out how to stop Melvin Gordon, the locomotive who ran for a record 408 yards Saturday.
So where does it all leave the playoff picture? Very, very confused, with little hope of having a consensus final four.
Tom Weir covered college football as a columnist for USA Today.