All Florida State home football games begin with the revered ceremony of a burning spear being planted at midfield by the Seminole mascot riding a horse named Renegade.
But this season, in honor of the four-legged beast who was famous for furious finishes, FSU should have changed the horse's name to Seabiscuit.
FSU has become best known for letting good enough be good enough and waiting until after halftime to get a winning plan together. Then it makes a mad dash to victory, relying largely on the arm of Jameis Winston.
Five times this season FSU has had to rally to win. Twice the Seminoles have been down by three scores, including 21-0 to Louisville on Oct. 30.
It makes for thrilling watching, but it isn't playing well with the College Football Playoff Committee, which this week dumped the undefeated Seminoles down to the No. 3 spot, behind once-beaten Oregon.
If FSU is feeling dissed and disrespected, Saturday would be a good time to show it.
The prime-time matchup with Miami is tailor-made for yet another game in which Florida State could dawdle its way to victory. Or, if it isn't careful, FSU could see its aspirations for a repeat national championship go poof, because it assumed there's always one more rabbit waiting to be pulled from the hat.
At 6-3, Miami is having a decent season, but the Hurricanes don't show up in anyone's poll. Still, they have the ingredients to ambush an opponent that many were calling overrated back in September.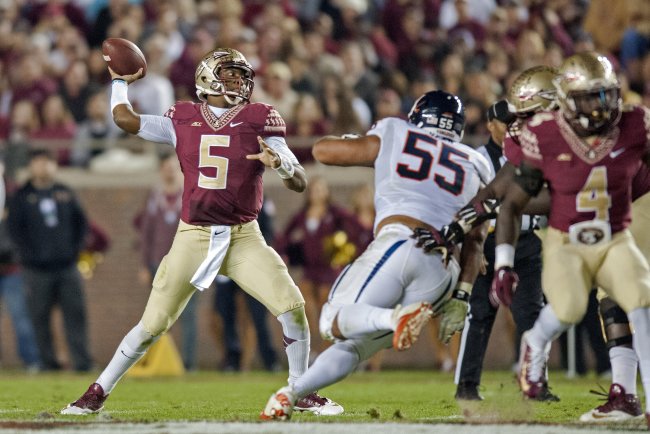 Jeff Gammons/Getty Images
This game will be in Miami, so Renegade won't be in the house. FSU fans no doubt are taking great comfort in knowing the Seminoles have won four straight on the road against their in-state rival and haven't lost at Sun Life since 2004.
How long ago was that? Well, Facebook had just launched and Winston was sitting in a fifth-grade classroom.
But before another round of FSU complacency settles, it should be noted that Miami has defended its Sun Life Stadium turf flawlessly this season, putting up a 5-0 record.
More importantly, the Hurricanes have a Duke who could single-handedly dethrone the reigning kings of college football.
That's Duke Johnson, a 5'9" tailback who has been under the radar of many fans. But he packs 206 pounds of ball-control power and is on the verge of becoming the U's all-time rushing leader.
Johnson is working on a streak of five consecutive 100-yard rushing games, and the last three have been downright explosive: 162 yards against Cincinnati, 249 in a trampling of Virginia Tech and 177 more against North Carolina.
If Johnson gets on a roll and pushes Miami to an early lead, he has the kind of clock-killing game that could keep the ball out of Winston's hands when comeback time arrives.
The Hurricanes also are the anti-FSU, in terms of scoring habits. As the Sun-Sentinel (Fla.) notes, Miami has scored first in all but one of its games and has put up points on its first possession in six games.
And with Miami coming off a bye week, he will have fresh wheels as he goes up against a Seminole defense that's 35th in the nation against the rush, allowing 135.7 yards a game.
Did Florida State deserve to drop a spot in the latest CFP rankings?
Johnson also owes FSU one.
He suffered a season-ending ankle fracture in last year's game against the Seminoles and had 97 yards on 23 carries when the injury hit in the second half.
Florida State defenders have no trouble remembering him.
"Duke is just one of those backs that you really don't see," FSU defensive end Mario Edwards Jr. told the Tallahassee Democrat. "He can make a cut or stop and get back going full speed within two strides. Once he makes a cut and gets through a gap you can pretty much kiss the baby. He's going to be gone."
FSU may have trouble answering on the ground. Top Seminoles running back Dalvin Cook suffered a hip injury on Saturday against Virginia and is a maybe for Miami.
But Johnson has shown no signs of his injury nagging at him this season. He has run for 1,213 yards and nine touchdowns and is averaging 7.7 yards a carry. He needs only 252 more yards to break the school record of 3,331 career rushing yards that Ottis Anderson set from 1975-78.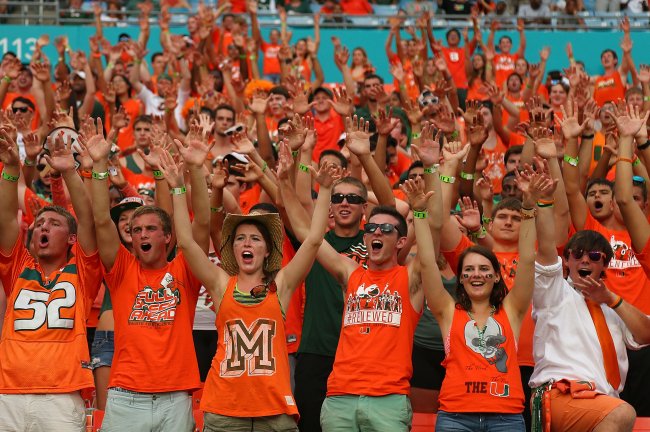 Mike Ehrmann/Getty Images
Already this season, Johnson has passed a pack of former Miami ball-carriers who went on to NFL stardom: Frank Gore, Willis McGahee, Clinton Portis and Edgerrin James.
Johnson has downplayed any notion of a revenge factor, telling the Miami Herald that, "I approach every game the same way, same mind-set, regardless of what happened last year."
But given that he already ranks eighth in the nation for rushing yards, he could move into the Heisman picture with a big game that knocks FSU out of the playoffs during prime time.
That's the other factor that makes Miami so dangerous on Saturday—the chance to ruin Florida State's year.
Clemson and Notre Dame were playing for themselves when they nearly pulled off upsets against the Seminoles. But Miami will be playing for multiple generations of its fans who consider FSU the must-win game of the season.
Winston acknowledged that after the Virginia game, telling reporters that against Miami, "The mentality probably will be different because we've got players from the state of Florida that know about this rivalry and just live and breathe this rivalry."
That's an attitude FSU better have on Saturday, preferably before halftime, if it wants to keep its national championship hopes living and breathing.
Tom Weir covered college football as a columnist for USA Today.