Ohio State is still on the outside looking in for a spot in the College Football Playoff, but at least the Buckeyes are now armed with the signature win they needed to get back in the conversation.
Until Saturday night's decisive display in a 49-37 victory at Michigan State, OSU was one of the easiest one-loss teams to discount from the playoff picture.
That lone defeat, at home to Virginia Tech in Week 2, grew more and more warts as the season wore on and the Hokies tumbled into last place in the ACC's Coastal Division.
Whipping Michigan State on its own turf doesn't erase that embarrassment, but it does demonstrate how far Urban Meyer's team has come.
This is not the same team that dropped the ball against the Hokies in week 2.
This was Meyer's first big win at OSU. It was his first win over an AP top-10 team in almost four years and it gave the Buckeyes 21 consecutive Big Ten victories, the most in conference history. The win also snapped the Spartans' 12-game home winning streak.
The driving force in the Buckeyes' late-season rise clearly is quarterback J.T. Barrett, the redshirt freshman who was forced onto center stage by Braxton Miller's season-ending shoulder surgery.
During an interception-free night, Barrett fearlessly shredded Michigan State's reputation for impeccable defense with a 300-yard passing night that included lengthy touchdown strikes from 44 and 79 yards.
"We didn't want to come in here and be conservative," Barrett told reporters. "We wanted to go out swinging."
With his huge night on the big stage, Barrett also has begun to create a quarterback controversy for the 2015 Buckeyes. But that will have to wait, because OSU has far more important matters to deal with now that it has elbowed its way back among the nation's elite programs.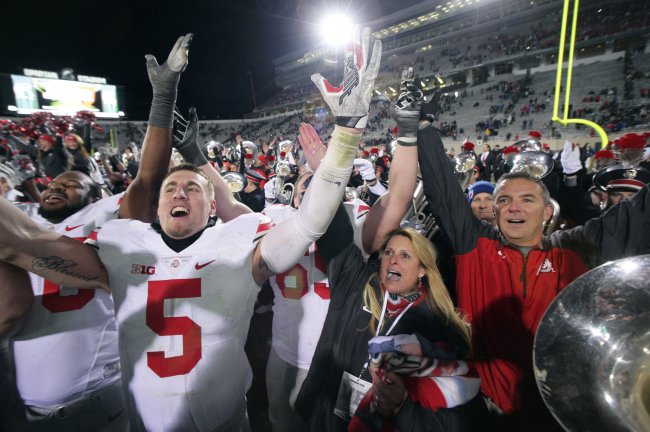 Al Goldis/Associated Press
The question now isn't whether Meyer is a good enough coach to complete the job. His two national championships at Florida prove that is most certainly the case.
No, what OSU must see from its football coach now is how good of a campaigner he is, because he will need to sway the committee's vote for the Buckeyes to make the playoffs.
Meyer obviously recognizes that, and he wasted no time getting the Buckeyes' political ball rolling.
"If I have to go fight for this team, what they've done is very impressive," Meyer told reporters afterward. "That darn loss, the second game, that hurts us. I'll take the hit for that. That was a young team, (and) one that's playing at an extremely high level right now."
Added Meyer: "I'm glad we got to play in prime time. I'm glad (ESPN's College) GameDay was here. I'm glad everybody got to see the Ohio State Buckeyes. This is a different Buckeye team than it was earlier this season."
That's the point Ohio State must drive home the rest of the way, the notion that while the Buckeyes were awful back in Week 2, they are now one of the nation's best teams.
Most points allowed by Michigan State under Mark Dantonio

| | | | | |
| --- | --- | --- | --- | --- |
| Nov. 22, 2008 | Penn State | 49-18 loss | | |
| Jan. 1, 2011 (Citrus Bowl) | Alabama | 49-7 loss | | |
| Nov. 8, 2014 | Ohio State | 49-37 loss | | |
| | | | | |
Michigan State
Rolling up 568 yards of total offense on a Michigan State defense that entered allowing an average of only 279.4 helps make that case. So does OSU's average scoring production of 46 points, which ranks fourth in the nation.
The super chaotic nature of the 2015 college football season won't hurt either.
Four teams in the top 10 of the CFP rankings lost on Saturday, wreckage that clears a narrow path for Ohio State. One more is guaranteed to go down next week, when Mississippi State plays at Alabama.
Ohio State will need another big win at 7-2 Minnesota next week, because a season-ending blowout against this year's woeful Michigan crew isn't going to impress anyone. But the Big Ten Championship Game on Dec. 6 could present a top-15 opponent on neutral turf, if Nebraska gets there.
It also helps that Barrett gives the Buckeyes some star power.
Michigan State defensive coordinator Pat Narduzzi certainly was impressed, telling Mlive.com that:
The guy made every pass he could, he threw several routes on target, and he hadn't shown he could do that really consistently. He didn't throw off the mark at all, and those guys were ready to make the catch. He's is a heck of a quarterback.
Narduzzi also conceded that Michigan State's pass rush was essentially ineffective against Barrett.
"It was almost like they knew it was coming and got the ball out quickly," Narduzzi said. "We did pressure them, we just didn't make plays ... The quarterback did a good job of recognizing it.''
After seeing OSU equal the most points ever scored on one of his Michigan State teams, Spartans head coach Mark Dantonio put it more succinctly, telling reporters:
"Let's face it, the bottom line is we didn't stop them and we couldn't stop them."
ESPN.com's Chris Low points out that Barrett also is outperforming the pace Miller was on last season, while en route to winning his second Big Ten Offensive Player of the Year award.
In nine games, Barrett has 26 touchdown passes and eight touchdown runs. Miller's season totals in 2013 were 24 TD throws and 12 touchdowns on the ground. Barrett has thrown for 2,738 yards and should easily top Miller's 2013 total of 3,162.
Ohio State center Jacoby Boren told Low that: "I don't even think of him as a freshman. He's a great leader, one of the best leaders I've ever been around. A guy like that makes you want to play even harder than you can. He's a great guy, great kid and great leader and pushes everyone to be better than what they are."
But most of all, Barrett rescued the Buckeyes from the sense they had become irrelevant in the quest he relished.
"I've always liked being the underdog, the whole against-you type feeling," Barrett told reporters.
He'll get to continue to thrive on that underdog feeling, at least in regard to the playoffs. Beating Michigan State doesn't put the Buckeyes in control of their own destiny, but at least they now have a signature victory to go with that signature loss.
Tom Weir covered college football as a columnist for USA Today.