The Ottawa Senators are in the market for some desperately needed scoring help.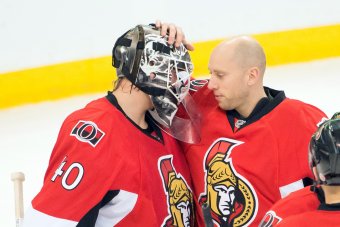 Marc DesRosiers-USA TODAY Sports
Despite a reasonable 7-4-3 record to start the season, the Senators have received spotty offensive production. Through 13 games played, the Sens have scored only 2.62 goals per game, ranking 16th in the NHL.
Most of the credit for the fast start goes to the goaltending tandem of Craig Anderson and Robin Lehner. Together, the Senators goalies have allowed only 2.29 goals per game, which ranks 10th in the NHL.
The Search For Offensive Help
That's where Chris Stewart comes in.
The Buffalo Sabres winger has been rumoured to be on the move for a while, as the bottom-feeding Sabres are pursuing a total rebuild.
Stewart would fit in well in Ottawa. He offers an intriguing mix of size (6'2", 230 pounds) and scoring, having registered 116 goals and 230 points in 398 career games. Stewart also owns an impressive career shooting percentage of 13 percent.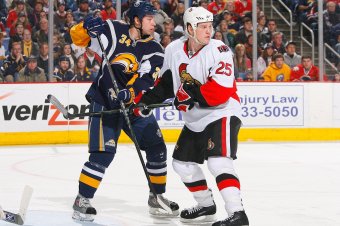 Rick Stewart/Getty Images
The addition of Stewart would also allow the Senators to play veteran Chris Neil less.
Neil has played out of position as a second-line winger so far this season. Reducing Neil's role would benefit the Sens, as Neil has managed a poor 43.4 Corsi percentage this year, ranking 19th among Senators skaters.
Though Stewart has posted only a 40.1 Corsi percentage himself, his mark ranks second on the Sabres. Stewart's puck-possession rate would almost certainly increase by a dramatic degree.
The Price to Acquire Stewart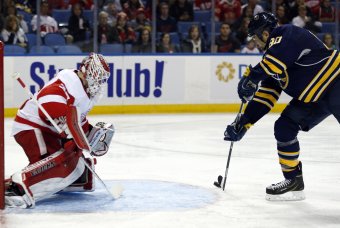 USA TODAY Sports
The Sabres have reduced their asking price for Stewart since last season. Per Fluto Shinzawa of The Boston Globe, Buffalo would likely accept just a draft pick for Stewart, especially after his brutal start to the season.
Though the Senators might be willing to pay that price, Bruce Garrioch of the Ottawa Sun writes that Colin Greening is likely available based on his lack of playing time so far this season. If Greening was included in a deal, the Senators might be able to offer less than a premium draft pick in a package to acquire Stewart.
While Sens fans may be excited by the opportunity to acquire a scoring forward with size to bolster their forward ranks, Stewart's horrendous start to the season (two points in 13 games) serves as a warning of the streaky spells Stewart has battled throughout his career.
Ottawa may be better off providing young forwards such as Mark Stone, Mike Hoffman and Curtis Lazar with opportunities to play rather than dealing with Stewart's inconsistent play.
What do you think, Sens fans? Would you like to see Chris Stewart in Ottawa, or is he an inconsistent player best left on someone else's team?