Despite all the potential causes for concern, FSU is still right where it wants to be. As previously noted via ChatSports.com during the championship campaign last year, being recognized as the second-best college football team in the land has its advantages. One could even conclude that the combination of not being acknowledged as undisputed kings in the regular-season polls and having to deal with the many reported off-field incidents surrounding the team has actually provided an extra chip on the shoulder pads of the Garnet and Gold platoon.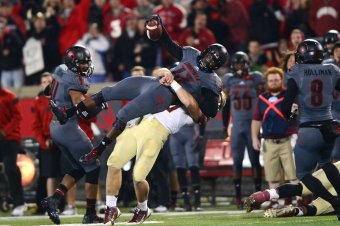 USA TODAY Sports
The Seminoles have needed every bit of additional motivation to remain undefeated. Similar to 2013, an SEC Western Division member has occupied the top spot over them for a significant number of weeks. The difference this year has been in how State has fared in terms of the "eye test" versus opponents. As per Sports-Reference.com, B/R National CFB Lead Writer Michael Felder highlighted how the 'Noles outclassed schools in nearly every 2013 contest (as outlined by a staggering 42.7 average margin of victory on their way to capturing the national title). That same statistic shrunk to just 15.6 in the eight games they've played as defending champs in 2014.
Florida State is not as deep or experienced as it was a year ago. Losing players like Bryan Stork, Devonta Freeman, Christian Jones, and Telvin Smith to the NFL has forced Jimbo Fisher and his staff to rely on younger players. The comparable talent is there, based on exceptional recruiting classes. What is missing is a plethora of veteran moxie and high football IQ, which are crucial for exposing inferior teams in tense game situations. The running game is a prime example. FSU is a disappointing 102nd overall in FBS rankings with just 131.8 rushing yards per game (despite the fact that it only had to replace its starting center from a dominant unit last season).
Will FSU be one of four teams selected for the 2014 College Football Playoff?
Even with the distractions and dangerously close calls, it's really just a foregone conclusion that Florida State will be granted a berth in the College Football Playoff. Here's why FSU will certainly be chosen as one of four teams to battle for all the marbles:
The Seminoles have already answered their biggest tests
All championship repeat attempts are difficult. A bull's-eye is permanently placed on the crown-bearer's back right out the gate. However, FSU hasn't just had to overcome the notion of taking everyone's best shot—they've had a tougher road to travel in terms of their schedule.
Oklahoma State was much more game than most initially thought it would be as a season-opening adversary for FSU (especially considering the Cowboys had a healthy and crafty J.W. Walsh at quarterback). Unlike Clemson, who got shellacked in Death Valley last season, Notre Dame played like a top-five team versus FSU at Doak Campbell Stadium a few weeks ago.
Everyone picked last Thursday's game vs Louisville as the one where the mighty 'Noles would fall. After coming back from a 21-0 first half deficit to defeat the Cardinals, Florida State looks to be in the clear. FSU has survived the meat of its schedule and come out relatively unscathed. Expect smoother sailing for FSU from here on out.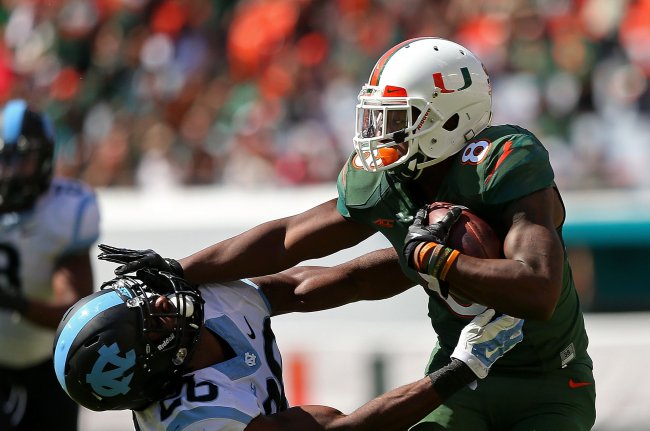 Mike Ehrmann/Getty Images
Looking ahead, FSU's remaining opponents won't give much resistance. The Miami Hurricanes and Florida Gators are rivals sporting formidable ground attacks, with both teams averaging around 200 yards per game. But both teams are also starting young quarterbacks who aren't ready to match a field general like Jameis Winston blow for blow. Virginia and Boston College simply don't have the firepower to keep up with the 'Noles. Even a second consecutive ACC title game pitting FSU against Duke looks like another potential snoozer.
Younger 'Noles are starting to step up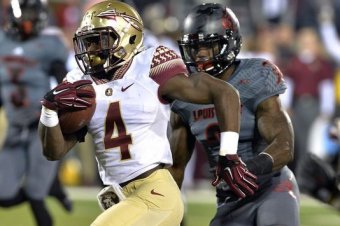 (Photo: AP)
Florida State lost significant production at the skill positions on offense at the end of last year. As a result, freshman like Dalvin Cook, Ermon Lane and Travis Rudolph are being asked to take on more prominent roles as playmakers. Cook, specifically, has given the 'Noles much needed balance on the ground, as Stewart Mandel of FOX Sports mentioned after the Miami Central High alum provided pivotal scores for FSU at Papa John's Cardinal Stadium last Thursday.
According to seminoles.com, Travis Rudolph has 19 receptions for 308 yards and 3 TDs on the season. He's shown sure hands and solid route running skills, which were the main attributes that Kenny Shaw possessed as the No. 3 wide receiver last year. If Lane breaks out more often (like he did on a freakish 47-yard score against Louisville, as shown by ESPN.com) and develops into a Kelvin Benjamin-esque clone, FSU's offense will be impossible to stop—even with a subpar running game and an underachieving O-Line—come playoff time.
FSU football is on a mission
The main objective for the current Seminole squad is to carve a unique identity—one that is separate from great Tallahassee teams of years past. They should strive for a record of excellence that is unblemished by negative media reports. Their aim is to not only win, but carve a place in history. The slogan #DallasToDallas, explained by B/R Contributor Perry Kostidakis, that the 'Noles adopted back in the off-season is the only acceptable conclusion to this year's roller coaster ride of a season. The selection committee recognizes this and, barring any shocking developments off-field that would affect the eligibility of notable players, will not be able to ignore it or the 'Noles' pristine on-field record. Even with chinks in their armor, Florida State clearly is the centerpiece of the 2014 College Football Playoff picture.
Unless otherwise noted, all additional statistics are courtesy of ESPN.com.
Ariel Bedford, a freelancer from Florida, is a contributor with Bleacher Report. You can follow him on Twitter @mpcmi.