The result of a derby day loss for Louis van Gaal's men was helped by the dismissal of defender Chris Smalling. While a coherent team performance gives the red half of Manchester reason for optimism, United's poor disciplinary record reveals a troubling pattern of habitual individual errors.
That the away team dominated possession in the early running of a Manchester derby tells a story in itself. Belabouring the point of how important possession is in the context of a defeat might seem meaningless (as it so often tends to be in the case with Arsenal), but not here.
As champions, City had the right to think that holding onto the ball would be a foregone conclusion, but such inclination was disproved. When Smalling was sent off, proceedings naturally turned in favour of the home team, but it's worth mentioning that a balanced contest showed few signs of discomfort for United.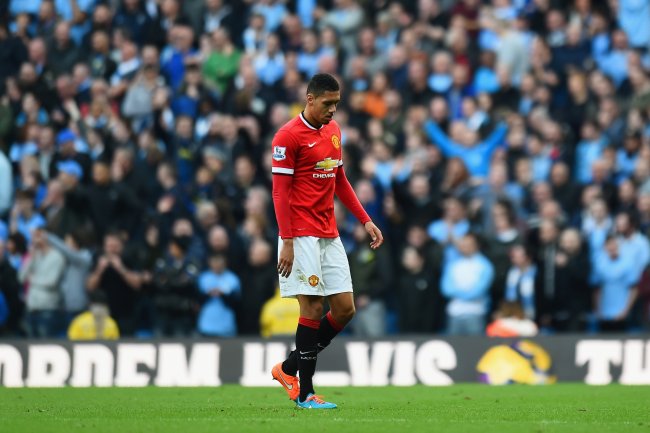 Shaun Botterill/Getty Images
The problem of late has been a lack of discipline rather than the disjointed type of displays that so clearly marred David Moyes' time as manager. Placing blame on individual errors would have added to a tally of three this time around if penalty claims been granted.
The primary culprits were Marouane Fellaini and Marcos Rojo. Had either Fellaini or Michael Carrick been penalised for fouling Sergio Aguero, neither could have complained. Similarly, Angel Di Maria's positional lapse allowed Sergio Aguero to finish Gael Clichy's cross past David de Gea.
Despite these avoidable mistakes, United looked threatening going forward. Playing for over 50 minutes with 10 men brought out the best in Wayne Rooney, and on a different day, Robin van Persie might have scored with a solo effort in the second half.
Those who feared the worst when substitutes Patrick McNair and Carrick were paired at the heart of a makeshift defence would have been less concerned at the final whistle. The mix of youth, inexperience and positional rotation United needed in order to keep four at the back was far from ideal but needs must.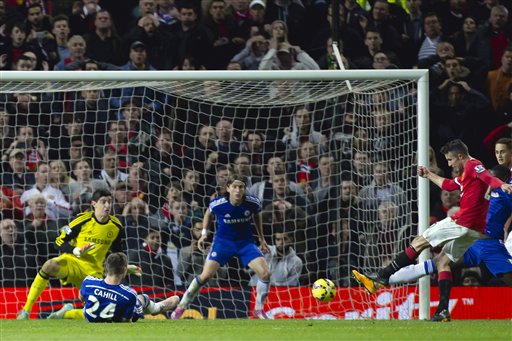 Jon Super/Associated Press
Just eight days ago, United looked down and out at Old Trafford before snatching a point from Premier League leaders Chelsea. Teams with heart, as the cliche goes, fight until the end. United had reawakened said work ethic. Blinkered vision told us this was a different brand of so-called "Fergie Time" but no less effective.
Unfortunately, the art of escaping defeat when facing one of the best sides in the country came to a premature halt against a plainly functional City team. The chance to score a second late goal in succession was taken from Van Persie when he was replaced by James Wilson, but the search for an equaliser was still almost successful. When Wayne Rooney weaved beyond Pablo Zabaleta and Yaya Toure and put the ball through Vincent Kompany's legs, he should have composed himself to take a shot at goal, rather than unselfishly teeing up a colleague.
The run proved his ability is unrestricted by playing in a deeper position—Rooney looked masterful. It's when he has the time to survey all around him that makes some fans despair. The diagonal ball he prefers to strike has become directionless and inconsistent rather than measured and tactful. Opting for simple passes would cut waste and save possession.
Again, it's another individual error, but the progression of an improved team continued nonetheless.