For a team that's riding into Death Valley this week, Alabama's spirits should be unusually high.
The Crimson Tide spent Saturday on the sidelines, enjoying the rest and healing that comes from a bye week, yet they saw their status for the College Football Playoff soar.
Yes, Nick Saban's crew is very much back in the hunt for a national championship, even after getting written off by many (including me) when it struggled at Arkansas.
But Alabama will be no worse than fifth when the next round of CFP rankings surfaces on Tuesday, which is a great place to be for a team that's certain to blow past the only team it has lost to, Ole Miss.
The schedule is also loaded with the control-your-own-destiny factor for Alabama. Both games with higher-ranked teams—Nov. 15 with Mississippi State and Nov. 29 with Auburn—will take place in Tuscaloosa. Alabama's scouting crew no doubt has some fresh ideas about how to unseat those two SEC West rivals after seeing both taken to the wire in narrow victories on Saturday.
That's what's really good for the rising Tide. Every team ahead of it suddenly looks as vulnerable as Alabama did after losing to Ole Miss and then grinding out that 14-13 squeaker at Arkansas on Oct. 11 on a missed PAT.
If Alabama deserved to get kicked to the curb after struggling at Arkansas, shouldn't No. 1 Mississippi State be under the same scrutiny after surviving the Razorbacks at home by the mere count of 17-10?
Dak Prescott wasn't operating on two good wheels for MSU, but three first-half turnovers made the Bulldogs' top-ranked status look shaky as they hit a rugged homestretch.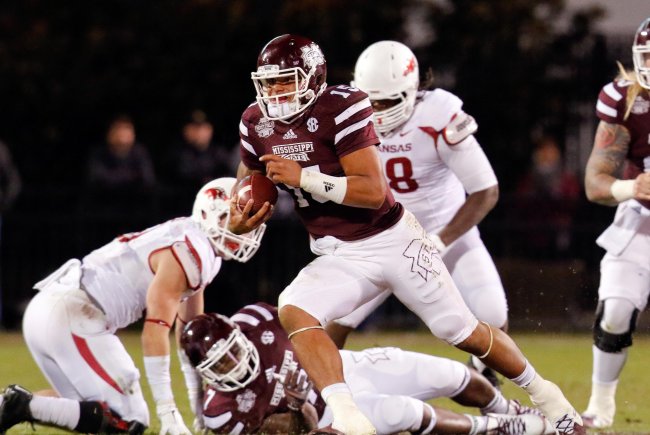 USA TODAY Sports
No. 2 Florida State has a relatively weak schedule the rest of the way, but it is developing a bad habit of falling behind early and needing minor miracles to remain undefeated.
Louisville had the Seminoles firmly on the ropes this past Thursday, and it's not unthinkable they could be kept there by one of the two resurgent in-state rivals it must face.
FSU has a Nov. 15 date at Miami, which is 6-3 and climbing after beating its last three opponents by a cumulative score of 132-60. The Seminoles finish at home against Florida, and the Gators just went from doormats to dominators while perhaps saving Will Muschamp's job with a thrashing of Georgia.
No. 3 Auburn remains the best of the once-beatens, but only because Ole Miss fumbled the ball away inside the 10-yard line twice in the final five minutes on Saturday.
Who will win the SEC West?
And while Oregon looked strong against traditional nemesis Stanford, Alabama should be able to leapfrog the Ducks if it wins out.
That's the tough part. But Saturday was probably the perfect time for an off day as the Tide braces for their trip to Louisiana State.
Death Valley has been a graveyard for many SEC West hopefuls, including Ole Miss this season. Alabama has been 2-1 there in the Saban era, and they've all been nail-biters. The Tide won 27-21 in overtime in 2008, lost 24-21 in 2010 and salvaged a 21-17 win in 2012.
This year, they'll head to Baton Rouge with momentum that will justify every "Roll Tide" chant. They've won their last two games over Texas A&M and Tennessee by a combined 93-20 score and the Alabama defense has yet to allow 400 yards in a game.
"This team is getting better and better every week," quarterback Blake Sims told the Montgomery Advertiser last week. "We are becoming even closer. We want to play hard for each other. The coaches fight for each other. We want to play harder for them."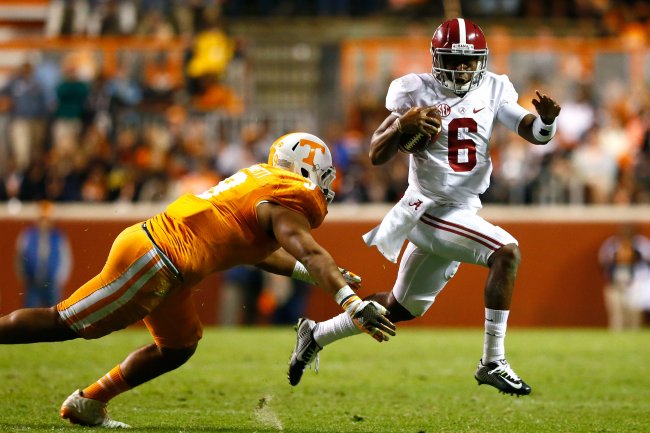 Kevin C. Cox/Getty Images
Sims also has added a "Shake and Blake" element to his attack. With touchdown runs of 43 and 28 yards in the last two games, Alabama has the threat of a running quarterback for what seems like the first time in forever.
"He has brought an added dimension that coach Saban has never had at Alabama, with a guy that can run like that," former Alabama quarterback Jay Barker told The Associated Press.
And for a program with such a rich football legacy, the 2014 edition of the Crimson Tide is on a somewhat surprising pace to set a flock of school records. Projections by AL.com envision Sims raising the bar for most passing yards, Amari Cooper rewriting the receiving section and Alabama setting a new mark for total offense.
On the other side of the ball, Alabama is getting back junior linebacker Denzel Devall just in time for the trip to Death Valley. He's one of the Tide's most experienced defenders, and he will add depth to a unit that needs only one more sack to match last season's total of 22.
If there's a flaw in the Alabama attack, it's with the kicking game. Adam Griffith made his first seven field-goal attempts this season, then missed four of his next five. He has been used sparingly the last two times out, attempting only one three-pointer, and he missed a point-after at Tennessee.
At a press conference last week, Saban said Griffith has "a little bit of a physical problem" that has limited his practice, but he wouldn't elaborate.
But with the way Alabama has rebounded, the team looks determined not to let its chances for a fourth national championship in six seasons come down to a kick.
Tom Weir covered college football as a columnist for USA Today.