One thing is certain about the first College Football Playoff rankings to be released Tuesday: There will be one undefeated team that has absolutely no chance of making the final four.
That's the sad plight of Marshall, which is 8-0 but figures to be ignored because it plays in Conference USA.
It's probably of little consolation, but at least Rolling Stone magazine has declared the West Virginia university "The People's Champion."
Count me among those who think the Thundering Herd has the best team name in college sports but also one of the worst predicaments when it comes to getting ranked. The latest AP poll has Marshall way down at No. 23, but isn't that one spot better than LSU was when it upset No. 3 Ole Miss last Saturday night?
And if Marshall wins out and maintains a spotless record in the loss column, it's a reminder that college football still doesn't have a foolproof means of selecting a national champion.
Suppose this was basketball season. A team with Marshall's undefeated record and ranking in the polls could be reasonably expected to get a No. 6 seed in the NCAA tournament and have a shot at knocking off some of the sport's marquee schools.
But that opportunity doesn't exist in football. Which is why Marshall coach John "Doc" Holliday confesses to having a case of "basketball envy."
"I do," the coach told me Monday during a phone interview. "I worry about the direction we're taking as far as football is concerned, because what's wrong with having a Butler in the (championship game of) NCAA tournament? Every year somebody steps up and makes a run in basketball. I think that's what college sports and college football should be all about."
Butler's basketball team made it to consecutive national championship games in hoops in 2010-11, and 2014 champion UConn was ranked only 18th going into the tournament.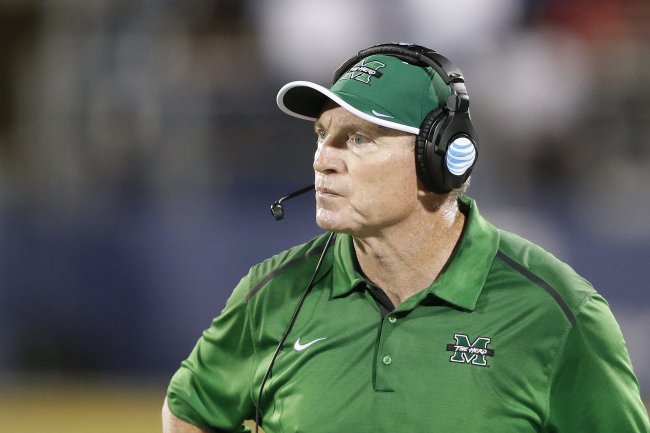 Joel Auerbach/Getty Images
But with power-five conferences having such a huge edge, both historically and for strength of schedule, there's no place in college football for a Cinderella story.
"If there's a football team out there that's a non-power-five team that deserves to be in the talk, then what's wrong with that?" asks Holliday. "I think it would be great for college football."
Instead, Holliday sees potential trouble brewing for even some top teams because of the ever-growing emphasis on the power-five conferences.
"I think at times you better be careful what you ask for, and I'm talking about even within the power-five conferences," Holliday said. "The way I kind of see it going down the road, there's going to be separation even within the power-fives. ...I think there are going to be 10 or 15 teams out there that are totally separated. Can those people in the private schools, and all those people within the power-fives, can they compete with the upper tier? I'm not sure they can.
"I don't want anybody to give us anything," Holliday stressed, adding, "I think we deserve to be in the conversation, and I don't think there's anything wrong with that."
The coach hopes people won't forget how good non-power-five Boise State was while going 92-12 under Chris Petersen from 2006-13. Or, before it joined the Pac-12, the Urban Meyer-coached Utah team of 2008 that went 12-0.
Do teams from non-power-five conferences deserve national championship consideration?
Holliday was on Meyer's staff at Florida as associate head coach from 2005-07, which included one national championship with Tim Tebow at quarterback.
"I know that when I worked with Urban that one of the best football teams he thought he ever had was the Utah team when they were undefeated, prior to him going to Florida," Holliday said. "He'll tell you that today, that it was one of the best teams he ever coached."
Holliday says his Marshall quarterback, Rakeem Cato, compares nicely with Tebow.
"As far as competitiveness, absolutely," Holliday said. "He's in the same boat."
But a better comparison for Cato perhaps is Russell Wilson. Two weeks ago, Cato broke Wilson's FBS college record by throwing a touchdown pass in a 39th consecutive game, and then kept the streak alive and growing to 40 in Saturday's victory against Florida Atlantic.
"What I like about him is what a special kid he is," Holliday said. "He's a guy who has overcome adversity."
That's putting it mildly. Cato's mother died suddenly from pneumonia when he was 13, and his father was imprisoned throughout the quarterback's childhood.
He also grew up in the Liberty City section of Miami, which has one of the nation's highest crime rates. Fox Sports' Bruce Feldman wrote an excellent piece about the rigors of Cato's childhood, and how he had to overcome anger and bitterness before he could become a complete success on the field.
The undersized QB arrived at Marshall weighing only about 150 pounds, but now is a muscular 176.
"He walked onto campus as a skinny kid who didn't know when to get up or go to bed," Holliday said. "To see him come as far as he's come has been great."
Cato figures to win yet another C-USA Offensive Player of the Year award and leave Marshall as one of the school's best three quarterbacks all time, joining former NFL players Byron Leftwich and Chad Pennington.
Pennington can perhaps best relate to how this Marshall team is being left out of the national championship discussion, since he was the star of the 1999 team that went 13-0.
As good as Cato has been, last Saturday's 35-16 victory over Florida Atlantic belonged to Devon Johnson. The junior ran for a school-record 272 yards and four touchdowns, and had a remarkable hat trick of three long-distance TD runs, from 58, 62 and 66 yards.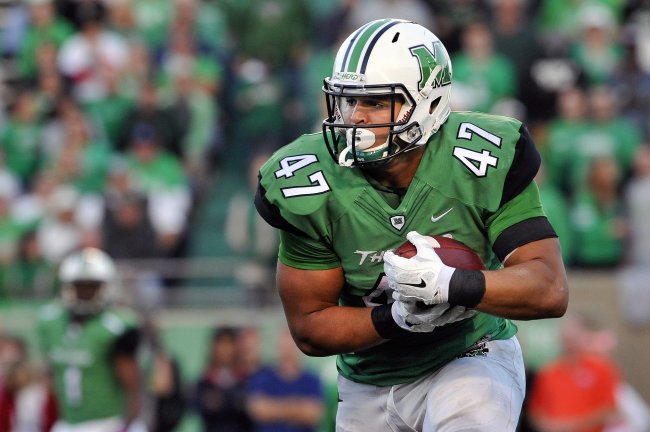 USA TODAY Sports
It gave Johnson his seventh 100-yard game of the year and pushed his season total to 1,203 yards and an 8.8-yard average per carry. But until just a few days before practices began in August, Johnson had been penciled in as a tight end. And he was originally recruited as a linebacker.
"I'd like to sit here and tell you we have a crystal ball and knew he was going to be the type of player he is," Holliday said. "I think probably the thing that gets overlooked here with his success right now is that our offensive line is playing really well. We've got an offensive line that's built in the same mode that he is. They're all physical, tough like he is, they're very well coached. He'll be the first one to tell you that without that offensive line he wouldn't have the success that he has."
That success includes helping make Marshall the only FBS team to score at least 35 points in every game. The Herd's 45.9 scoring average ranks third nationally, and with a defense that's giving up only 16.5 points a game, Marshall's 29.4 scoring margin leads the nation.
Still, there isn't a great chance of Marshall moving up much in the rankings considering its remaining schedule: Southern Mississippi (3-5), Rice (4-3), UAB (4-4) and Western Kentucky (3-4).
But undefeated is undefeated. And if Marshall remains that way, the college game should be respectful and at least include the Thundering Herd in the conversation.
Tom Weir covered college football as a columnist for USA Today. All quotes in this story were gathered firsthand.