It seems likely the College Football Playoff committee breathed a collective sigh of relief after Saturday's outcomes in the Southeastern Conference. And we'll have to wait until Tuesday's first playoff rankings to know for sure, but it seems like the biggest beneficiary of Ole Miss' first loss will be the school that so often leads the nation in good luck, Notre Dame.
The Fighting Irish figure to rise for playoff consideration even though they didn't play Saturday and are coming off a heartbreaking loss to Florida State. But they have key factors working in their favor as the playoff picture comes into sharper focus.
First and foremost, the path of 6-1 Notre Dame doesn't have as many potholes as most other playoff contenders, particularly the SEC teams. The biggest challenges are a Nov. 8 date at 6-1 Arizona State, and a season-ending tilt at Southern Cal, where the Trojans are looking more and more beatable after taking their third loss on Saturday.
Plus, being an independent means the Irish won't face the emotions of an all-or-nothing conference championship game on neutral turf, which is a huge advantage over the SEC, Big Ten, ACC and Pac-12 schools.
Meantime, Notre Dame will be rooting hard for Florida State to remain undefeated. The Irish's loss to FSU is actually one of the brightest spots on its record, since it came on the road against the defending national champion and was one pass-interference call away from being an upset victory.
Look for Notre Dame coach Brian Kelly to play that card deftly the rest of the way as his team strives to finish 11-1.
"Look, they were on a national stage, and they showed everybody what kind of football team they were," Kelly reminded reporters at last week's press conference, via Chris Emma of CBSChicago.com.
But what possibly will surface as an even bigger edge for the Irish is the thought process of the College Football Playoff committee.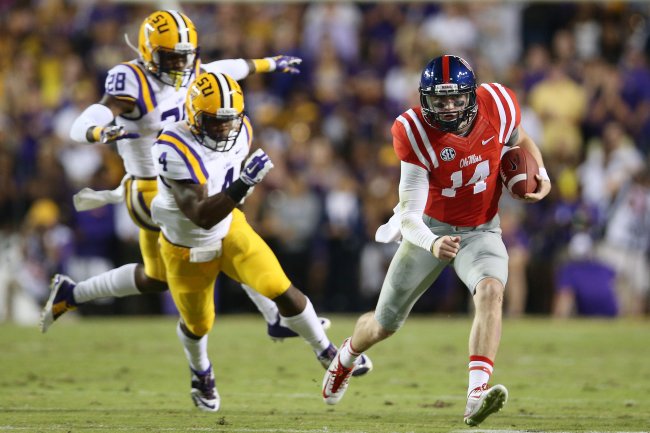 Chris Graythen/Getty Images
The committee has made public a very lengthy protocol for its selection process. But my gut feeling is that one thing that has been left out is that the 12 voters will strive to pick a four-team field that's representative of all of college football. They'll want four teams that have a good geographical spread, a group that limits the provincial bellyaching or claims of bias.
They'll want this first playoff to be popular and make a feel-good impression on as much of the nation as possible.
No college football team has a bigger national following than Notre Dame. The Irish fanbase is spread from coast to coast, which is why the television network executives love them and their ratings appeal so much. And if you don't think TV is a factor, you don't realize who's paying the bills.
Who's more deserving of a playoff spot?
For all the promises that committee members will shield themselves from discussions about schools where they have financial ties, let's remember two things about the committee members: 1) They're human. 2) They're football fans.
So if Notre Dame is on the bubble, it's conceivable that committee member Condoleezza Rice, a Notre Dame alum, would invoke some of the diplomatic skills she culled as the U.S. Secretary of State on behalf of the Fighting Irish. (Rice also was born in Alabama, so she may have some very sleepless nights coming up.)
But Rice or any other potential Notre Dame advocate may have their work done for them by the SEC meat grinder that's heating up. (And it might hurt the SEC that Archie Manning's knee problems have caused the former Ole Miss quarterback to resign from the playoff committee.)
Seeing LSU make Ole Miss look so overrated doesn't help the SEC make a case for two playoff spots, and one glance at what's left of the SEC schedule makes it obvious that some of the conference's elite teams will suffer a second defeat in November. The SEC probably still has two of the best four teams in the nation, but it will be tough to justify giving a playoff spot to any team with two defeats.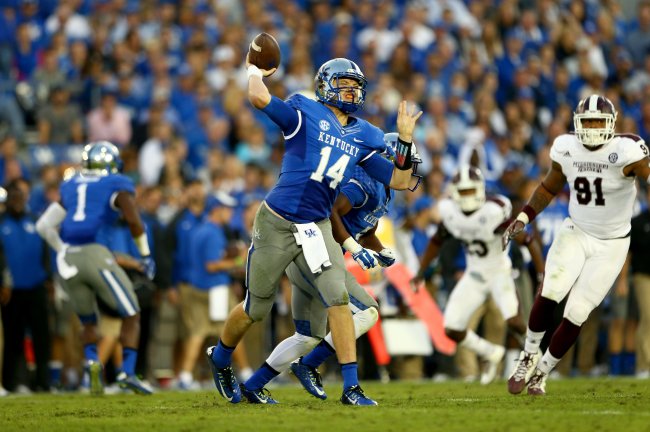 Andy Lyons/Getty Images
Auburn faces a brutal gauntlet, with road games at Ole Miss, Georgia and Alabama. That uphill climb starts Saturday at Ole Miss, where the Rebels no doubt will be in the mood to avenge the loss at LSU.
Alabama finally has its offense rolling, but a Nov. 8 date at LSU will land the Crimson Tide in the same Death Valley atmosphere that Bo Wallace described as "the craziest place I've played" after Saturday's loss, via Trey Iles of The Times-Picayune.
Undefeated Mississippi State showed vulnerability while surviving at Kentucky despite Patrick Towles' 390 passing yards on Saturday, but the Bulldogs have much tougher days ahead. The Bulldogs have to travel to Tuscaloosa to battle Alabama on Nov. 15, and the Nov. 29 trip to Ole Miss looms as the most meaningful game in the history of the Egg Bowl.
Whichever SEC West team survives those showdowns will have to get right back on the field for one more test the Saturday after its rivalry game, for the conference championship. The likely opponent will be Georgia, in the Georgia Dome, and by then, the Bulldogs might have a vengeful Todd Gurley back in the lineup, ready to put his rested legs to work after serving an NCAA suspension.
And Notre Dame will be able to just sit back and enjoy the carnage.
Tom Weir covered college football as a columnist for USA Today.