These days, Southern Methodist might as well designate the "U" in SMU to stand for underdogs. No matter what FBS college football team the Mustangs could be playing right now, that would be their status.
SMU hardly is the first college team to start a season 0-6, but the scores have been so brutally bad this season it's created the illusion that football could disappear from the Dallas campus.
That happened there once before, in 1987-88, when repeated NCAA violations made SMU the only football team ever hit with the so-called "death penalty." Though that's probably not going to happen again, even so, SMU is world-class awful.
How bad are the Mustangs?
In six games they have scored only four touchdowns. The dreadful tally for total points is 39 for and 288 against. That ranks them dead last among FBS schools for points scored and also for points given up, and it pretty much defines Southern Methodist as the worst team in the nation.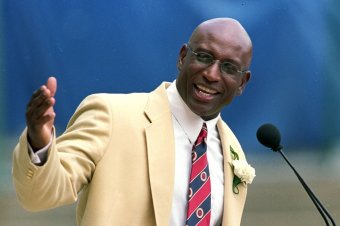 Mark Lyons/Getty Images
Speculation about giving up on this disastrous team spiraled when the greatest running back in SMU history popped off and said maybe it would be the best thing to do.
That theory came from Pro Football Hall of Famer Eric Dickerson, who, along with Craig James, formed "The Pony Express" backfield that made SMU famous and feared before the NCAA hammer fell.
Reacting to the September resignation of coach June Jones—who quit after losing the opening two games by a combined score of 88-6—Dickerson told KRLD-FM in Dallas (via EJ Holland of The Dallas Morning News):
I talked to four former players yesterday, and we all said if they don't want to do anything, just kill the program. Just stick to academics and basketball and kill that program. It's so frustrating for us to watch SMU become nothing but a laughing stock or almost non-existent. It's almost like it doesn't exist.
Why Jones walked away still hasn't been explained. He invoked the ever convenient "personal reasons," leaving some to wonder whether he had problems with the administration. Or whether, at the age of 61, Texas recruiting wars had taken a toll.
But it really doesn't really matter what made the last coach of the run-and-shoot offense pack it in. What's much more relevant is that SMU, despite its checkered history, did get back on its feet under Jones.
He took the Mustangs to four consecutive bowl games from 2009-2012, winning three, before dipping to 5-7 during the 2013 season. That ended a bowl drought that had stretched more than two decades for the most heavily penalized football team in NCAA history.
Is Eric Dickerson right? Should SMU dump football?
So SMU can field a winner, even if right now, the only thing notable about the Mustang roster is that it includes wide receiver Deion Sanders Jr., son of "Prime Time."
One reason to believe that SMU can turn around the football program is what happened over at Moody Coliseum with the basketball team. Larry Brown was given a top-notch contract in 2012 and rewarded SMU's generosity with a rapid turnaround.
The Mustangs might have been the best team left out of last year's NCAA tournament and were projected as a top-10 team this season by CollegeBasketballTalk.com before prized recruit Emmanuel Mudiay decided to play in China. The irony is that Jones played a key role in getting Brown hired, even though he was 71 at the time.
Why would a coach want to take over SMU now? Lots of reasons. For one, the only direction it can go is up. Another is the money probably will be excellent. Also, rapid success seems possible in the American Athletic Conference, where good-but-not-great East Carolina and Central Florida sit atop the standings.
And don't underestimate the big-city-recruiting allure of being in Dallas, as opposed to some of the Texas colleges that are out on the prairie.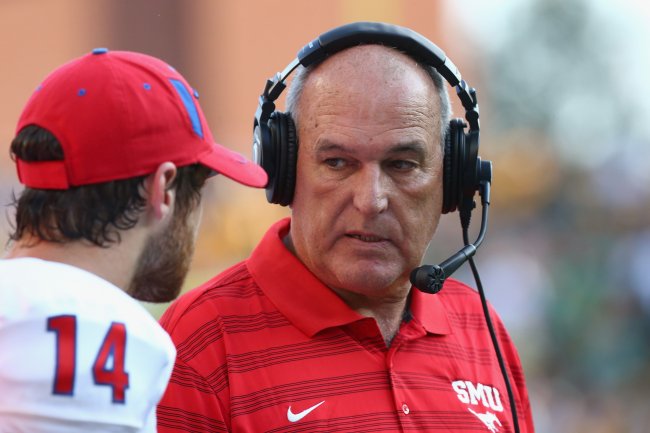 Ronald Martinez/Getty Images
SMU athletic director Rick Hart certainly doesn't sound like he's throwing in the towel.
"We won't have a shortage of individuals from whom to select," Hart told Rick Gosselin of The Dallas Morning News after Jones' resignation. "This is a terrific job and the types of coaches we consider are going to know that. I'll know when I sit down with people whether or not they're the right fit. I'm not going to have to talk anybody into this."
Given the pass-happy ways of college football in Texas, speculation about SMU's next coach has focused on offensive coordinators who have roots or experience in the Lone Star State. Dave Miller of National Football Post included Clemson's Chad Morris, Texas A&M's Jake Spavital, Baylor's Philip Montgomery and Ohio State's Tom Herman.
I'm going to go out on a limb and predict that whoever that new coach is, he won't take over a team that goes winless in 2014. SMU still has a Nov. 8 date with 1-6 Tulsa and a Dec. 6 confrontation with 1-5 UConn. So there's hope for the underdogs.
And if any school has a history of digging its way out of the doghouse, it's SMU.
Tom Weir covered college football as a columnist for USA Today.