Everyone who cares about college football seems to agree that this season's four-team playoff is a good thing. A great thing, actually.
But guess what? It's already outdated, and it's only a matter of time before the clamoring for a six- or eight-team playoff begins. The widespread upsets of the last two weeks guarantee it.
College football can't match the NFL for parity, but it's getting closer. And as it does, it gets tougher to distinguish between the growing flock of once-beaten teams.
There are 15 of them from the power-five conferences right now, all stuck in a pack behind unbeatens Mississippi State, Florida State and Ole Miss.
Yes, there's a lot of football left to be played, and many of those once-beaten teams will get kicked to the curb shortly.
But some of them will hang around. And I'll predict that when the 13-member committee announces the final four teams on Dec. 7, the howls of protest are going to be every bit as loud as they were under the old Bowl Championship Series format. Probably even louder.
The first problem is that at least one of the power-five conferences is guaranteed to get left out of the big show, and that league no doubt will argue vehemently about a lack of equal representation.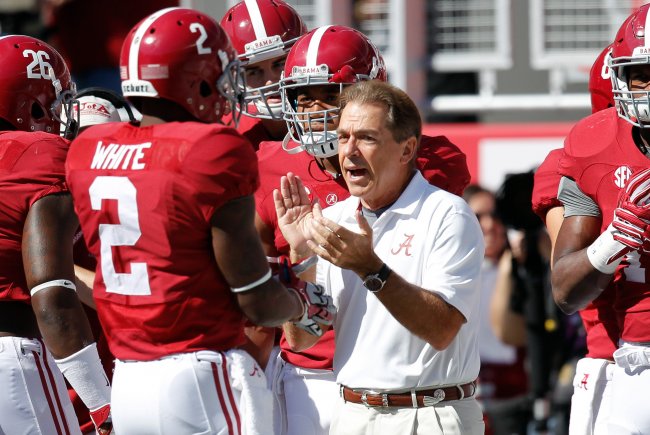 USA TODAY Sports
A six-team playoff could solve that problem. The top two seeds would get a bye, the big conferences would all be in and Notre Dame would have a convenient slot available to fill.
The second problem is that the Southeastern Conference might have the nation's two best teams in Mississippi State and Ole Miss, but Georgia, Alabama and Auburn look like they aren't too far behind. At times, the Bulldogs have seemed even more impressive since losing Heisman front-runner Todd Gurley to a suspension.
If the SEC, having won seven of the last eight national championships, doesn't get two spots this season, the South is certain to rise up in anger. And if it does get two spots that means there will be two power-five conferences grumbling instead of just one.
This season, it's looking like the SEC West Division alone will have four playoff-worthy teams. The two Mississippi schools have already passed acid tests, Alabama shut up its doubters with a 59-0 thumping of Texas A&M and Auburn is also clinging to a once-beaten record.
Is a 4-team playoff enough for college football?
Meanwhile:
Florida State has a clear path to another undefeated regular season after escaping against Notre Dame.
In the Big Ten, the winner of the Nov. 8 Ohio State-Michigan State showdown will be able to make a strong case for the playoffs.
Out west, Oregon appears to have rebounded nicely after getting upset by Arizona.
Confounding the situation is the Big 12, which doesn't have a conference championship game. TCU can claim that losing a 61-58 shootout at Baylor was a much more honorable defeat than the 41-27 clobbering Baylor just suffered at West Virginia. And what if once-beaten Kansas State splits its games with TCU and Baylor?
Confusion will reign, and Big 12 advocates will be quick to remind everyone that last season, Oklahoma dismantled Alabama by the count of 45-31 in the Sugar Bowl, so maybe the SEC isn't quite as great as many think.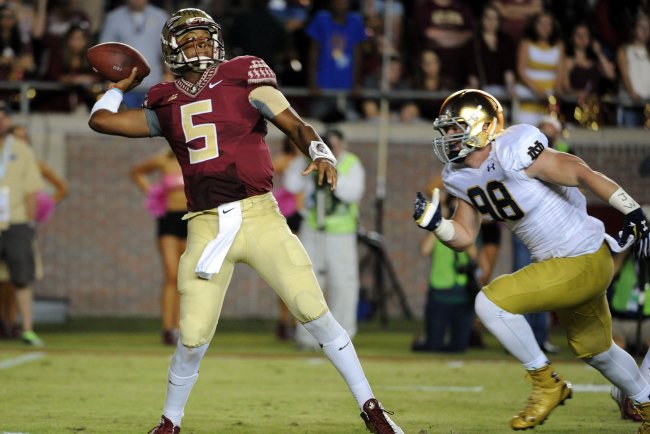 USA TODAY Sports
Notre Dame creates another problem. The Fighting Irish are television-ratings gold, and with ESPN paying nearly $500 million a year for playoff rights, it won't be happy if Notre Dame keeps winding up on the playoff bubble.
Despite the Notre Dame loss to Florida State on Saturday night, I think the Irish remain very alive in the playoff conversation. The nation saw them lose in prime time when a controversial call negated what would have been the winning touchdown, and it was a road game for the Irish.
Likewise, eight teams from power-five conferences can point out that their lone defeat came on the road: Alabama, Auburn, Baylor, Duke, Georgia, Michigan State, Nebraska and Texas Christian.
In recent seasons, a four-team playoff wouldn't have solved the arguing.
At the end of the 2013-14 regular season, Florida State was undefeated and the one-loss teams in the AP Poll's top 25 were Auburn, Alabama, Baylor, Michigan State, Ohio State, Louisville, UCF, Fresno State and Northern Illinois.
For 2012-13: Notre Dame and Ohio State were undefeated (OSU was ineligible) and Alabama, Florida, Oregon, Kansas State and Northern Illinois all had one loss.
For 2011-12: LSU was undefeated, and Alabama, Oklahoma State, Stanford and Boise State all had one loss.
For 2010-11: Auburn, TCU and Oregon were undefeated, and the one-loss teams were Stanford, Ohio State, Wisconsin, Michigan State, Boise State and Nevada.
This season there also are dozens of arguments to be made, but only four playoff spots to be awarded and no way to settle all of the disputes without expanding the postseason.
Also hanging around are 5-1 East Carolina and the 7-0 Marshall Thundering Herd, which has yet to be held under 42 points. It's easy to write off those two teams since they dwell respectively in the American Athletic Conference and Conference-USA. But hey, in basketball, didn't little Butler make it all the way to the Final Four championship in 2010 and lose by two points, and then show up again in the 2011 title game?
The NCAA men's basketball tournament is one more problem for football's four-team playoff. Every year it provides evidence of schools that belong right alongside the big boys even though they were disregarded by the rankings. Fans are going to argue that surely there's room for an eight-team football playoff if March Madness can handle 68.
And the ones that will scream loudest will be from the inevitable collection of schools that believe they got robbed this season.
Tom Weir covered college football as a columnist for USA Today.