There's a temptation to declare Baylor unfit to win the national championship in football after seeing its defense strafed for 58 points in Saturday's victory against Texas Christian. After all, that game's 61-58 final score had only 25 fewer points than the 76-68 tilt between those two schools' basketball teams in last season's Big 12 tournament.
But the Bears are just one of six contenders in The Associated Press' latest version of the Top 10 who this season have yielded a point total that would have been unthinkable for almost all recent national champions.
That's where the college game is at the moment, and it's a trend unlikely to change unless Ole Miss' stout tacklers and pass defenders waltz to the title.
Here's a little history to put it in perspective:
For the 16 seasons that the BCS Championship Game existed, scoring 35 points was something of a magic number for defenses that aspired to generate a national title. During that period, only two champions entered the title game having given up 35 or more points in any contest, all season long.
The exceptions were Auburn in 2010 (which won a 65-43 shootout with Arkansas) and Louisiana State, which did it twice in 2007. But the LSU games get asterisks, since both were losses in triple overtime. (43-37 at Kentucky and 50-48 to Arkansas.)
The respective scores in those two LSU games at the end of regulation were 27-27 and 28-28. So really, the 35-point rule was broken only once in 16 years. And eight of the BCS football champions never allowed an opponent to score 30 points.
Now then, welcome to 2014.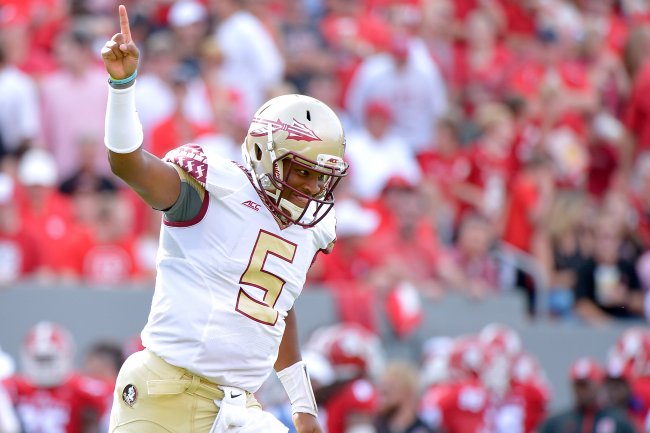 Grant Halverson/Getty Images
The season is essentially only halfway completed, and the defenses of these highly regarded teams already have had their 35-point bubble popped:
No. 2 Florida State, 41, to North Carolina State
No. 4 Baylor, 58, to TCU
No. 5 Notre Dame, 43, to North Carolina
No. 6 Auburn, 38, to Mississippi State
No. 8 Michigan State, 46, to Oregon
No. 10 Georgia, 38, to South Carolina
Please also note that No. 1 Mississippi State is barely under the wire, having been tapped for 34 points by UAB.
The entire discussion about defense in college football has shifted. Proof of that came when Baylor's defense somehow received a big share of the credit for the TCU victory, because it finally did its job late, holding the Horned Frogs scoreless on their final three drives.
Players' enthusiasm is part of what makes the collegiate game great, but it still was a bit humorous to see Baylor defensive lineman Beau Blackshear quoted by The Associated Press as saying, "I really think we stepped up tonight especially toward the end of the game after having that real rough first half."
On a night when a team gives up 58 points, no one on the defense stepped up. They were just stepped on.
Even funnier is that Baylor's soft early schedule meant it went into the TCU game ranked fourth in the nation for total defense, with 267 yards per game. Funnier still was Fox Sports' opening line in a prediction that Baylor would win 31-28: "Baylor's defense doesn't get enough credit."
Yes, it's easy to have all sorts of laughs on a team that gives up 58 points, especially with hindsight as a comic tool.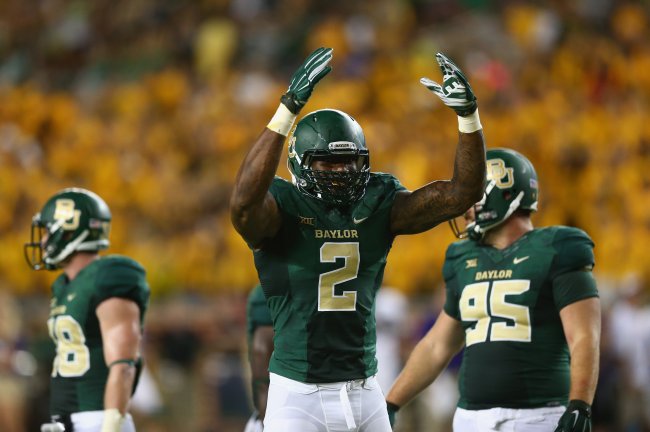 Ronald Martinez/Getty Images
But here's the bottom line: Baylor, even with a Swiss cheese defense, is still alive and in the thick of the College Football Playoff race. The nation's No. 1 scoring defense, Stanford, is 4-2 and out of it.
The Cardinal cede only 10 points a game, but they came up short against Southern California (13-10) and Notre Dame (17-14) because they're not up to date with the college trend of outscoring opponents.
Good luck to the recruiter who tries to convince a blue-chip offensive player Stanford is a place to thrive.
There of course will be some old-school folks who continue to lament what the spread offense has done to college football. The easy complaints are that it's transforming college football into a video game and making defensive linemen obsolete.
I enjoyed seeing Texas A&M and Oklahoma make a defensive genius like Nick Saban squirm while his defense gave up 40-point games to those schools last season. It's good for ratings, and it's good for fans who want to believe that the game ain't over 'til it's over.
Compare it to the Arena Football League if you want, but in today's game the best defense has become an explosive offense.
So has the 35-point rule totally died?
No, it simply has shifted to the other side of the ball, because as Bleacher Report's Adam Kramer points out, 35 teams are averaging 35 points or more per game right now, which is pretty much what it takes to win in today's college game.
Tom Weir covered college football as a columnist for USA Today.