As darkness fell during Alabama's narrow escape at Arkansas on Saturday, so too did the curtain come down on a Crimson Tide dynasty that once felt like it might last forever.
Nick Saban's teams once struck fear if not outright terror in the hearts of opponents while claiming three national championships in four years from 2009-20012. But those days are gone. Having Alabama on a team's upcoming schedule no longer is cause for panic. These days, it means opportunity.
The more Alabama struggled to nail down a one-point victory against the Hogs, the more apparent that became.
The Razorbacks were in the process of losing a 15th consecutive Southeastern Conference game. Fifteen. But the Tide still needed two huge breaks to close them out.
The first came early in the opening quarter when Arkansas' Kody Walker was hit and fumbled just before entering the end zone. What had looked like a certain touchdown vaporized when the ball rolled out of the end zone for a touchback.
The second came when Alabama defensive end Jonathan Allen deflected the extra point on Arkansas' first touchdown, in the second quarter. That ultimately left the final tally at 14-13 and denied the Razorbacks a chance in overtime. It also should leave Alabama's fans feeling very lucky that their team is 5-1 and still in the AP poll's top 10.
Pronouncing the Alabama dynasty over, or at least rapidly crumbling, isn't an overreaction to one game. With a 5-3 record in its last eight games, even the most ardent Bama fan can't contend the Tide has been rolling.
All three defeats were to ranked teams, the kind Alabama once built its reputation against: Auburn in last year's Iron Bowl, Oklahoma in January's Sugar Bowl and Ole Miss in last week's wake-up call that college football in Oxford is a monster on the rise.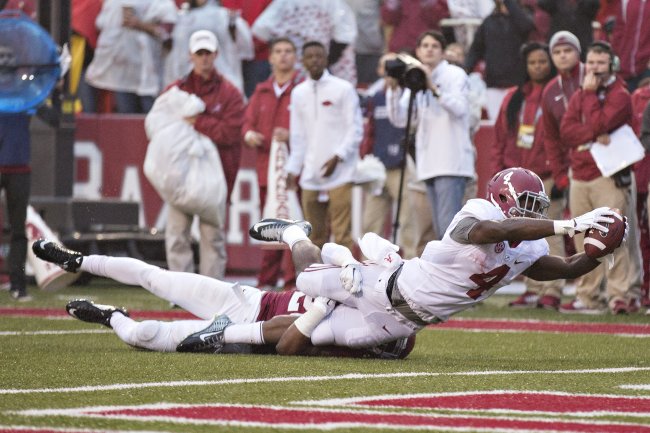 Wesley Hitt/Getty Images
Against Arkansas, the Tide managed to avoid what would have been Saban's first back-to-back SEC losses since 2007. But if Alabama is truly still among the nation's elite teams, it should have responded to the Ole Miss loss with something substantially better than a one-point squeaker against an opponent they stomped with identical 52-0 drubbings in 2012 and 2013.
Saban contended otherwise afterward, telling reporters that: ''Obviously, our team was very disappointed and responded well, I think, to what happened a week ago. It's tough on the road in this league, and our division is really, really difficult. There's no easy games.''
Saban got it right about the SEC West, where Alabama appears to be losing ground across the board. But let's not hear any chatter about Alabama always playing with a target on its back. You want to live in the penthouse, that comes with the territory. Winning national titles in the 2009, 2011 and 2012 seasons gave Alabama a recruiting edge that helped stockpile thoroughbreds, so don't complain if the talent pool isn't endlessly deep.
The fact is that the Tide would have been hard-pressed to beat any other SEC West team with the way they played Saturday.
Looking ahead, next week's game against Texas A&M might as well be named the Regrouping Bowl for both teams, and the Nov. 15 showdown with soaring Mississippi State looms as a potential embarrassment.
Nick Saban vs. Bear Bryant, after 100 games at Alabama

| | | |
| --- | --- | --- |
| Bryant | 81-12-7 | .845 |
| Saban | 84-16 | .840 |
AL.com
This was Saban's 100th game at Alabama, and he's 84-16 since arriving in Tuscaloosa. But that was just about the only positive number generated for him on Saturday.
Arkansas scored numerical victories all over the stat sheet. It won the count for first downs, 18-10, for total yards, 335-227, and for rushing yards, 89-66.
Midway through the third quarter, Alabama had only three rushing yards, and the rain was causing some problems. But the Tide's total yardage was a season-low, way worse than the 396 than they managed against Ole Miss, and light years from the 645 they piled up on Florida.
Dynastic teams don't get worse as the season grinds on. They don't run into new problems that need solving, like Alabama's four fumbles on special teams, two of which were lost. They punish opponents, they improve and they look forward to punishing again.
That's not where Alabama is these days, as it showed in the fourth quarter when quarterback Blake Sims' failed quarterback sneak looked more like a slam-dunk try than a crucial 4th-and-1 attempt.
Sims leapt vertically when he need only a few horizontal inches. That led Saban to bemoan that:
Well that was the ugliest-looking quarterback sneak I ever saw. I mean we run the quarterback sneak and we teach a guy how to run a quarterback sneak and we never ever taught that.
And if Saban has hopes of keeping the Alabama dynasty intact, that's not the only lesson he needs to get right in the very near future.
Tom Weir covered college football as a columnist for USA Today.