Five weeks ago, the Big Ten took shots from every angle when it was left without a team in the AP poll's Top 10. Now, it's the Pac-12's turn to stand up and be counted out.
Teams from the left coast are perilously close to being left out of the College Football Playoff unless there's a major shift that's hard, if not impossible, to foresee.
This season was supposed to see both Oregon and UCLA contend for the national championship. Instead, when those teams meet on Saturday, one will leave the Rose Bowl with a second defeat and face near-certain elimination from the playoff picture, even though Halloween is still three weeks away.
Where does that leave the Pac-12 teams that were supposed to impress the playoff committee's voters?
Oregon has tumbled from No. 3 in the preseason rankings to No. 12 in this week's poll following a loss to Arizona at home. UCLA has fallen 11 spots, from seventh to 18th, after falling to Utah, also at home.
"Overrated" also is a chant Southern Cal and Stanford would have to accept.
USC perhaps could have been forgiven for its defeat at Boston College because of cross-country travel. But last weekend's loss at home to previously unranked Arizona State booted the Trojans, the preseason No. 15, out of the AP Top 25.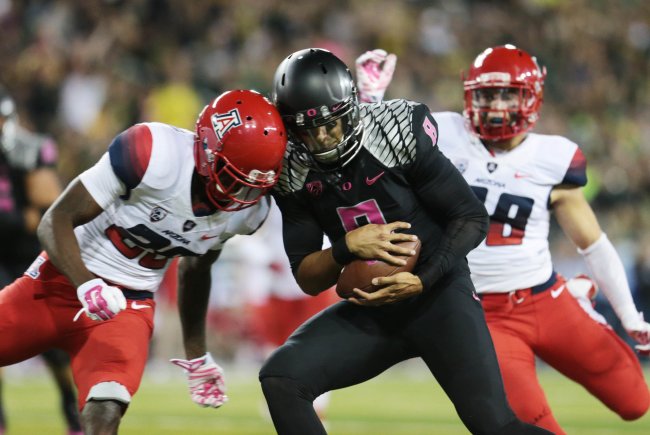 USA TODAY Sports
Stanford, the preseason No. 11, is barely hanging on, clinging to the 25th spot. But it also joined the ranks of the twice-beaten by falling at Notre Dame. Credit the Cardinal with a moral victory, however. They held the Fighting Irish to a season-low 17 points and lead the nation in allowing only 8.6 points a game, but haven't been able to find the end zone often enough in their big games.
The Pac-12's additional problem is that the two teams that have risen amid the carnage need to keep winning before they'll gain national credibility. But Arizona and Arizona State haven't captured the imagination with the same flair as their up-and-coming counterparts in the Southeastern Conference, Mississippi and Mississippi State.
No. 10 Arizona has an unblemished 5-0 mark, but it's tough to get excited about a team that survived against 1-4 Texas-San Antonio by the slim count of 26-23. And that wasn't a game of funny bounces. The Wildcats didn't commit a single turnover, but they did trail, 16-13, at one point.
Likewise, No. 20 Arizona State—the Sun Devils are still wearing skid marks from the 62-27 pasting UCLA laid on them.
Find yourself a Pac-12 advocate and you're likely to hear that the chronicle of unmet expectations is a testament to what a marvelous conference this is. The only one among the Power Five, in fact, that plays a nine-game conference schedule and also has a conference championship game.
Pac-12 commissioner Larry Scott certainly feels that way. At the league's media days in July, he heralded that distinction, saying, via SB Nation's Berkelium97:
We know that there will be continued controversy and debate, but the clear statement has been made that strength of schedule is going to be a determining factor in figuring out which of the four teams ought to be competing in that playoff. With the most competitive nine-game conference schedule in the nation, our champion will be incredibly well-positioned in this first-ever historic college football playoff.
At the moment, that forecast doesn't look terribly accurate.
Meantime, a more relevant piece of trivia is the Pac-12's disappearing act from the national championship conversation.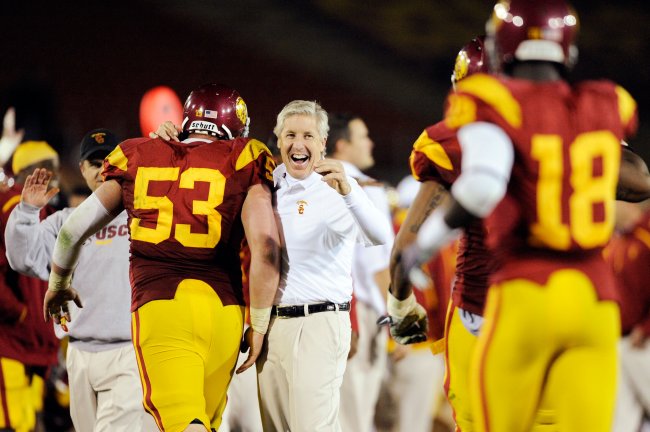 Kevork Djansezian/Getty Images
The only time a Pac-12 team won the big game during the 1999-2014 history of the BCS championship was when USC claimed the 2004 season title, only to vacate it because of the Reggie Bush saga.
Oregon coach Mark Helfrich addressed the glaring absence of a national champion from the Pac-12 at the conference's media days, saying, via CBSSports.com's Dennis Dodd, "That's the next step for this league. We can all point and whine about how we didn't get in this game and that game. As soon as you lose a game you've lost the right to be the lead speaker."
Which is where the Pac-12 is now.
Yes, five of the Top Eight teams in the AP poll just lost during a history-making week, but only UCLA and Oregon did so at home.
Does the Pac-12 deserve extra playoff consideration because it has a nine-game conference schedule?
To get back in the hunt, both of those teams need to solve their woeful situations on the offensive line. Oregon has let Marcus Mariota get battered with 12 sacks in its last two games. And UCLA's O-line gave up a jaw-dropping (and skull-rattling) 10 sacks by Utah on Brett Hundley.
Also of note is that Cal is leading the Pac-12 North standings. Yes, the same Cal that has yielded 164 points in its last three games.
The four-team College Football Playoff leaves room for once-beaten teams to get in, but twice-beaten squads are going to have a very rough time making a case.
If one of those is deemed worthy, it seemingly would have to emerge from the SEC, and more specifically, the SEC West, which has four teams ranked among this week's top seven. Winning seven of the last eight national championships makes that an easy argument for the SEC.
Maybe Arizona can get through the rest of its schedule unscathed. But a two-loss season seems more likely after a look at its upcoming slate.
The Wildcats will play an angry bunch from USC this week, then have a road date at Washington State against Connor Halliday, who has the hottest arm in the land. After that, it's another road contest at UCLA.
The prospect of the Pac-12 champion having two losses was put into perspective two weeks ago by Stanford coach David Shaw, who during a teleconference with reporters said, via SB Nation's Kevin Zimmerman:
It's far too early to accurately project how things will shake out -- that's a fool's errand -- but based on what's progressed through six weeks, it's hard to imagine any Pac-12 team finishing with less than two losses. If that's the case, it would pose a problem for the conference's playoff chances regardless of the other to-be-determined variables.
Shaw added that it will all hinge, of course, on the 13-member selection committee that will vote on the College Football Playoff.
In that regard, the Pac-12 might not be in such bad shape. USC athletic director Pat Haden is a member, as are Stanford professor Condoleezza Rice and Tyrone Willingham, who was formerly a head coach at Stanford and Washington.
But the Pac-12 is going to need to have a lot more than that going for it to avoid getting shut out of the playoffs.
Tom Weir covered college football as a columnist for USA Today.